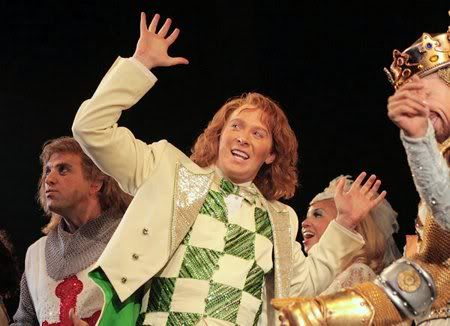 KING CLAY -- Singer Clay Aiken takes an opening night bow Friday following his return to 'Spamalot' in the role of Sir Robin. Photo by J. Pellegrini (Broadway TV).
Fun Begins Anew
Spamalot Crowd Crowns King Clay
While he may be playing a "Sir" on Broadway in Spamalot, it is safe to say that he was King Clay Aiken at last night's opening.

American Idol star Clay Aiken is a natural on Broadway. This the excitement that happens on those rare occasions on Broadway.

At the moment, forget Harry Potter star Daniel Radcliffe in Equus, and Katie Holmes, Tom Cruise and their entourage of Scientology protesters at All My Sons, or even forget Entourage's Jeremy Piven in Speed-The-Plow, or Ace Young in Grease.

The big story on Broadway today is Clay! He is back on Broadway, and the fun has begun.
That's how
Broadway TV
summed up Clay Aiken's triumphant return to Broadway as Sir Robin in Monty Python's "Spamalot" Friday night.

The Shubert Theatre marquee once again reads "Spamalot Now Starring Clay Aiken"; and, from all reports, opening night was a rollicking "10" start to finish.
Broadway Celebrates 'Clay Day'
Meeting Internet friends in person -- putting a face with a screen name -- is a cherished bonus at Clay gatherings. Opening night at Spamalot was no different.

Toni7babe

reported it was like "old home week" in the line waiting to enter the theater.

In touch with the home crowd via cell phones, attendees were read Clay's late afternoon blog, which they promptly relayed up and down the Spamalot line. Pre-curtain reports always include fan assessments of ticket sales. Word from the box office was that only a few single seats were available.

Around 8 p.m. message boards throughout Clay Cyberspace proclaimed:

It's SHOW TIME!


Opening night Spamcert recaps are everywhere, as pre-show, intermission, and post show cell phone reports traveled from board to board all night long. After the performance, the party moved from Shubert Alley to several New York restaurants.

Below are excerpts from

Claniac24

's recap:


Clay was fantastic tonight! He was full of energy, dynamic in all respects. When he first appeared, at the guard window, the whoop and holler that went up was unbelievable. It went on for many minutes.

In fact, every time Clay appeared in a new scene, the screams and applause were resounding. I think the theatre must have been filled with Claymates. And we yelled and screamed for all the other stars as they appeared also.

At the very start of the curtain call, the entire audience stood up and remained standing until the final curtain closed. We gave very warm applause for everyone, but Clay got a thundering ovation. At the very end, he was standing on stage grinning from ear to ear. I think he's gloriously happy to be back where he's so loved and appreciated.

He came out to the stage door after about 15 minutes to another round of raukus screams and hollers. He looked stunningly handsome and happy. He didn't stay too long, maybe only five minutes.

Just before he went inside, Clay got down on his knees to sign a playbill for a young lady in a wheelchair. The moment was captured with a picture taken by her father.
Later,

aiken4aikenstouch

posted a first person report at the OFC:


This was all my dad's doing. He left SPAM early and saved me a spot right at the front. Clay came out and signed my Playbill. Dad asked if we could get a picture, and he said we'd do something. Jerome told me to stay put (like I was going anywhere!).

When Clay was done, he pulled me through the barrier, hugged me, and asked my name. Then he said, "Let's turn around"; and he knelt beside me for the picture. He gives the best hugs ever. Thank you, Clay, for making my dream come true!
PHOTO INTERLUDE

: Featured in this clickable interlude are Spamalot cast and curtain call photos by

JPellegrini

, 1, 2, and 3, courtesy of Broadway TV. Pictures of Clay signing autographs in Shubert Alley are by

Toni7babe

, 4 and 5 (with

aiken4aikenstouch

), and

Isdollylovesclay

, 6.


Paparazzi Cover Sir Robin's Return

The paparazzi covered Clay's return to Spamalot en masse. At Getty Images, open the first photo and click through 21 images by Brad Barket from Friday's opening night. WireImage features 27 photos by J. Pellegrini.
There's already a new montage about Clay's 9/19 reprise of the Sir Robin role. See Stay by LovesClaysVoice at YouTube.

Recounting opening night for Clayversity, xxx4clay wrote, "Clay's performance was as if he had never left the show. The crowd was very, very loud. It was amazing to be there."

With four shows on Saturday and Sunday, opening weekend has just begun for those in the theatre, as well as fans around the globe celebrating via recaps and cellcerts.

Broadway Cares Bid at $8,200

At Broadway Cares/Equity Fights Aids, online bidding for VIP Spamalot tickets followed by a Clay-conducted backstage tour hit $8,200 at noon Saturday.

Further bidding for this package will take place during a live auction. All items in the Broadway Cares auction can be viewed here.

SueReu Wins LALATE2 Contest

Congratulations to SueRue, whose montage Everything I Needed To Know I Learned from Clay Aiken was named the winning video in an LALATE2 video contest.

SueReu's video has been added to LALATE2's premium celebrity page for Clay Aiken. You can view the winning montage at YouTube with this link: Everything I Needed To Know I Learned from Clay Aiken.

Below is a clickable of JPellegrini's lead photo from Broadway TV: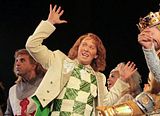 Have a wonderful weekend, Clay Nation!

Caro
TECHNORATI TAGS: Clay Aiken, On My Way Here, Monty Python's Spamalot, Broadway, Broadway TV, Getty Images, Wire Image, Broadway Cares, LALATE2, Official Fan Club, Clay Nation