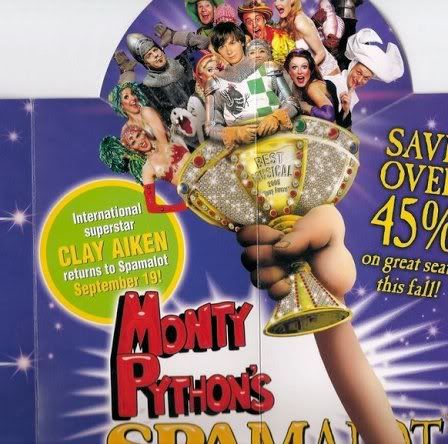 This Is the Knight!
Clay Aiken Returns to SPAMALOT

Amid extraordinary media hoopla and a venue filled with faithful, ecstatic fans, this is the night Clay Aiken returns to the scene of his triumphant January Broadway debut in Monty Python's SPAMALOT.

Below are excerpts from Broadway World's 9/19 story: Clay Aiken Returns as Sir Robin.


Clay's debut on Broadway earlier this year was met with wild enthusiasm from both his legion of fans and the New York press. He will reprise the role of 'Sir Robin ' at the Shubert Theatre from September 19 2008 - January 4 2009.

When he made his Broadway debut in SPAMALOT at the beginning of this year, Newsday said "Aiken is a charmer" and the Associated Press said that "Clay Aiken deftly handles supremely silly."

Clay Aiken became a music superstar following his success on the "American Idol" television series, and has sold more than six million albums; co-authored a best-selling book; and, played six sold-out concert tours, said "Since leaving SPAMALOT in May, jokes have just not been funny. Food has lost its taste. The grass is no longer green -- the sky no longer blue. And, babies WON'T stop crying!! I'm so excited about coming back to the funniest show in the world!"

This spring, Aiken released his fourth album, On My Way Here, his first album of original songs since his 2003 chart topping, double platinum debut Measure of a Man. On My Way Here's debut in Billboard Magazine's Top 5 continued his streak of all four of his albums having debuted in the Top 5.

Directed by Mike Nichols, who won his eighth Tony Award for his direction of the new musical, Monty Python's SPAMALOT has a book by Eric Idle, "lovingly ripped-off" from the screenplay of the Pythons' best- loved film, Monty Python and the Holy Grail by Graham Chapman, John Cleese, Terry Gilliam, Eric Idle, Terry Jones and Michael Palin. The music is by Eric Idle and John Du Prez.

Tickets are available online now at telecharge.com or by calling (212) 239-6200/(800) 432-7250.
Playbill Heralds Return of Robin
Playbill's 9/19 story is 'Idol' Finalist Aiken Returns to Broadway's Spamalot:
"American Idol" finalist and new dad Clay Aiken returns to the Broadway company of Monty Python's Spamalot at the Shubert Theatre Sept. 19.
Aiken, who played a Jan. 18-May 4 stint in the Tony-winning musical, reprises his role as Sir Robin through Jan. 4, 2009.

Aiken joins a cast that currently features Michael Siberry, David Hibbard, Tom Deckman, Rick Holmes, Bradley Dean, Wally Dunn and Merle Dandridge as Lady of the Lake.

On Broadway Spamalot plays Tuesday-Friday at 8 PM, Saturday at 2 and 8 PM and Sunday at 2 and 7 PM.
Both stories can be read in their entirety at the respective links. For more information visit
Monty Python's Spamalot
.

Have a blast tonight, Clay Nation! Break a leg, Sir Robin!

Caro
TECHNORATI TAGS:
Clay Aiken
,
On My Way Here
,
Monty Python's Spamalot
,
Broadway
,
Broadway World
,
Playbill
,
Official Fan Club
,
Clay Nation