HE'S BACK -- Clay Aiken returns to "Spamalot" Friday, reprising his role as Sir Robin in the Broadway hit musical. Graphic by Cindilu2.

Clay Nation, Too!

Aiken To Take Manhattan Again

Steadily ticking off final days, hours, and minutes until Clay Aiken's triumphant return as Sir Robin in Monty Python's "Spamalot" Friday, message board widgets nonchalantly keep the beat as fans euphorically make plans for opening night at the Shubert Theatre.

Not everyone is packing a weekend bag for New York City, however. Fans who will enjoy Clay's four-month Sir Robin reprise via recaps and clack also have the opening curtain circled on their calendars.

Helping to "raise silliness to an art form," the Spamalot website keeps Python afficionados abreast of the show's latest news, cast, story, media, and souvenirs.

For those who can't wait, there are multiple page listings of montages from Clay's first Spamalot run at You Tube. A popular example is SueReu's Clay, Find Your Grail, a photo montage celebrating the Broadway show and other moments from the past five years.



Clay, Find Your Grail

Echoing the excitement level are reader comments from two September "Spamalot" entries in the Carolina journal. The second remark implies the blog might even have inspired a ticket sale. *g*

Spamalot is going to be revved up for Clay Aiken's return!

OK, you sold me. I'm going to NYC on business anyway. Might as well see the funniest show on Broadway.

Thank you for posting the fantastic photo blends in honor of Clay Aiken as he returns to Spamalot.

Countdown to Clay Aiken - The Star Returns to Broadway!

Three more days to go! Clay Aiken will soon be back on Broadway. Shubert Alley hasn't been the same since he left, nor has Broadway!


I am so ready for Spam 2. Even though I can't go back to NYC this time, I love all the reports and pictures. Clay Aiken fans know how to feed the rest of us who can't get to the man in person.

Counting down the seconds till Clay Aiken appears in Spamalot again!

Three more days before the sun shines brighter, the stars twinkle faster, and the earth spins a bit faster! Clay Aiken is returning to Spamalot!!!

I am going for Opening Weekend, and I am thrilled beyond - thrilled. You just took me over the top with those teasers. EEEEEEEEEEEEEEEE!!!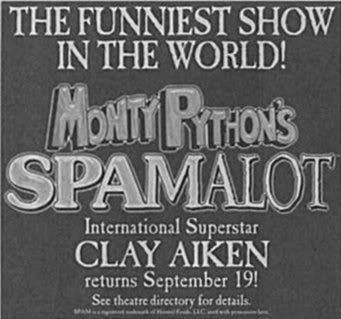 New York Times ad this week.

Watch out, Manhattan! International superstar Clay Aiken's return to "the funniest show in the world" is just ticks away!

PHOTO INTERLUDE: Featured are graphics from Clay's original Spamalot run. Visual artists include Amazing_CA, photos by Joan Marcus, 1; Amazing_CA, photos by Toni7babe, 2; Claystruck, 3; Amazing_CA, photo by Scrpkym, 4; and MNmeesh, photo by Joan Marcus, 5.
Voting for Claymmy Awards Begins

Sponsored by It's All About Love, the Sixth Annual Claymmy Awards are off and running. People's Choice voting opened Sept. 11 and will close on Oct. 9. Winners will be announced on Oct. 14.

There are 10 categories in the 2008 Claymmy Awards: Avatar, Banners, Blends, Concert Pics, Fan Art, Miscellaneous, Montage, Poetry, Wallpapers, and Websites.

Monday I learned that Carolina On My Mind is among five entries in the websites division.

Besides supporting the specialties of other CA fans, following the Claymmy link is a great way to explore the many talents of the Clay Aiken Internet community.

A special thank you to the person who nominated the Carolina blog. Readers from 86 countries have stopped by this corner of Cyberspace during the past year. Your faithful visits and comments are most appreciated and the real reward.

Still, it is quite an honor to be among the 2008 Claymmy nominees!



Happy Birthday, Grandson!

Kai Celebrates First Candle

One year ago today, Sept. 17, the dearest, most precocious little fellow came into our family's life. Although we live several states apart, our Carolina clan first met Kai through the photos and videos his mother sent.

Thanks to talented CA fans, many of the photos also received graphic design status. The Picture Trail cube above includes selections from throughout Kai's first year.

In May, I finally met my grandson when he and his mother flew to NC for a one-month visit. Immediate pals, we quickly made up for lost time; but, of course, our month together flew by. I still remember the Mickey Mouse Clubhouse slogan and occasionally have to switch channels for a "monkey mail" fix.

While here, Kai learned to crawl and enjoyed playing my grand piano. He routinely "inspected" the piano books on the bottom shelf of a music rack along his route to watch morning TV shows with his grandmother.

Kai now stands alone and is on the verge of walking and talking. He is intrigued with buttons and keys on remote controls, cell phones, and computers. In fact, he even wrote a blog entry while visiting his grandmother.

As some of the pictures indicate, Kai is a very curious little guy, exploring everything in sight -- just like his mother did.

Happy Birthday, Kai! Have an awesome week, Clay Nation!

Caro

TECHNORATI TAGS: Clay Aiken, On My Way Here, Monty Python's Spamalot, Broadway, 2008 Claymmy Awards, montage, first birthday, Official Fan Club, Clay Nation