Entertainment Tonight promotes Clay Aiken's Thursday-Friday interview on Good Morning America. Screen cap by Gerwhisp.
Responsibilities of a Father
Aiken Tells His Story on GMA
I can't raise a kid and teach him how to lie, teach him to hide things. I can't raise a kid and teach him to keep secrets. And at the same time, I also don't ever want to raise him in an environment where it's not OK for him to be exactly who he is, no matter what.
Following through on a promise he made to himself as a new father, Clay Aiken will let his guard down and publicly acknowledge he is gay in an interview airing on Good Morning America Thursday and Friday.
The singer's interview with Diane Sawyer will be telecast in a two-day segment on GMA. See ABC News for the complete story by Jonann Brady. Interview videos from both days can be viewed at ABC News/GMA.
Here are Sendspace downloads for the GMA interviews: Thursday and Friday. An excellent discussion about Clay's future career was aired this week on CNN's Showbiz Tonight.
Clay and best friend-music producer Jaymes Foster are the parents of Parker Foster Aiken, born Aug. 8 in North Carolina.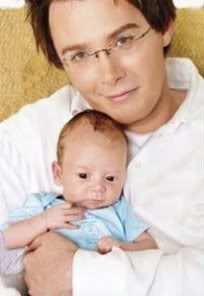 Jaymes, Clay, and son Parker
Photos by Michael Lavine
PEOPLE Previews Photos of Parker
The first photos of Parker will accompany Clay's very candid, personal interview with People magazine, officially on newstands Friday. Also interviewed during the photo shoot, Jaymes told People that Clay's a Natural Dad:


He's an incredible caregiver. As far as changing the diapers and seeing what's wrong with [Parker] and getting him to go sleep, Clay's a natural and he's really, really good with that.

On a larger scale, he's the perfect person. He's been a school teacher, we have the same morals, family is very important to him, and Parker means everything to us.

The singer, who returned to Broadway last weekend as Sir Robin in Monty Python's Spamalot, discusses fatherhood, coming out, his family, and his fans.


Except for Spamalot excursions to New York City, the majority of CA fans are not going anywhere. Since the story broke on Tuesday, expressions of unending love and support have monopolized band width throughout message boards and blogs in Clay Cyberspace.

Following Tuesday night's performance, Clay signed into his fan club site and posted his gratitude:
We'll talk more, but suffice it to say, for the first time in recent memory, I am speechless. I'm so proud to know and love all of you.

My family is so much larger than Parker, Jaymes, Mom, Brett, etc. It extends to each of you, and I couldn't be more blessed.
PHOTO INTERLUDE

: Graphics by

Fountaindawg

of PEOPLE photos (1 and 3) and Gerwhisp's screen cap from the GMA promo are featured in this clickable interlude.
What does this mean for me and my fandom? Nothing. He's still the best voice I've ever heard, he's still the best concert I've ever attended, he's still one of the funniest entertainers that I've ever enjoyed and his good works with UNICEF and his own Bubel/Aiken Foundation have opened my eyes, my wallet and my heart to issues that I should have been paying attention to long ago. -- The ConCLAYve
Further reflections can be read at these Clay Blogs:

The ConCLAYve:
The Best Voice I've Ever Heard


There Was a Man:
Reveal Me Completely


WebWeaver's World:
Thoughts on Clay


FOREVER FOREVER, Clay!

Caro
TECHNORATI TAGS:
Clay Aiken
,
On My Way Here
,
Monty Python's Spamalot
,
Broadway
,
Jaymes Foster
,
Parker Foster Aiken
,
Good Morning, America
,
People Magazine
,
sexual orientation
,
fan reaction
,
Official Fan Club
,
Clay Nation