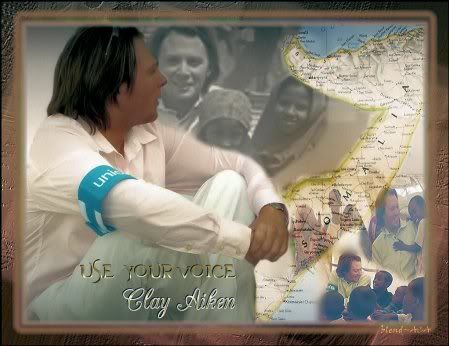 USE YOUR VOICE - Clay Aiken, UNICEF Ambassador, uses his voice to help defeat malaria deaths around the world. Graphic by Amazing_CA.

Global Fight Against Malaria
Aiken Aids 'Gift of Growing Up'
UNICEF Ambassador Clay Aiken is this week spreading the message that malaria, which kills one child every 30 seconds "doesn't have to be this way."

Malaria No More and UNICEF are teaming to defeat this preventable disease worldwide. In the video below, Clay shows how insecticide-treated bed nets provided by UNICEF are being used to protect children from malaria in Somalia, a country he visited in June.


'It doesn't have to be this way.'
For a limited time, "Malaria No More" will match your donation in the fight against malaria, helping UNICEF to save twice as many lives.
This fall, Malaria No More has presented the U.S. Fund for UNICEF with a Challenge Match Grant of $1 million dollars to support the purchase of bed nets, their delivery, and education on their proper use in malaria-endemic countries in Africa.

The grant will match each donation made to battle this childhood killer, dollar for dollar, thus working twice as hard to support UNICEF's malaria prevention and treatment programs.

A child dies of malaria every 30 seconds in Africa. At least one million infants and children under five in sub-Saharan Africa die each year from the mosquito-borne disease. While it is one of the greatest threats to human and economic welfare on earth, malaria is both preventable and treatable if addressed properly and quickly.
To learn more, read the complete article at the
UNICEF
website. Donations can be made
here
.

As Long As We're Here - Aspiegirl
Montages Spotlight Charities

Since its May release, tracks from Clay's On My Way Here CD have accompanied montages about the Summer Olympics, US presidential candidates, tragic and triumphant real life events, scenes from movies and TV shows, as well as the singer's ongoing charitable endeavors.

Clay, who co-founded The Bubel/Aiken Foundation in 2003, was named a UNICEF Ambassador in 2004. Listed by song, the OMWH montages below underline his projects with these organizations, as well as other global issues, including a new 9/11 tribute.
AS LONG AS WE'RE HERE
As Long as We're Here by Aspiegirl (shown above)
As Long As We're Here
(TBAF) by

LovesClaysVoice
UNICEF - As Long As We're Here by SueReu
ASHES
Rising from the Ashes by IUGurls
Rise up from the Ashes -- UNICEF by SueRue
GRACE OF GOD

9-11-01 Tribute (Grace of God/It's in Everyone of Us) by Yollie950
UNICEF Survival Project by Gerwhisp
Earthquake in China by Renegade79
Somalia by Brolio42
Somalia Awareness by Yollie950
ON MY WAY HERE
Cancer Tribute (On My Way Here/I Survived You) by Yollie950
IT'S IN EVERYONE OF US (OMWH Bonus Track)
UNICEF Finds a 'Heart of Gold' by Emerson032
It's in Everyone of Us, (UNICEF/TBAF) by Iampmstar
PHOTO INTERLUDE: This clickable interlude features OMWH and UNICEF graphics by Amazing_CA, 1 and 3; Ashes, 2; Claystruck, 4; and DangHesHot, 5.

'Music Choice' Cites OMWH

Last week, OMWH was added to the Music Choice index.

The singer's link takes a viewer one to ClayAiken.com with these options: news, appearances, music, video (webisodes, videos for INVS, My Way, ATDW, OMWH), ringtones, forum, photos, extras, clay online). The "OMWH" single plays in a pop-up box.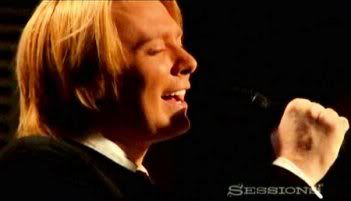 AOL Sessions cap by ClayIzzaQT
Streaming Without a Net
Always on board in supporting their favorite singer, the resolve and craftiness of CA fans is quite evident in the continued success of OMWH tracks at AOL Music. For awhile, most of the album's singles have been listed as "unavailable"; yet many continue to ride the first page, with the title track holding down the #1 slot day after day.
AOL Songs: "On My Way Here" perseveres as the "most played" track on AOL. Even though other songs from the CD are listed as unavailable, they remain on the front page because fans are either listening to the 30-second samplers or have discovered playlists still allowing the tracks.

For example, click on ClayAiken1, a playlist created by tugger123456. At first, only the lead single seems to be available. Once you pull up the queue, scroll to #13 ("OMWH"), and the other tracks will be playable.
AOL Sessions: Determined fans continue to stream Clay's five video performances of OMWH songs, including "Ashes," "Everything I Don't Need," "Where I Draw the Line," "On My Way Here," and "Something About Us."

AOL Top 11 Music Video Countdown: Thanks to the above Sessions streaming, "Where I Draw the Line" and "On My Way Here" are currently in the site's countdown.
My Space/Clay Aiken features OMWH tracks: "On My Way Here," "Everything I Don't Need," and "Ashes."
Clay Blogs Feature UNICEF Video
Internet journals currently highlighting the UNICEF video and information for eradicating malaria deaths include:
The ConCLAYve

Clay Aiken Ruminations

Clay Aiken Journey

Gerra730

Chexxxy's Pearls

Below is a clickable of the lead graphic by Amazing_CA: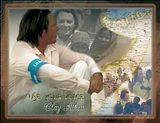 Have a wonderful week, Clay Nation!
Caro

TECHNORATI TAGS: Clay Aiken, On My Way Here, montage, UNICEF, Malaria No More, The Bubel/Aiken Foundation, Ashes, Grace of God, It's in Everyone of Us, Weight of the World, Everything I Don't Need, As Long As We're Here, AOL Music, Music Choice, Official Fan Club, Clay Nation