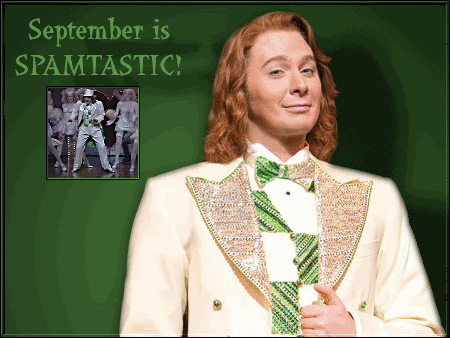 GREENER GRASS IN SEPTEMBER -- Clay Aiken set to reprise Sir Robin in Broadway's "Spamalot." Graphic by cindilu2, photo by Joan Marcus.
Counting Down to 9/19!
SPAMTASTIC Reprise Nears

Since leaving Spamlot in May, jokes have just not been funny. Food has lost its taste. The grass is no longer green -- the sky no longer blue. And babies WON'T stop crying!! I'm so excited about coming back to the funniest show in the world! -- Clay Aiken
Fans are not alone in enthusiastically counting down to Clay Aiken's return to Spamalot on Broadway. Sir Robin is, too!

Most
articles
about the entertainer's highly anticipated reprise of the Sir Robin role in Monty Python's Spamalot quote the above paragraph. "Crying babies" references his newest real life role as father to Parker Foster Aiken, born on August 8.

CA fans have kept the Spamalot ticket line busy securing seats for the singer's second Broadway run Sept. 19 - Jan. 4. For a sneak preview/review, here is

Yollie950

's montage
Clay Aiken - Spamalot Scrapbook
:

Clay Aiken - Spamalot Scrapbook
The excitement is evident in comments accompanying
LALATE
's article about Clay's Spamalot reprise:

What a hilarious quote! I am happy he coming back to play Sir Robin!

I missed it the first time around and cannot wait to get my tickets for this run! Everyone who saw the show and all the criticls loved Clay in Spamalot!

OMG, I've got to get some tickets for this. Heard he was hilarious in it!
PHOTO INTERLUDE
: Reflecting the excitement among fans, this clickable interlude recalls scenes from Clay's Jan. 19 - May 4 Spamalot run. Featured graphics include

Cindilu2

, 1;

Amazing_CA

, 2 and 3, photo by

Toni7babe

.
According to Broadway.com, other Spamalot cast members will include Tom Deckman (Historian/Prince Herbert), Rick Holmes (Sir Lancelot), Steve Rosen (Sir Bedevere), and Bradley Dean (Sir Dennis).

New and returning cast members include Merley Dandridge (Lady of the Lake), 9/2; David Hibbard (Patsy), 9/16; and Michael Sidberry (King Arthur).

You can purchase tickets here. In addition, Broadway Offers has announced a special ticket discount for performances through Nov. 14, excluding Saturday evenings. The discount code is SIRROBIN.

Sept. 19 too far away? Here's another sampler montage: 2008 Spamalot with Clay Teaser by Snowluv4.

2008 Spamalot with Clay Teaser
Below are clickables of

cindilu2

's SPAMTASTIC calendar for September, regular and widescreen: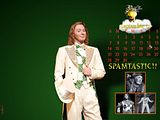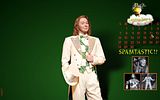 Tick-tock, tick-tock ... Have a great week, Clay Nation!

Caro
TECHNORATI TAGS:
Clay Aiken
,
On My Way Here
,
Monty Python's Spamalot
,
Broadway
,
montage
,
Official Fan Club
,
Clay Nation