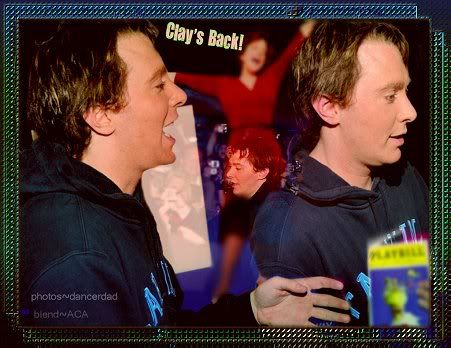 SHUBERT ALLEY -- Clay Aiken greets fans in Shubert Alley following weekend 'Spamalot' performances. Graphic by Amazing_CA, photos by Dancerdad.
Weekend Invasion of Broadway
Aiken, Fans Conquer 'Spamalot'
This weekend's Broadway invasion by Clay Aiken and his fans, the Clay Nation, made headlines throughout the New York City theater community, some of which are highlighted here.

In her
Broadway Magazine
blog, Edith Haight contrasts the celebratory style of Clay's loyal fans with the violent rivalries in 19th century theatre history.


There was an invasion on Broadway this weekend, as American Idol star Clay Aiken returned to Spamalot to reprise his role as Sir Robin. Aiken first played the role last Spring, and then left for the summer.

His return to the show was greeted with an outpouring of enthusiasm and accolades from fans. The most passionate Aiken fans are known as Claymates, and they rival the theatre gangs of long ago.

The loyal fans of American actor Edwin Forrest and British actor William Macready fought to the literal death spurred on by their loyalty to their respective actor. The Astor Place riots were a real theatrical tragedy caused by passionate fans.

Well, Clay Aiken can rest soundly at night knowing that he has his own passionate gang of theatre and Broadway fans known as Claymates, and they are ready to do battle for Clay if need be. No worries about violence, the Claymates seem more about celebration than intimidation.
PHOTO INTERLUDE
: Included in this clickable interlude are stage door photos from this past weekend, Clay's first back in the Spamalot cast. Photographers include

Dancerdad

, 1;

Toni7babe

, 2; and

Shamrock

, 3.

Triumphant Return to Broadway
Broadway World is celebrating Clay's triumphant return to Spamalot with a story and a handsome collection of photos by Pablo Pimienta:
Clay Aiken Returns to Monty Python's Spamalot
.
Clay Aiken returned to the scene of his triumphant Broadway debut Friday September 19th as he reprised the role of 'Sir Robin' in the Tony Award-winning Best Musical, Monty Python's Spamalot. Clay's debut on Broadway earlier this year was met with wild enthusiasm from both his legion of fans and the New York press.

He'll be performing the role of 'Sir Robin ' at the Shubert Theatre from September 19 2008 - January 4 2009. BroadwayWorld.com made sure our camera was there as he made his return to the New York stage!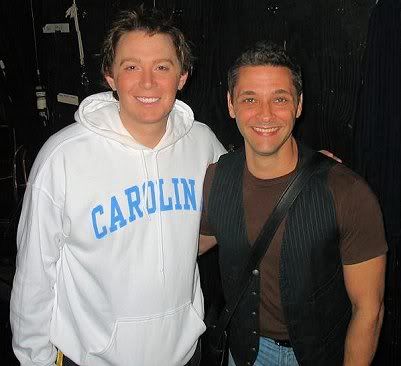 Sir Robins Clay Aiken and James Beaman
A Meeting of Two Robins
James Beaman, Sir Robin in the US tour cast of Spamalot, caught Broadway's Sunday matinee en route to Toronto and blogged about seeing the show from out front in his 9/20/08 blog:
Claymation, or "Oh, My Aiken's Back"!!
And then there was Clay Aiken. I think he is very amusing as Robin and I enjoyed many of his choices and personal touches. He plays it rather foppish and fussy, a bit eccentric.

Clay may be inexperienced as a stage actor, but he has great instincts and a goofy comic sensibility which works for "Spamalot." And then of course, there's that effortless, amazing voice--and the creators of the show have inserted a few bits into the show for Clay to show off his vocal talents.
You can read the entire entry at the above link.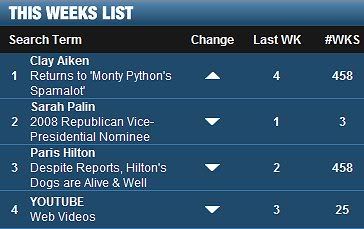 Clay Leads Lycos Searches

#1 AT LYCOS: On the week of his return to Spamalot, Clay Aiken was the "most searched" topic at Lycos 50. This marks his 458th consecutive week on the Lycos list.

HAIL, SIR ROBIN -- Broadway.com salutes Clay's return to Spamalot:
If you were taking a cab across 44th Street on Sept. 19, chances are it wasn't cheap. With Daniel Radcliffe appearing down the block in previews for Equus, the sidewalks got even more crowded with fans and onlookers, thanks to Clay Aiken's splashy return to Spamalot.

After leaving the show in April (and becoming a father last month), the pop phenom reassumed the role of Sir Robin and brought down the house with his seemingly effortless performance and an ace rendition of "You Won't Succeed on Broadway."

Aiken's signed on through January 4, so if you missed him the first time, here's your chance to be impressed. And trust us, the guy's pretty darn amazing.

Also featured is a slide show by Jenny Anderson.



TOP AUCTION PRIZE

: The 22nd Annual Broadway Flea Market & Grand Auction Sunday, Sept. 21, raised a grand total of $496,380 for Broadway Cares/Equity Fights AIDS (BC/EFA).

The top-selling lot was a pair of house seats to Spamalot and a backstage tour hosted by Clay Aiken (which fetched $10,000), followed by a walk-on role in the hit musical Wicked ($8,500) and a walk-on role in the international hit musical Mamma Mia! ($6,250).



SPAMALOT SALES BUMP

: According to Variety, Spamalot ($494,410) bumped up close to $80,000 to log the biggest jump of the week, with increased sales attributable in part to the return of Clay Aiken Sept. 19.



LAST MINUTE TICKETS

: Want to see Spamalot but don't have a seat? At this link, you can check for the availability of last-minute tickets. The site is updated at 10 a.m. EST on weekdays.



CLAY ON GMA

: Clay will appear on Good Morning America in a two-part interview titled "Clay Aiken, My Story," Thursday and Friday. Reckon Parker is an early riser?



PAULA'S PARTY

: There's lots of blues at Paula Dean's shindig at 7 p.m. ET/PT Saturday -- "blue-inspired recipes and the coolest guests in town," that is.


Pop Star Clay Aiken makes blue corn crusted bass, Ace of Cakes' Duff Goldman shows off a recipe for blue velvet cake, and Paula makes a blueberry crème Brule tart for Grammy winner Dionne Warwick.

Below is a clickable of

Amazing_CA

's opening graphic: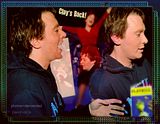 Happy Fall, Clay Nation!

Caro
TECHNORATI TAGS:
Clay Aiken
,
On My Way Here
,
Monty Python's Spamalot
,
Broadway
,
Broadway Magazine
,
Broadway World
,
James Beaman
,
Lycos50
,
Broadway.com
,
Broadway Cares/Equity Fights Aids
,
Good Morning, America
,
Paula's Party
,
Official Fan Club
,
Clay Nation