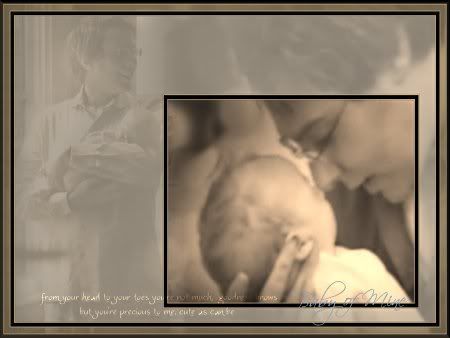 BABY OF MINE -- In this graphic design, Cindilu2 included the words to a lullaby Clay sang to his son Parker on "Good Morning, America."
Cyber Celebrations for Clay, Parker
Fans Fete First Father's Day
Clay Aiken will celebrate his first Father's Day with son Parker on Sunday, but his fans are already waxing poetic in posts throughout Cyberspace and commemorating the occasion with creative graphic designs and video montages.
A moving tribute by Jan Dillberg -- Father's Day - The first for Clay Aiken -- is featured at The Ideal Idol:
On August 8th, 2008, at 8:08AM, celebrity Clay Aiken and his dear friend and noted record producer Jaymes Foster became parents. On June 21st, 2009, Clay -along with other fathers around the country- will celebrate his own first Father's Day.

Clay has said many times in the past that he wanted children. After the birth of his son, he stated publicly that "coming out" was the first real decision he made as a father. He also said that he "could not raise a child to lie or hide things", and added that he wants his son to always be free to be who he is and to know that he is accepted. [snip]

Fans of 'Clay Aiken the Performer' know that he brings them joy when he sings - and laughter as he banters hilariously with the audience during his concerts. But just as importantly, 'Clay Aiken the Father' will bring joy, laughter and integrity to the very important job of parenting his own precious child.

Happy Father's Day, Clay!



Happy First Father's Day, Clay - Montage by Luluasst
The montage Happy First Father's Day, Clay combines photos and videos from Parker's first 10 months with the Brahms Lullaby sung in English and French by Celine Dion. The montage by Luluasst can be viewed at YouTube and downloaded with this Sendspace link.
PHOTO INTERLUDE
:
Below are five Father's Day graphics from Parker's first year, featuring

Fountaindawg

, 1 and 5;

Amazing_CA

, photo by

PermaSwooned

, 2;

Amazing_CA

, 3; and

Laura08

, 4.
With permission, this is the Father's Day poem written for Clay by ymarie, a Clayveristy member:

For Your First Father's Day
by ymarie
He looks down at his son with pride
His heart is so full of love inside
For this precious, precious gift of love
Bestowed on him by God above.

I'm sure there'll be times, as he dries his son's tears,
When he's suddenly plagued by doubts and fears.
Will he be able to teach him right from wrong?
Will he be able to help him grow up strong?

Will he always do what's best for his child?
Will he grow up meek, will he grow up wild?
How will he know if he's doing what's right?
Will he know when to run, will he know when to fight?

Well, Clay, you'll do what you've always done,
You'll teach by example, and your small son
Will learn what it means to be a man
Of character and integrity, who will take a stand.

He'll make mistakes, as we all do,
But you'll be right there to help him through.
He's already got the foundation he needs.
His father's love will help him succeed.

So, Clay, on your very first Father's Day,
I wish you such joy, more than I can say.
Enjoy your day with your sweet little son,
In the game of life, you've already won.
Below are clickables of new Father's Day graphics by

Fountaindawg

, 1 and 3, and the opening "Baby of Mine" design by cindilu2. Thnx to

Gerwhisp

and

Ashes

, a download of Clay singing Baby of Mine is also included:
As in seasons past, this blog pays homage to our family's Three Father Lions, whose narratives were shared here in 2007 and 2008.
This June I am delighted to include Father's Day greetings for a very special Singer Man. I wonder if Parker whipped out a credit card and purchased his Dad a new iPhone. *g*
Wishing the Father Lions of your life a very memorable celebration. Have an awesome weekend, Clay Nation!
Caro
TECHNORATI TAGS:
Clay Aiken
,
Father's Day
,
Parker Foster Aiken
,
Clay Aiken The Ideal Idol
,
montage
,
first
,
Father Lions
,
Official Fan Club
,
Clay Nation