'I Want To Know What Love Is' from SRHP Tour Finale
Celebrating Mama Mac
Exquisite SRHP Finale Replayed
Today, June 22, would have been my mother's 97th birthday; and I can't think of a more appropriate lead-in than the magnificent Soft Rock Hard Place Orlando rendition of "I Want To Know What Love Is" by Clay Aiken and backup singers Quiana Parler and Angela Fisher.
The song embraces Mama Mac's special talent for singing beautiful harmony. The lady also knew a lot about love and laughter.
Throughout the Summer 2007 Tour, Quiana and Angela had cleverly teased Clay as to which would be his singing partner on the nightly IWTKWLI duet. At each concert, Clay sang the opening phrase but had to guess which backup vocalist to face for the reply.
During the Orlando finale, they both answered. As soon as Clay committed to singing with one partner, the other vocalised the next phrase. In the process, the trio spun gold, ending with Clay improvising low register riffs with Quiana and soaring into high altitudes scats with Angela.
In the memorable version of I Want To Know What Love Is, posted at YouTube by kb0326, Singerman renamed his backup singers "Heartache" and "Pain."
My mother would have loved it!
Sail On, Silver Girl, Sail On
Our family celebrates a joyful life that almost spanned a century. We have fond memories, full hearts, and the knowledge that this very special woman is still singing glorious harmony through her offspring and the many students she touched.

Mama Mac died on July 12, 2005, sailing peacefully to her next portal where no doubt she is alto section leader in the choir or maybe even directing it.
Many readers have "met" Mama Mac though this journal. In fact, I started the OFC version that parallels the Carolina blog during the week of her death. Snapshots from her colorful life have been shared almost every Mother's Day [i.e., A Very Special Clay Aiken Fan on 5/11/08] since.
Neighborhood 'Beach Lady'
As a wife, mother, grandmother, teacher, musician, gardener extraordinaire, Alleen McDonald worked hard and lived a full life. An alto in the First Baptist Church-Wilmington Chancel Choir for 42 years, she appreciated good music and was a very enthusiastic fan of Clay Aiken. She particularly loved to hear him sing "Bridge Over Troubled Water."
Besides her three children, five grandchildren, and six great-grandchildren, our spirited matriarch was special to a large extended family of friends, former students and coworkers, caregivers of the nursing home where she lived after breaking a hip.
Even with 35 years in the public schools, all the successful operettas and other musical productions, Mother is best remembered in our Wilmington neighborhood as "the beach lady." On any given summer day, we would load up her old 1939 Chevy, which she kept way past its prime just for these beach outings.
Bursting with neighborhood children in bathing suits, inner tubes, fishing/crabbing gear, and picnic lunches, the old jalopy bopped the 10 miles between Wilmington and Wrightsville Beach several times a week during the summers.
A Blue Ribbon Finale
One of my favorite Mama Mac stories happened during National Caregivers Week in May 2005. A month shy of her 93rd birthday, Mother was relatively cognizant 99% of the time, although she occasionally had "moments," such as contending she needed to get ready for choir practice or pack for "our trip" to Wilmington.
Awakened from a mid morning nap with a visit from her granddaughter and toddler twin great-grandchildren, Mother immediately insisted she needed to get dressed for a rehearsal with her physical therapist.
No one in the family knew the two had been rehearsing a duet for the nursing home's talent show that afternoon; so it was assumed our matriarch was groggy and still getting her bearings.


When my sister dropped by after choir practice later that evening, proudly displayed on Mother's door was a shiny lst Place Blue Ribbon. Mama Mac could sing harmony at the drop of a hat, a talent she shared with Clay and one of the many reasons she admired him so much.
My sister and I grew up singing three-part harmony with our mother at church functions. However, Mama Mac was the only one to win a blue ribbon for it!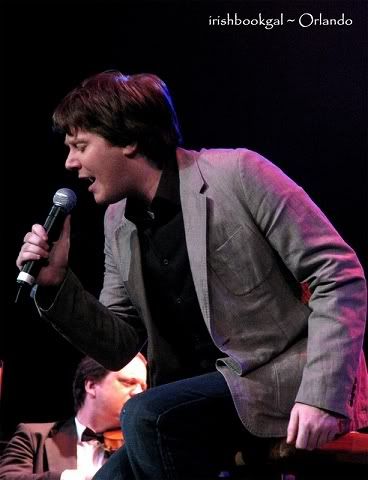 Photo by Irishbookgal from Orlando IWTKWLI.
Have an awesome week, Clay Nation!
Caro
TECHNORATI TAGS:
Clay Aiken
,
I Want To Know What Love Is
,
Quiana Parler
,
Angela Fisher
,
Soft Rock Hard Place Tour
,
mother
,
Mama Mac
,
birthday
,
harmony
,
Official Fan Club
,
Clay Nation