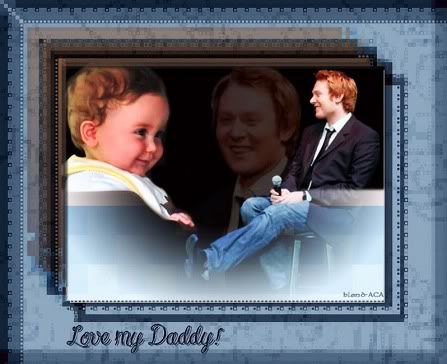 FATHER AND SON -- Clay Aiken and his son Parker are featured in the above graphic by Amazing_CA.
D-Day Changes Course of History
Fans Ponder Location of Clay
"Where in the world is Clay Aiken?" message board posts by CA fans are currently matching the periodic "Where in the world is Matt Lauer?" Today Show feature buzz for buzz.
Speculations run the gamut -- North Carolina, New York City, Los Angeles, a UNICEF trip to a region in need. Since his 2004 appointment as a UNICEF Ambassador, Clay has traveled to Indonesia, northern Uganda, Afghanistan, Mexico, Somalia, and Kenya. Fans generally learn about his UNICEF trips after he returns home.
As the "drought" continues, artists fill the interim with new montages and graphics, some of which are shared here. Fans like lynnie171 inject a little humor in the many variations of the Internet lament:
So another day has passed and still we have no idea where Clay is. Is there a lost and found we can contact?

Will he show up today? Will he answer some questions? Does he still love us or has he hooked up with someone else's fans and is cheating on us behind our backs? Is he answering their questions? So many worries, so little time.

Ain't No Sunshine - Montage by LovesClaysVoice
Performed by Eva Cassidy
Computer Problems Delay Blog
After viewing Saturday's D-Day events at the National American Cemetery and Memorial in Colleville sur Mer, France, I planned a brief blog entry commemorating the 65th anniversary of the Allied invasion that broke Nazi Germany's grip on France and turned the tide of history during World War II.
A simple process of updating and linking to America Honors Military Heroes, my Memorial Day blog about Pvt. John M. Steele, the 82nd Airborne Division parachutist who landed on the church steeple in Ste.-Mere-Eglise in the wee hours of June 6, 1944. As a reporter for the Star-News Newspapers, I interviewed Private Steele in 1963.
My laptop had other ideas, however; and I spent hours searching for a solution to get online. Ironically, neither Internet Explorer nor Mozilla would make the connection; but Tweet Deck was chirping away normally.
After many trial-by-error maneuvers, I finally linked to the Carolina blog from the deck. Once an IE window opened via that route, both browsers miraculously began started working. Three cheers and props for Twitter!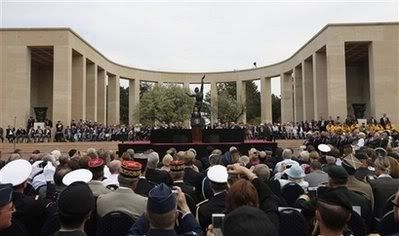 President Barack Obama speaks at D-Day ceremony
in France Saturday. AP Photo/Pablo Martinez Monsivais.
Moving Tributes Mark D-Day
The tributes by the leaders of four countries were very moving as they recalled the trials and sacrifices along the Normandy beaches on June 6, 1944. President Barack Obama spoke eloquently of the against all odds invasion by the American, British, and Canadian soldiers.
"Friends and veterans, what we cannot forget _ what we must not forget _ is that D-Day was a time and a place where the bravery and selflessness of a few was able to change the course of an entire century," he said.

Obama noted that his grandfather, Stanley Dunham, arrived at Normandy six weeks after D-Day and marched across France in Lt. Gen. George S. Patton's army.


Attending with Obama was his great uncle, Charles Payne, who was part of the first American division to reach and liberate a Nazi concentration camp that Obama and his great uncle visited in Germany on Friday.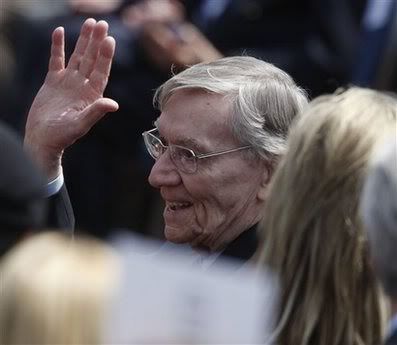 Charles Payne, President Obama's great uncle, waves from his seat
before the start of Saturday's ceremony. (AP Photo by Monsivais)
Kudos to Trumpeter Playing 'Taps'
The trumpeter who played "Taps" presented one of the most musical performances I can remember of the famous four-note song. Funny how the mind works, but this excellent rendition recalled for me the time Mr. Caro, a percussionist in the 82nd Airborne Division Band during the 1960's, performed the final post for a funeral at Fort Bragg.

Except for Mr. C, who was on CQ (charge of quarters), and the bugler on funeral call, the entire band was enjoying a weekend pass. All had been quiet throughout the day with no services scheduled.
By late afternoon, the two decided it would be safe for the bugler to catch up with his buddies in town. Not long after the brass player departed, a call came in for a late afternoon funeral. This was in a BCP [Before Cell Phones] era, and the only option was for Mr. Caro to do the best he could.
Drummer Subs on 'Taps'
As a future band director, he had taken brass methods and could play the trumpet respectably. However, the bugle with no valves is much more difficult to control, and pitches are changed entirely by the player's embouchure and air stream.
During the van ride to the funeral site, the drummer practiced the four notes continuously, so much so that his escorts finally asked, "Do you have to do that?" The answer was a sincere "more than you know!"
Fortunately, the drummer didn't blow out his lip beforehand; and even though he sweated through the familiar strains, he provided the departed soldier a reverent military farewell.
PHOTO INTERLUDE: This clickable collection includes graphics by Ashes, 1; Amazing_CA, 2, photos by PermaSwooned, 2; cindilu2, 3; Amazing_CA, 4, and 5, photos by KatyforClay.


A Walking, Talking TV Guide
With the decline of daily newspaper extras, the weekly TV guide for this area hit the cutting room floor a while back. For years, I have read the news online. My friend Terri, who may yet purchase her own computer, not only calls me for news updates but also for TV programming.
One of my goals this summer is to view the huge DIRECTV movie cache I recorded during the three-month free introductory period of 28 premium channels. With a light schedule of summer music lessons, you would think this would be a snap.
In the past week, I diligently watched movies off and on around the clock; but everyday I seem to come across interesting choices on the basic channels. Right now my free space stands at 7% with four more tapings slated through noon Monday.
On-Screen Programming Shared
In addition to my daily programming routine, I have literally become Terri's TV guide. This weekend she marched through a list of military movies that would have made the top brass proud. I misread the date for "Tora! Tora! Tora!" and she is now eagerly awaiting the corrected target time of 9:30 a.m. Monday.
I need to make tracks and clear some space. DIRECTV is offering free access to the premier package June 18-21. Off to watch movies ... and set up a computer ... and encourage my friend to try DIRECTV. The latter would net a "Benjamin" for both of us!
Below is a clickable of Amazing_CA's opening graphic:

Have an awesome week, Clay Nation!
Caro
TECHNORATI TAGS:
Clay Aiken
,
UNICEF Ambassador
,
D-Day
,
Normandy
,
Private John M. Steele
,
President Barack Obama
,
Stanley Dunham
,
Charles Payne
,
Taps
,
computer problems
,
Twitter
,
Ain't No Sunshine
,
montage
,
Eva Cassidy
,
You Tube
,
DIRECTV
,
TV Guide
,
Official Fan Club
,
Clay Nation