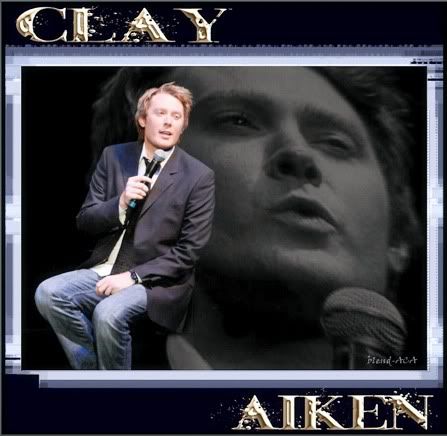 VEGAS PERFORMANCE -- Clay Aiken was among the featured performers at the May 9 David Foster & Friends Concert in Las Vegas. Graphic by Amazing_CA.
Grandson Enjoys New Adventures

AI2 Sets Sales, Viewer Records
Whether comparing debut week singles sales or finale show viewers for the eight editions of American Idol, Clay Aiken and Ruben Studdard of Season 2 still hold the crown.
Singles tabulations have been published for the winners and runner-ups at several sites, two being mjsbigidolblog: Kris and Adam: First Week Sales Comparison Chart and IDOL LIVE: Kris' and Adams' first week sales in comparison.
Ruben's "Flying Without Wings / Superstar" single tops the winners' column with 286,000 singles sold the first week; and Clay's "This Is the Night" / "Bridge Over Troubled Water" leads everyone -- winners and runners up -- with a 393,000-unit debut.
In a message board post, Fountaindawg combined both groups -- winners and runners up -- to complete the chart below. The first number on the right is the highest ranking the single achieved, and the second marks its Top 100 opening slot. There was no single by Season 1 runner-up Justin Guarini.
Idol First Week Singles Sales Comparisons
Winners/Runners-Up Combined

1) Clay Aiken, "This Is The Night / Bridge over Troubled Water" - 393,000 - #1 (#1)
2) Ruben Studdard, "Flying Without Wings / Superstar" - 286,000 - #2 (#2)
3) David Cook, "The Time of My Life" - 236,024 - #3 (#3)
4) Kelly Clarkson, "A Moment Like This / Before Your Love" - 236,000 - #1 (#52)
5) Taylor Hicks, "Do I Make You Proud / Takin' It to the Streets" - 190,147 - #1 (#1)
6) Fantasia, "I Believe / Chain of Fools / Summertime" - 142,141 - #1 (#1)
7) Kris Allen, "No Boundaries" - 134,458 - #11 (#11)
8) Carrie Underwood, "Inside Your Heaven / Independence Day" - 131,504 - #1 (#1)
9) Adam Lambert, "Mad World" - 114,763 - #19 (#19)
10) Bo Bice, "Inside Your Heaven / Vehicle" - 108,158 - #2 (#2)
11) Jordin Sparks, "This Is My Now" -74,303 - #15 (#15)
12) David Archuleta, "Imagine" - 71,178 - #36 (#36)
13) Blake Lewis, "You Give Love a Bad Name" - 70,133 - #18 (#18)
14) Diana DeGarmo, "Dreams / Don't Cry Out Loud / I Believe" - 65,000 - #14 (#14)
15) Katharine McPhee, "Somewhere Over the Rainbow / My Destiny" - 47,394 - #12 (#12)
Season 2 Finale Most Viewed

The two-hour finale rankings are also led by the Season 2 showdown of Clay and Ruben. This spring's Season 8 final show tied with the Fantasia Barrino-Diana DeGarma episode of Season 3. According to Ace Show Biz, the viewing numbers for each season finale stack up like this:

(1) Season 2 (Studdard-Aiken): 38 million
(2) Season 5 (Hicks-McPhee): 36.4 million
(3) Season 7 (Cook-Archuleta): 31.7 million
(4) Season 6 (Sparks-Lewis): 30.7 million
(5) Season 4 (Underwood-Bice): 30.3 million
(6) Season 8 (Allen-Lambert): 28.84 million (tie)
(6) Season 3 (Barrino-DeGarmo): 28.84 million (tie)
(7) Season 1 (Clarkson-Guarrini): 22.8 million
Despite the numbers, ask any Clay Aiken fan and it's still all about pipes, heart, and personality. We came for the voice and stayed for the man. Idol found, game over!
PHOTO INTERLUDE
: Graphics by

Amazing_CA

, 1 and 3, and

Fountaindawg

, 2, are featured in this clickable collection.
'Summer of Kai' Recalled

Last June my grandson Kai and I were just getting to know each other, routinely watching kiddie programs like Mickey Mouse on TV and penning the Carolina blog together. During his month-long visit, Kai learned to crawl, pull himself up to a standing position, and was beginning to talk before flying home with his mother.
Some of Kai's favorite times were spent playing with twin cousins five years his elder. He loved swinging, going to the their t-ball games, and splashing in the pool while the they took swimming lessons. The lush, green grass and tall trees of this state fascinated him.
On 5/25/08, Kai "blogged" about meeting the Carolina clan in Kai Joins Clay Aiken Fan Club, sharing some of his daily rituals -- pulling out a few books from the bottom shelf of a music cabinet as he crawled by every morning; beating out a rhythm on the washing machine and dryer before entering the den; and watching a full lineup of kiddie shows with his Grandma Caro. Not a day went by that we didn't check to see if the "Monkey Mail" had come.
The grand piano was another favorite in his daily routine. At all times, Kai schemed for access to the keys and buttons on the laptop, telephone, and remote control. Included below are clickable photos by his mother with graphics by Sally, 1, and Amazing_CA, 5.
With the 5/13 birth of his baby sister, Kai now spends his days hanging with his grandfather, whom he calls Poppy. He is walking, talking, experimenting and interacting with everything and everyone in sight.
Some of his favorite haunts include the park, the hardware store where he enjoys spinning wheels incessantly, his great-grandmother's home where he makes a beeline for the piano.
While he still has a propensity for buttons, snaps, openings and closures of all varieties, Kai also likes to "help" his mother in the kitchen. She created a cabinet shelf for him to routinely rearrange and eventually turned over the dishwasher to him, too.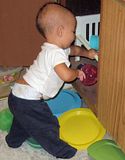 Kai Bypasses Climbing Obstacles
Our grandson loves to climb, and he is constantly seeking paths to the pinnacle of tables, cabinets, sinks, you name it. After the adults leaned the dining room chairs in a manner meant to discourage his "hobby," Kai determined a solution, got down on his hands and knees, and pushed an uprighted chair to the desired location.
Very early one May morning the target was the dividing shelf between the kitchen and dining room. Poppy was still asleep, but Kai knew the phone locator button would blast him wide awake. It did, and another adventurous day was soon underway.
Since then, the dining room chairs are flipped upside down when not in use. I wonder how long it will take this clever little guy to overcome this latest hurdle!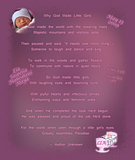 As far as Kai is concerned, the jury is still out on baby sister Lia. A future reading assignment for him will be the above double-clickable "Why God Made Little Girls" graphic created by Ashes.
Out west, the computer that supplies Carolina relatives pictures of Lia and Kai is supposed to be home from the shop and back in action this weekend.
Below is a clickable of the opening graphic by Amazing_CA: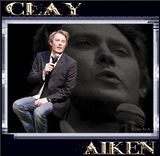 Have a wonderful week, Clay Nation!

Caro
TECHNORATI TAGS:
Clay Aiken
,
American Idol
,
Ruben Studdard
,
singles sales comparisons
,
finale viewer rankings
,
grandchildren
,
Official Fan Club
,
Clay Nation