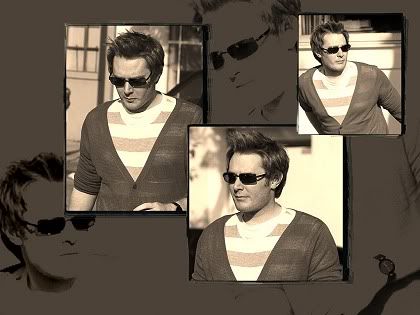 Stylized graphic design of singer Clay Aiken by cindilu2.
No Quiet Vacation

Q&A Replies Prompt Media Blitz
Spring was supposed to be down time for singer Clay Aiken, but you would never know it from the media blitz prompted by the singer's replies to queries in the very popular Q&A thread at Clayonline, his official fan club site.
A gazillion news stories, blogs, and tweets have kept his opinion about the over-hyping of American Idol, a runner-up's song interpretation, etc., front and center for more than a week. Just like Season 2, his surprise appearance on the Season 5 finale, and the Season 8 remarks to his fans, Clay has inadvertently created media buzz meant for the actual winner.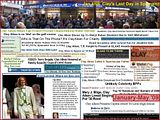 Jan-May 09 Headlines
Clickable by Fountaindawg
Certainly, everyone on the planet does not appreciate Clay's vocal style, incredible pipes, and charitable work for children through The Bubel/Aiken Foundation and UNICEF; and that's their prerogative. But it's for sure, his name in headlines is an automatic magnet for hits and a widespread choice by fans and non-supporters alike.
The tags below a current eonline story and poll involving the Season 2 and 8 Idol runner-ups clearly ascribe to this theory:

Filed under TOP STORIES, REALITY TV, POLLS, CLAY AIKEN, FEUDS, AMERICAN IDOL.
No doubt you have already read Clay's very articulate reply to the fan board question about the Prop 8 ruling in California. If not, see When Clay Aiken Speaks, People Listen at the CA News Network.
The June calendar in the photo interlude pays homage to Clay's 2008 blond hairdo, which the singer says is probably passe. Featured are designs by graphic artists Amazing_CA, 1 and 5, the latter with Scrpkym photos; Fountaindawg, 2; and cindilu2, 3 and 4. For the wide screen version of the June calendar and opening graphic, see Cindy's Yuku site.


I had planned to write about my grandson Kai's latest escapades. Believe me, at 20 months, he's already testing the "terrible 2" waters. Those stories can wait until next time when, hopefully, the computer that relays photos of him and sister Lia to the Carolina clan is home from the shop.
Have an awesome week, Clay Nation!
Caro
TECHNORATI TAGS:
Clay Aiken
,
American Idol
,
The Bubel/Aiken Foundation
,
UNICEF Ambassador
,
Prop 8
,
Clay Aiken News Network
,
Official Fan Club
,
Clay Nation