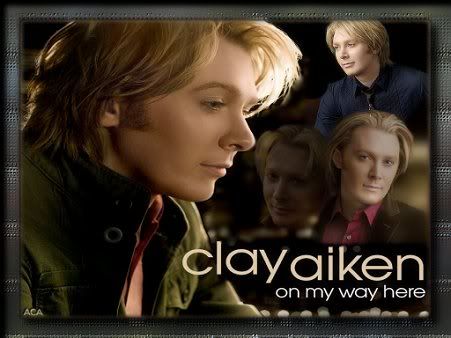 ON MY WAY HERE - Four Eric Ogden photos from the CD shoot are featured in Amazing_CA's handsome graphic.
It's Been a Year!

Fans Mark OMWH Anniversary

A day late and still in the midst of a computer meltdown, the Carolina blog is passing out party hats and noise-makers to celebrate the one-year anniversary of On My Way Here, Clay Aiken's much-anticipated third mainstream album.
This calendar rewind features promo highlights, graphic designs, and montages inspired by songs from the diverse playlist of OMWH:
On My Way Here - OMWH
Ashes - Ashes
Everything I Don't Need - EIDN
Something About Us - SAU
Falling - Falling
Where I Draw the Line - WIDTL
The Real Me TRM
Weight of the World - WOTH
As Long As We're Here - ALAWH
Sacrificial Love - SL
Grace of God - GOG
Lover All Alone - LAO



BONUS TRACKS



It's in Everyone of Us - IIEOU
Forget I Ever Knew You - FIEKY
When I Need You - WINY
The singer's stint as Sir Robin in the Broadway show "Spamalot" ended the weekend prior to OMWH's May 6 drop; but promo for the album was already in high gear via online webisodes, New York-based TV show appearances, and a live concert on television's popular shopping site, QVC.
Slide Show Features Fan Art
The fandom's graphic artists wasted no time in creating amazing designs promoting the new CD.
"Start spreading the news" links to a slide show of 38 handsome designs by these visual artists: Sally, Amazing_CA, Ambassador of Love, Clayquebec1, ABeautifulMind, j4clay, Cindilu2, Claysmelody, MNmeesh, DangHesHot, Claystruck, BettyJean, and Artz11.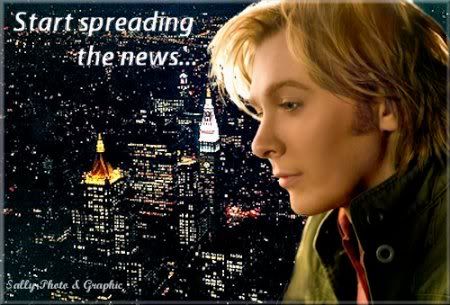 Graphic by Sally links to OMWH Slide Show.
In April 2008, various OMWH promo photos began appearing on the singer's MySpace page. Besides the title track, two songs from the album are still spinning on the player today: "EIDN" and "Ashes." Also available are "Invisible" and "Without You" from earlier CD's. Visits to Clay's site recently passed the 4 million mark.

Popular online promos included webisodes showing the making of OMWH and live performances of five songs (Ashes, EIDN, WIDTL OMWH, and SAU) on AOL Sessions, still available at the link. The clickable Sessions screen cap below is by ClayIzzaQT.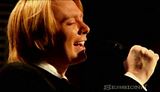 An autograph session at New York City's Virgin Megastore was followed by East and West Coast TV appearances. By June, all 12 tracks were consistently ranked in AOL's top 20 songs, and the Sessions videos populated the "most viewed" list and frequently led AOL's Top 11 Music Video Countdown.

PHOTO INTERLUDE: Highlighted in this clickable interlude are images from Spring 2008: an online webisode, successful autograph session, and TV appearances. Graphic artists include Amazing_CA, 1 and 2 with photos by dancerdad; ABeautifulMind, 3; and Fountaindawg, photos by SecretlyLovesClay, 4 and 5.
Shipwreck: Clay's Musical Diversity Tops
Tony of Shipwreck Island Studios gave On My Way Here a rating of 4.85/5. Below are excerpts from his review of the adult contemporary/pop rock album:

Five years after Measure Of A Man, Clay showcases his growth as a musician as well as a person. From the catchy "Ashes" to the inspiring "As Long As Were Here", Aiken shares his diversity like no current musician.

After every Clay release I find myself wondering what could he possibly do next to showcase his talent? Of course only he knows what is to come up next. But with On My Way Here, he has hit another home run.

There's a great pallet of songs to choose from. There are of course the Clay Aiken pop rock tunes that music fans all know him for, then there are tunes that will shock even the most faithful "CA" fan.

If you like a broad range of material that covers different musical genres then it is a no brainer that you will appreciate this release. The one song that I feel will shock many "Everything I Don't Need", because it is "CA" outside the box. Clearly going the extra mile to try something different and frankly I think it worked out perfectly.

Overall Clay has done the impossible again, releasing a disc that has something for everyone. A fun filled adventure from start to finish in the way only "CA" can do it.
Tony listed the 10 "best" tracks as On My Way Here, Ashes, Everything I Don't Need, Falling, Where I Draw the Line, The Real Me, Weight of the World, As Long As We're Here, Grace of God, Lover All Alone.

An Obama Love Story
Something About Us - Montage by DonnaLovesWayne
Montages Spread OMWH Virally
Fan montages that began as a simple celebration of the beautiful songs on OMWH evolved into a very successful tool in the viral marketing arena, spreading the word about the CD.
One of the album's most viewed montages, "An Obama Love Story" was set to "Something About Us" by DonnaLovesWayne and played at one of the presidential inaugural balls in January.
Revisiting the amazing OMWH videos is an superb way to mark the first anniversary. These selections are a starting point. As you discover others, please suggest them for the list.
ASHES: Rise Up From the Ashes -- UNICEF, Suereu; Rising From the Ashes by IUGal; and John McCain Tribute by Lacy704.
AS LONG AS WE'RE HERE: ALAWH, Aspiegirl; ALAWH (Somalia) by Suereu; ALAWH (inspired by Clay's UNICEF work) by lampmstar; and Nureyev & Fonteyn ALAWH by Yollie950.
EVERYTHING I DON'T NEED: EIDN, Suerue.
FALLING: Dancing with the Stars (from various seasons), musicg57, and Clay Aiken - Falling, kaaca.
GRACE OF GOD: Earthquake in China, Renegade79; Grace of God (UNICEF missions), Emerson032; Clay Aiken - Somalia Awareness by Yollie950; Clay Aiken in Somalia ("Grace of God") by Brolio42; Survival Project - UNICEF ("Grace of God" - Clay Aiken) by Gerwhisp; and Obama for Change - Grace of God by AshFoals.
LOVER ALL ALONE: Lover All Alone - Grey's Anatomy by AprilJolex and Lover All Alone - The Notebook by loveholic6364.
ON MY WAY HERE: OMWH, Aspiegirl; OMWH by Dreamlarge; and OMWH April-May Performances (GMA/Kimmel/QVC/etc), Salamander5230.
SACRIFICIAL LOVE: Dancing with the Stars, Season 6, musicg57.
SOMETHING ABOUT US: Apolo and Julianne: The Reunion, Betty897x; Legends, Yollie950; and Something About Us - Jammy (Guiding Light) by kamaly3; and An OBAMA Love Story by DonnaLovesWayne.
THE REAL ME: Reveal Me Completely, Yollie950; The Real Me (wave videography), Gerwhisp; and The Real Me, Aspiegirl.
WEIGHT OF THE WORLD: Iron Man HIS Perspective, 1agerard.
The final three montages were created with OMWH bonus tracks:
FORGET I EVER KNEW YOU (bonus): FIEKY, Suerue
IT'S IN EVERYONE OF US (bonus): IIEOU (inspired by Clay's work with UNICEF and TBAF), emerson032, and IIEOU, Iampmstar.
As you complete this weekend's anniversary "assignment" losing a couple of hours watching OMWH montages at YouTube, note just how many first learned about the CD through these videos.
I was STUNNED to find out it was Clay Aiken. It is indeed a BEAUTIFUL song, and I have a whole new respect for Clay Aiken. I might even buy his new album with "Something About Us" on it.

That's Clay Aiken???? WOW!!!!! I love that song ... I need to find that song and get it. Wouldn't that be perfect for my wedding?

Other than on American Idol, I had never heard any of Clay Aiken's music. This song is excellent.

Clay Aiken must be the Best Kept Secret in America! I had no idea he had such an incomparable voice. And the video -- perfection!
"Incomparable" certainly describes the man, the voice, and the incredible music on his On My Way Here album. Below is a clickable of ACA's opening graphic: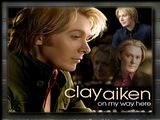 Have an awesome weekend, Clay Nation ... and Happy OMWH Anniversary!
Caro
TECHNORATI TAGS:
Clay Aiken
,
On My Way Here
,
anniversary
,
Shipwreck Island Studios
,
My Space
,
AOL Sessions
,
webisode
,
graphics
,
montage
,
You Tube
,
Official Fan Club
,
Clay Nation