Dancing with the Stars Final 3 - Everything I Don't Need
Students Make 'Beautiful Music'
EIDN Showcases DWTS Final 3
Having guest-starred on the season-ending episode of '30 Rock' last week, Clay Aiken is this week helping to advertise the finale of Dancing with the Stars in the "Everything I Don't Need" montage by LovesClaysVoice.
The top 3 contestants -- Shawn Johnson and Mark Ballas, Melissa Rycroft and Tony Dovolani, Gilles Marini and Cheryl Burke -- face off in Monday night's ABC finale. The winning couple will be announced during Tuesday's show.
The Everything I Don't Need montage, which can also be viewed at YouTube, was created to a popular track from the Clay's 2008 album, On My Way Here. Here is a Sendspace if you would like to download the montage.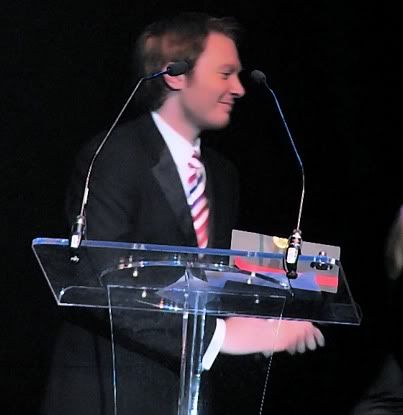 Clay honors top musical at NCT Awards. (Scrpkym)
Clay Presents Theatre Award

Monday night Clay was a celebrity presenter for the outstanding musical at the Third Annual North Carolina Theatre Capital Awards at the Raleigh Memorial Auditorium.

Arts educators at 11 schools from all the state registered their school productions, actors, and tech personnel for consideration of a NCT Capital Award. According to the Raleigh Chronicle, outstanding musical, actor, and actress nominees performed a number or portion of a song during the program.

During Clay's introduction, his accomplishments in the music industry, theater, and charitable organizations were outlined.
The list of winners can be read at Entertainment.MyNC.com. The event was filmed for a June 30 telecast.
PHOTO INTERLUDE: Below is a clickable interlude of graphics from the singer's May 9 performance with "David Foster & Friends" in Las Vegas. Photos are by Ethan Miller. The designers are Amazing_CA, 1 and 2, and Ashes, 3.
Spring Recital Yields Surprise
My music students not only presented a beautiful spring recital Sunday, but we just may have accidentally discovered a solution for future droughts in the area. For the second consecutive year, our recital date has been a giant invitation for rain!
Despite the wet conditions outside, all was sunny in the hall as students presented a sample of their piano, violin, and viola studies for family, friends, and teachers. As reported in earlier entries, the advanced strings were jointed by my sister's woodwind students and a harpist for the final numbers, "Ashokan Farewell" and "Star Wars."
The wide range of styles and composers -- folk, Baroque, Romantic, jazz -- even included a musical seventh inning stretch when the strings played a hornpipe from their Irish fiddle repertoire. The audience supplied toe taps and finger snaps.
Amy, a senior violinist, played the first movement of a Vivaldi concerto, for her final concert. Next year she will be a college freshman in Idaho.
Creativity, Musicality Shine
Some of my creative pianists are delving into composition and improvisation. Caleb added a jazzy beat and transposed an otherwise "normal" piano solo, while Christian preceded "Hymn of Praise" with his own medieval version. Performing one of his compositions, Joseph actually predicted the weather weeks ago when he named the solo "Coming Storm."
The inevitable butterflies appeared, but most students remained calm, an important lesson that transfers to other areas of life. This teacher is always very pleased when students play musically. I could list them all; but kudos to Anna, violinist who opened the recital with a spirited bourree by Handel, and Emily, a junior pianist performing Schumann after her school prom.
Thanks to some very thoughtful students, two lovely bouquets of flowers will adorn my living room for the week's follow-up lessons. Driving home, I called my sister to tell her about the surprise gift card from the string group. LOL, she already knew because they had asked her for suggestions at our rehearsal!
Post Recital TO DO Checklist
Following the recital, there were two main projects on my TO DO list: (a) email an announcement of granddaughter Lia's birth to family and friends, which I did; and (b) download as many movies as possible before my three-month bonus period expired at midnight.
I dialed DIRECTV at 11:40 p.m. Sunday with only 4% available on the DVR receiver, and it will probably take me all summer to make my way through the movie stash. Since I can enjoy movies and books more than once, the most difficult part will be hitting the delete button.
Despite the rainy weather, Sunday proved an awesome beginning to the new week. Hope yours is just as special!
Caro
TECHNORATI TAGS: Clay Aiken, On My Way Here, Everything I Don't Need, Dancing with the Stars, Final 3, montage, David Foster & Friends, North Carolina Theatre Capital Awards, spring recital, granddaughter, DIRECTV, Official Fan Club, Clay Nation