Clay sings "Unchained Melody" at David Foster After Party.
A Week of High Notes
Clay Soars with UM, '30 Rock'
Once I heard Clay Aiken's exquisite version of "Unchained Melody" on American Idol 2 in 2003, the song and especially the heavenly high note became tops in my book.
In the past six years, the Carolina singer has performed the song countless times on tour and at various events. Fans who attended last weekend's David Foster & Friends Concert in Las Vegas raved that Clay's after-party rendition was incredible, but warned that chances of ever seeing a video were very slim.
On the morning after Clay's celebrated TV appearance on NBC, most fans were still in a 30 Rock stupor. (See links below.) I, however, was thrilled to stumble across the 5/9 UM performance from the DF&F after-party.
Unmistakable Voice Shines
The video isn't professional, but the unmistakable, resplendent voice radiates throughout. Thanks to Glasair03, a Josh Groban fan according to previously-posted videos, you can check it out on the above player or at YouTube.
Here is a Sendspace download of the above performance. A video from another angle is available here. On both, you can hear David Foster saying, "Here it comes!" as the song approaches the apex.
Nursing home visits with my late mother, a public school music teacher for 35 years, were never complete without our listening to Clay sing UM. Curious by nature and assisted by my flute, I played along with the video this morning to determine the pitch of this special gem.
During American Idol and the 2005 Jukebox Tour, Clay consistently soared to fourth space treble "E" in his beautiful upper register. By the 2006 David Foster Gala, he had lowered the key a step and the pinnacle note continues as fourth line treble "D."
My favorite singer has an unusually wide range. For me, the climax of "Unchained Melody" is a glorious celebration of the magnificent voice.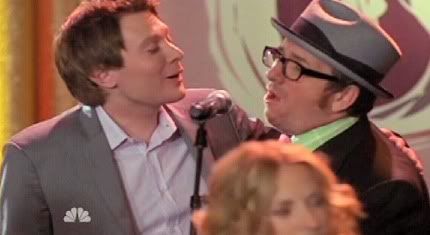 Clay and Elvis Costello on 30 Rock.
Stars Turn Out for '30 Rock' Benefit
In a hindsight report, David Bauder wrote this about Thursday's final 30 Rock episode:
NEW YORK — How hip is the room at "30 Rock" these days?


Hip enough to bring in Mary J. Blige, Clay Aiken, Elvis Costello, Norah Jones, Cyndi Lauper, Sheryl Crow, Wyclef Jean, Moby, Ad-Rock, Steve Earle and a backstage party's worth of other musicians for a "benefit concert" during the show's season finale. [snip]


"30 Rock" may be slipping into its summer hibernation, but NBC will be quick to milk it by distributing copies of the benefit online and helping viewers follow the lyrics. T-shirts are already on sale with the "catch-phrase" of "That's a DealBreaker, Ladies!" It's a new paradigm _ television shows need to generate more money.


From "30 Rock" this week, producers provided the perfect buzz-worthy curtain-closer for a buzz-worthy show.
To order a "That's a Dealbreaker" t-shirt, link to the 30 Rock site:

Other popular "30 Rock" links on CA message boards today:

Stream the "30 Rock" finale here: Kidney Now!

For visuals from the episode, see 30 Rock Photo Slide Show.

Download He Needs a Kidney for 99 cents on the "30 Rock" page at iTunes. Proceeds go to the Nationa Kidney founation.

Compliments of Gerwhisp, here is a video download of Clay's scenes.
Clay and Mary J. Blige were interviewed by
MTV
about the show. Here are a couple of graphs:
"30 Rock is not only the funniest show on TV now; it's also the smartest," Aiken told MTV News in a statement. "Things that you see or hear on that show start popping up in everyday life all of the time. I don't think any show since 'Seinfeld' has been able to do that."

Given the subtle reveal of Aiken's newfound "cousin," it sounds like the "Spamalot" star might have an opening to return for another stint.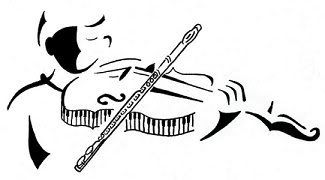 Superstition Among Musicians
Sometimes a smooth-sailing dress rehearsal precludes a poor performance. I hope not because the stars were well-aligned for Thursday's final run-through of our string-wind-harp-piano ensembles to be performed at Sunday's student recital. Besides "Ashokan Farewell" and "Star Wars," the solos and fiddle tune sounded great.
It was special to finally hear the harpist, and my very inquisitive students ("Why do the strings have different colors?" ... "What's the purpose of all those pedals?) came away with a music appreciation lesson.
Naturally, the violinists and violist had to sample the array of percussion instruments in this well-equipped band room one more time. The most exuberant players, however, were two little sisters who must have heard about the previous rehearsal and weren't about to miss out on all the fun.
Thank goodness, all the equipment will be safely stored in another room for the main event Sunday!
Grandma Reverts to Reporter Mode

Living 1,300 miles away from the birth of a new granddaughter has been very frustrating. For two days I could not get through to the new mother. A nurse finally checked and, sure enough, there was no phone in her room!
In addition, Poppy, who has his hands full with our 20-month-year old grandson, is a dismal source for statistics. He, of course, thinks I am the epitome of the opposite end of the dial and teases that my inquisitive reporter mode doesn't have an "off" switch.
Even so, I googled to find the hospital phone number and, after speaking with the helpful nurse, finally talked with our daughter, who gladly told her mother the requisite specifics: 6 lbs. 1 oz.; 19 inches long; healthy in every way; an abundant crown of red hair.
Red Hair Traced to Great-Great Grands
Upon further investigation of family trees, the strawberry blond tresses probably come from Poppy's paternal Irish grandmother, whose nickname was "Carrot Top," with perhaps a few recessive genes from my paternal grandmother's family in which there were twin sisters, one of whom was red-headed.
Like her brother, Lia has three Hawaiian names, two with special meanings: Saipelia (Samoan meaning "strong"), Mahealani (which means "calm and peaceful"), and Maya.
Late Friday night I "met" our new granddaughter. Here are two clickables of the family at home, one with big brother Kai:


Cross your fingers that Grandma has some "calm and peaceful" moments Sunday. Have an awesome weekend, Clay Nation!

Caro
TECHNORATI TAGS:
Clay Aiken
,
30 Rock
,
Dealbreaker T-Shirt
,
Unchained Melody
,
David Foster & Friends
,
spring recital
,
granddaughter
,
Official Fan Club
,
Clay Nation