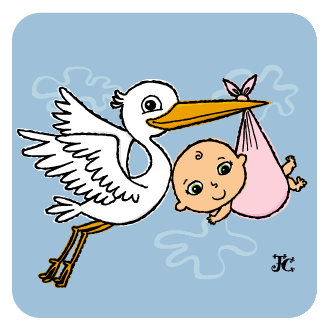 It's a Girl!
Stork Interrupts Blog Routine
What a morning! In the midst of gathering information about Clay Aiken's 5/14 appearance on the star-studded 30 Rock finale and a post David Foster & Friends concert interview, I became a grandmother again!
The fact that all I know came from three men gathered in the hospital waiting room 1,300 miles away -- grandfather, cousin, and best friend -- explains why details are very sketchy.
According to the "sources," our new granddaughter was born mid-morning Wednesday; is healthy; has red hair and the requisite number of fingers and toes; weighs "6 lbs.-ish"; and sports four names like her brother. The new mother was still in the delivery room, so I left a message on her cell phone she will hear later.


Big brother was not too pleased having his morning schedule interrupted, although I understand he really enjoyed playing with the elevator buttons. I have a feeling life as he has known it just changed forever.
I'm off to spread the news to the Carolina relatives and teach five music lessons. A dress rehearsal Thursday for Sunday's spring recital round out this special calendar week.
Have an awesome weekend, Clay Nation!
Caro
P.S. Below are the links for the Clay Aiken blog I was preparing when grandmotherhood took over. Enjoy!

Screen cap by Gerwhisp
30 Rock's 'Kidney Now' Finale: Preview of of NBC's 30 Rock with regulars Tina Fey and Alec Baldwin joined by guest stars Clay Aiken, Sheryl Crow, Mary J. Blige, Elvis Costello, and Adam Levine of Maroon 5. The final episode airs at 9:30 p.m. ET Thursday on NBC.
ETonline Interview Features Foster & Friends: Donny Osmond interviews several participants from the David Foster & Friends Concert. The ETonline video begins with Cher and ends with Clay talking about the show, his son, and the courageous Farrah Fawcett.
TECHNORATI TAGS:
Clay Aiken
,
30 Rock
,
promo
,
David Foster & Friends
,
ETonline
,
granddaughter
,
Official Fan Club
,
Clay Nation