NIP Wins $10,000 Prize
RALEIGH - The Champions Gala began on a high note Saturday as a Christie Cookie representative announced the National Inclusion Project won top prize in the Charity Giveaway and presented Clay Aiken with a check for $10,000. More on this later!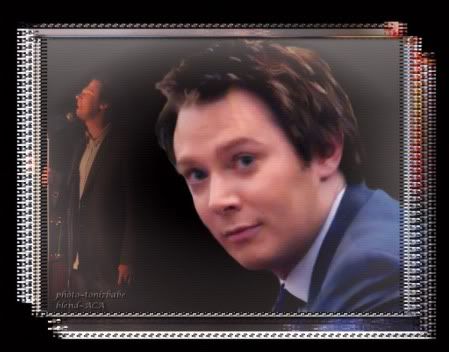 GALA WEEKEND -- Clay Aiken will entertain as the National Inclusion Project supporters assemble for the foundation's 2009 Gala in Raleigh Saturday. Graphic of 2008 Gala by AmazingCA, photos by toni7babe.
Foundation Vies for Charity Funds
Gala Weekend Set in Raleigh
You can tell the 2009 Champions Gala is getting close when the number of "sleeps" prior to Saturday's annual event begin creeping into opening and closing greetings of Clay Aiken message board posts.
4...3...2...1 sleep(s) until the Gala!
Throughout North America, hundreds of fans are packing their suitcases for the annual gathering of National Inclusion Project supporters in Raleigh, NC.
There is no such thing as a one-day get-together for Clay Aiken fans, and the festivities celebrating and raising funds for inclusion will be augmented by luncheons, dinners, shopping, and trips to the coast on either side of Saturday.
Fan Creations Add to Gala Auction
Among the highlights of the Champions Gala are the online, silent, and live auctions. In addition to merchandise donated by businesses (jewelry, flat screen TV, vacation getaways, etc.), several exceptional fan creations are included.
See 2009 Champions Gala Auction for a complete listing of items up for bid. Below are previews posted by Clayversity contributors earlier this week. Pictures of the artwork took place on lawn chairs, kitchen tables, a pebbled walk. All are double-clickable!
The first -- "Humanitarian" by msidolfan -- is one of three pictures under flat glass aquarian rocks that show important milestones in Clay's career and life. The others are titled "On My Way Here" and "Rock Singer."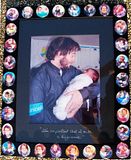 Hosaa donated three photo books to the auction. Two are concert clack collections (Christmas 2006 and Summer 2007), and the third, "Shooting Clay Aiken," is a collection of some of the best professional and fan photography 2006 Christmas JNT.
In addition to the cover, samples shown include photos by Eric Ogden - 2003, Matthew Rolston, and Fun P.R. (American Idol, Disney World, Sea World), and Photo Shoots 2004.
A staple of past galas has been a mosaic by

ClayIzzaQT

. In the 2009 version, she features

Kareneh's

photo from the Grand Rapids Joyful Noise Tour 2005 Concert. Clay's dog Raleigh is hidden in the mosaic.
Cotton's framed photos include a UNICEF blend and a David Foster & Friends favorite.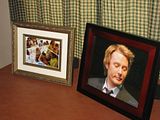 Fountaindawg created a collage of pictures from every Clay Aiken tour. Photographers include Shine in nc, Spolightlover, jtgranny, Invisible926, ncgurrl, Solitaire30, Karen Eh, toni7babe, and Snix.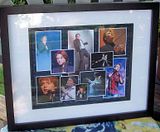 Can you imagine the hours it must have taken ymarie to create this cross stitch of a photo from the 2008 Gala?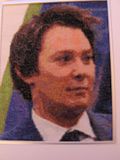 Fans Gather Final Giveaway Votes
Gala-bound fans with laptops and those connecting to the festivities via cellstream from home attempted to win the $10,000 top prize in the Christie Cookie Charity Giveaway for the National Inclusion Project.
In the final hours, the race tightened with the lead changing hands Wednesday afternoon. Rounding up all available votes (email addresses) stepped up a notch among the competing charities and, for Gala attendees, became as important as packing for Raleigh.
Singer Man got into the spirit with an afternoon post on his Facebook page:

The National Inclusion Project needs your help! With just 2 minutes, you can make a huge difference in the lives of many children. The winning charity gets $10,000 – that money would fund an ENTIRE Let's ALL Play camp for the summer.

All you have to do is click on the link below and vote for the National Inclusion Project as your favorite charity.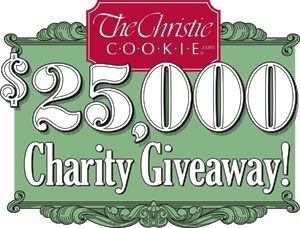 The voting link was shared with friends and family to collect all possible email ballots at the Charity Giveaway site. The giveaway ended at Thursday, Oct. 15, at 11:59 PM Central Time. This translates as follows:
10/16, 12:59 AM Eastern Time
10/15 at 10:59 PM Mountain Time
10/15 at 9:59 PM Pacific Time
10/15 at 8:59 PM in Alaska
10/15 at 6:59 PM in Hawaii
At 10 a.m. Thursday, the Chrsitie Cookie site removed voting totals from the website in order to verify email addresses. The final tallies are expected to be announced Sunday. Thursday morning these charities were in the top five positions:
1. National Inclusion Project Raleigh, NC
2. Child Advocacy Center Murfreesboro, TN
3. Nazarene Compassionate Ministries Lenexa, KS
4. Young Singers Foundation Tulsa, OK
5. Liz Logelin Foundation Minnetonka, MN
When the final bell rings, the top two charities will receive $10,000 and $5,000, respectively, with the next 10 winning $1,000 each.
What better way to open the Champions Gala Weekend than to bring home this $10,000 prize!
PHOTO INTERLUDE: Featured in this clickable collection are graphics and photos from the 2008 Gala, including AmazingCA, photo by toni7babe, 1; photo by PermaSwooned, 2; and Fountaindawg, photos by toni7babe and SmartyPantsSuz, 3.
CA Fans Seek 'Challenge' Donations
Supporters of the National Inclusion Project are also involved in
America's Giving Challenge
on Facebook in which the charity with the most donations through Nov. 7 will win the $50,000 top prize.
Voting (a donation of at least $10) can take place one time between 3 p.m. and 2:59 p.m. the following day. Daily awards are logged for the top two charities within each 24-hour period. The National Inclusion Project won $1,000 winner on Oct. 7 and $500 runner-up on Oct. 11.
No matter which charity wins the big money, the donations will aid the foundation. Check Clay Aiken message boards and Clayonline for the plan of action. Supporters who can only donate once are urged to do so in the Monday 3 p.m. - Tuesday 2:59 p.m. time period.
Encourage friends and family to become involved in the cause for inclusion. Post links, info, and blogs about the Giving Challenge at Facebook and other web sites.
Links to these montages will help explain the foundation's mission and accomplishments to others: Power of the Dream by LovesClaysVoice, National Inclusion Project by SueReu, and What It's All About, Clay's speech at the 2008 Gala, posted by Wowzers4Clay.
Below is a clickable of AmazingCA's lead graphic:
Here's to an exciting Champions Gala in Raleigh! Happy MOAM Anniversary, and have a wonderful, winning weekend, Clay Nation!
Caro
TECHNORATI TAGS:
Clay Aiken
,
National Inclusion Project
,
Christie Cookie Charity Giveaway
,
America's Giving Challenge
,
Champions Gala Auction
,
Clayonline
,
Clay Nation