HIGH NOTE -- Clay Aiken and Diane Bubel, co-founders of the National Inclusion Project, opened the 2009 Champions Gala on a high note in Raleigh Saturday. Photo by toni7babe.
National Inclusion Project
Supporters Cheer Charity Win

At Saturday's Champions Gala surrounded by faithful supporters, Clay Aiken and Diane Bubel, co-founders of the National Inclusion Project, were presented a $10,000 check as the leading charity in the Christie Cookies Giveaway.
A Hollywood screenwriter could not have scripted a more rewarding scenario. Supporters greeted the announcement by Sue O'Donnell, Christie Cookies representative, with a standing ovation and extended cheering.
In turn, Ms. O'Donnell enjoyed a front row seat as the year's successful programs were celebrated, champions of inclusion honored, and the foundation's fundraising began anew with the gala's lively -- and silent -- auctions.
As planned, the Nashville-based company announced all giveaway winners on their website Sunday. For the complete story, see Christie Cookies Announces Winning Charities. Here is part of the press release:
Top Prize to Aiken's National Inclusion Project





NASHVILLE, Tenn., Oct. 18 /PRNewswire/ -- Christie Cookies

(

www.christiecookies.com

) today announced the 12 winning charities in its $25,000 Charity Giveaway, with the top prize of $10,000 going to the National Inclusion Project, co-founded by Clay Aiken and Diane Bubel.





The check was presented Saturday night at the National Inclusion Project's Champions Gala in Raleigh, N.C. Aiken and Bubel accepted the check on behalf of the organization, which is dedicated to inclusion and empowerment for individuals with disabilities.





"We've been fortunate and wanted to celebrate our 25th anniversary by giving something to nonprofits that help people every day," said Fleming Wilt, president of The Christie Cookie Company. "So we held an online contest to let customers vote for causes they love. We're thrilled that more than 300,000 people visited our website to vote, and we congratulate all the winners."



Bubel said, "It was so wonderful to see our supporters get behind this, get excited and help raise funds for the project."

The second prize of $5,000 went to the Child Advocacy Center of Rutherford County, Tenn., which helps abused and neglected children and their families.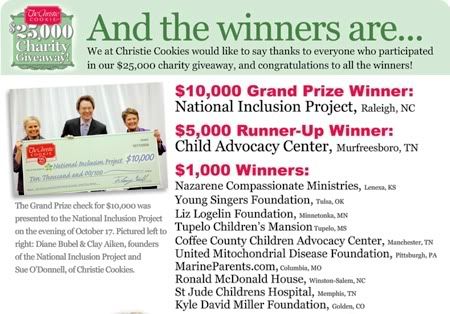 Click to enlarge screen cap of the Charity Giveaway page.
"Thanks to everyone who voted," said Wilt. "We know these organizations need support and we are happy to help."
And Then Clay Sang ...
No Gala is complete without the entertainment portion provided by Clay & Friends. Joined by a band of musicians from New York, he sang four songs, two from the On My Way Here album ("Grace of God" and "As Long As We're Here") plus "My Eyes Adored You" and "Moon River."
Among thousands listening internationally via cellcert, I was thrilled with his selections. Clay's vocal nuances and interpretation made MR exquisite. Here is an audio file of Moon River recorded by Farouche. In Starfishy's video, which can also be viewed on YouTube, Clay extends final thank-you's before singing MR.

Clay sings Moon River to close Gala - video by Starfishy.
For a complete recap of the 2009 Gala, see musicfan123's post at the Clay Aiken News Network blog.
CA Fans Seek 'Challenge' Donations
Supporters of the National Inclusion Project are also involved in America's Giving Challenge on Facebook in which the charity with the most donations through Nov. 7 will win a $50,000 top prize.
Voting (a donation of at least $10) can take place one time between 3 p.m. and 2:59 p.m. the following day. Daily awards are logged for the top two charities within each 24-hour period. The National Inclusion Project won $1,000 winner on Oct. 7 and $500 runner-up on Oct. 11.
No matter which charity wins the big money, the donations will aid the foundation. Check Clay Aiken message boards and Clayonline for the plan of action. Supporters who can only donate once are urged to do so in the Sunday 3 p.m. - Monday 2:59 p.m. time period.
Encourage friends and family to become involved in the cause for inclusion. Post links, info, and blogs about the Giving Challenge at Facebook and other web sites.
Links to these montages will help explain the foundation's mission and accomplishments to others: Power of the Dream by LovesClaysVoice, National Inclusion Project by SueReu, and What It's All About, Clay's speech at the 2008 Gala, posted by Wowzers4Clay.
Have an awesome week, Clay Nation!
Caro
TECHNORATI TAGS:
Clay Aiken
,
National Inclusion Project
,
Christie Cookies Charity Giveaway
,
Diane Bubel
,
2009 Champions Gala
,
Clay Aiken News Network
,
America's Giving Challenge
,
Clay Nation