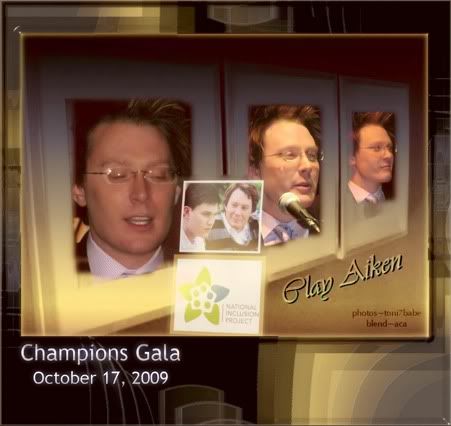 GALA MEMORIES - AmazingCA's graphic of 2009 Gala moments features photos by toni7babe.
Throughout Clay Cyberspace
Gala Continues in Prime Time

The National Inclusion Project's Gala ended Saturday night, but the 2009 event is still the primo topic on Clay Aiken message boards as fans continue recollecting the charity's annual celebratory gathering.

Speeches by co-founders Clay Aiken and Diane Bubel, as well as Jerry Aiken, executive director, highlighted successes of the past season and expansion plans for the future.


An excellent overview of the singer's UNC-Charlotte special ed project-turned-foundation, the 2009 name change, and the expanding programs of the
National Inclusion Project
appeared in the
Philanthropy Journal
Monday.


The group mainly develops a curriculum, and provides training and funding, to "help open doors" and provide an "inclusive offering" for kids who attend summer camps and after-school programs.

With assets just over $1 million, Jerry Aiken says, the nonprofit in the year ended Dec. 31, 2008, provided over $825,000 in funding for 31 different programs throughout the United States.

And with a $500,000 federal grant, the group over three years developed an evidence-based inclusive service-learning curriculum that teachers in elementary, middle and high schools can use to talk to their students about disabilities and help them select a community-service project.
Supporters were amazed to learn that the Project's programs have been embraced by Boston University's
Camp Shriver
.
The Shriver director, who has described the Project's "Let's All Play" camp curriculum as "genius," plans to adopt the program into their model.

'Dinner with Sean' Auction - Video by bigappleforclay
Saturday's live auction yielded $184,200. Total funds raised by various entities of the Gala are still being tallied by the foundation. The video by bigappleforclay captures some of Saturday's live auction fun during bidding for dinner with drummer Sean McDaniel.
Dinner for 10 with Clay went for $41,000 while three fans paid $1,000 to share a meal with Sean. Among other popular bids were "A Day with Clay," $45,000; the "Back for More" original, $23,000; the American Idol "Bridge Over Troubled Water" shirt, $10,000.
Inclusion Champions Honored
Champions trophies were presented to these deserving honorees:

The Sparkle Effect, a nonprofit organization founded by Sarah Cronk and Sarah Herr, varsity cheerleaders at Pleasant Valley High School in Bettendorf, IA, to incorporate children of all abilities.



Mitsubishi Electric, recipient of the corporate award, for the Mitsubishi Electric America Foundation which helps young people with disabilities maximize their potential and participation in society.



Patrick Henry Hughes, a student with substantial disabilities who plays multiple instruments in the University Louisville Marching Band; Patrick John Hughes, his father; and Dr. Gregory P. Byrne, UL band director. Read about their inspirational story at the Patrick Henry Hughes website and in the 8/6/09 Carolina entry.

Gala Medley 2009 - Montage by Yollie950
Using segments of Saturday's song set, Yollie950 created a Gala Medley 2009 montage that highlights "Grace of God," "My Eyes Adored You," "As long as We're Here," and "Moon River."
Wednesday via Facebook and Twitter Clay thanked fans and supporters who helped the National Inclusion project win the top $10,000 prize in the Christie Cookie Charity Giveaway.
Clay Aiken: Thanks to everyone that voted in the Christie Cookie Charity Giveaway. Your votes were enough to put us back in the top spot!! A $10,000 check was presented to the National Inclusion Project last weekend at their annual gala. This would not have been possible without you all. Christie Cookies Results Page
The check was presented at the Gala Saturday, and the Nashville-based cookie company posted all winners on their website Sunday. Caps of both are clickable below. Additional Gala photos can be viewed on the Facebook page for Christie Cookies.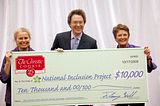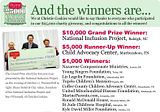 Sue O'Donnell (R) with Diane and Clay at Gala.
Below is a clickable of AmazingCA's opening graphic: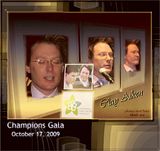 Have an awesome week, Clay Nation!

Caro
TECHNORATI TAGS:
Clay Aiken
,
National Inclusion Project
,
Diane Bubel
,
Jerry Aiken
,
2009 Champions Gala
,
Camp Shriver
,
Philanthropy Journal
,
montage
,
medley
,
Christie Cookies Charity Giveaway
,
Clay Nation