'Beautiful Star' graphic by cindilu2 from video screencap by jojoct.
Fans Post Condolences for Family

Clay Nation Mourns 'Papa Aiken'

Condolences for Clay Aiken and his family continue to pour in following the death of the beloved grandfather known to thousands through the writings of his grandson and a very special moment at the 2005 Joyful Noise Tour Concert in Raleigh.
Joseph Alvis Aiken, 87, Papa to his family and throughout the Clay Nation, passed away Friday at his North Carolina home. Condolences currently fill 20 pages at Clayonline, the singer's official website. Messages for the family can also be posted at the Brooks & White Funeral Home website.
In lieu of flowers, the family requests that memorials be made to Duke Community Hospice Services, 4321 Medical Park Dr., Suite 101, Durham, NC, 27704.
CA fans are also making National Inclusion Project donations in honor of Papa through America's Giving Challenge at Facebook. Next planned donation day is the 24-hour period beginning at 3 p.m. EST Sunday. Membership is not required, and each contribution of at least $10 counts towards the foundation's total number of donations for the day.
A tribute to Papa and his grandson, who co-founded the National Inclusion Project, while providing opportunities for children throughout the nation -- quite a memorial!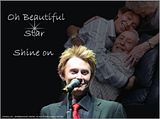 Clickable by cindilu2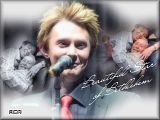 Clickable by AmazingCA

In the 2004 bestseller Learning to Sing: Hearing the Music of Your Life, Clay wrote poignantly of his beloved grandfather:
My papa has Alzheimer's now. When we see each other, his eye widen with recognition, but he has trouble saying the words. We hug instead, and he doesn't let go for a long time.

Granny says he can't remember much about his past and has difficulty processing the present. But he does ask about me. And if I happen to be on TV at night, he'll sit up and watch, no matter how late.

Recently Granny told me that Papa doesn't listen to the Grand Ole Opry at bedtime anymore. He listens to my CD's. Every night she asks if he might like to hear something different, but he refuses. Instead, he puts in my music and pushes "play."

It's as if I am still there, like I was as a child, lying beside him and singing him to sleep as the darkness falls. - Clay Aiken in 'LTS'
With those paragraphs, Papa claimed a special place in the hearts of Clay Aiken fans. Following the 2005 Raleigh Concert during which Clay fulfilled his grandfather's longtime request and performed a bluegrass song,
Beautiful Star of Bethlehen
, Papa was unofficially adopted by the Clay Nation.

Beautiful Star of Bethlehem - Montage by Hosaa
In memory of Joseph Alvis Aiken, 1922 - 2009
Our thoughts and prayers are with your family, Papa Aiken. May you rest in peace as your memory lives on in our hearts ...
Caro
TECHNORATI TAGS: Joseph Alvis Aiken, Clay Aiken, Papa, Beautiful Star of Bethlehem, Learning To Sing, Clayonline, Clay Nation