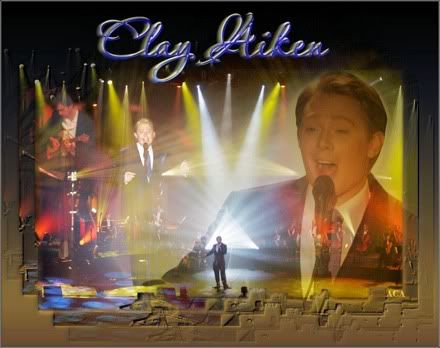 PERFECT ACCOMPANIMENT -- AmazingCA's graphic, with March 12 concert photos by Jim R. Bounds, highlights the special PBS taping.
Voice, Heart, Humor at Center Stage
Examiner Praises PBS Concert

During my weekend of March Madness overload, accompanied by a memorable Lenten cantata rehearsal and performance, Clay Aiken's March 12 concert at Raleigh's Memorial Auditorium received a "thumbs up" review by at the Examiner.com web site.

Some of my favorite graphs are printed below, but you can read the entire critique by Shauna Moroney at Clay Aiken reveals new album in Raleigh concert.
Now Clay is preparing for the release of his fifth studio album, tentatively titled "Tried and True," a compilation of 60's covers. As a part of the celebration of his album release, sometime this summer, PBS will be featuring a concert of Clay's new music.

Though the show will not air until around the time of the release, the actual concert took place on the previously mentioned date. Anyone who was lucky enough to be there, whether they were from the Raleigh area or they had to travel in for the occasion, knows what an amazing evening Clay had in store for his fans.

The set list ranged from the up tempo beats of "Mack the Knife" (with such an amazingly huge, long, perfect last note that it moved the audience to a standing ovation as soon as the first number concluded), "Eso Beso," "Suspicious Minds," and "Build Me Up Buttercup" to the slower, simpler side of Clay with "Misty," "Moon River," "In My Life," and "Unchained Melody" (with a jaw dropping climax in which Clay hit a note that seemed to redefine the meaning of the verb "to sing").

There were flashy lights, lots of smoke, and chandeliers that descended from the ceiling to change the atmosphere before certain songs.

Front and center was Clay's amazing voice, but coming in a close second was his big heart. This showed up early on in the night when, after the first five numbers, Clay came into the audience looking for Sandy Schmidt.

Ms. Schmidt had taken four buses over a 36-hour period from Nebraska, traveling all by herself just to see Clay again. After receiving word of this from her friends, Clay personally escorted Sandy to the front row.

Clay also paid tribute to many of the teachers that he had throughout his time in the Raleigh public school system. To begin with, he told a story about being a "big loser" in sixth grade, not having friends and eating lunch with non-English speaking students if he was lucky. One particular teacher helped Clay get through this rough time by allowing him to eat lunch with her in her classroom everyday.

After introducing her to everyone, he asked anyone who had ever taught him to stand. About twenty people stood up to a huge round of applause, as well as heaps of praise from Clay about what a huge difference teacher make in the lives of their students. He went on to dedicate his beautifully understated performance of "In My Life" to these important people who made such an impression on him.

One of the greatest highlights of the night was a special guest appearance that many of Clay's fans had already guessed at. Clay spoke briefly of Neil Sedaka Night on Idol, of how he had wanted to sing a particular song, but Ruben had snatched it up before he had the chance.

Here on this stage, though, he would prove that he could sing "Breaking Up is Hard to Do" better than Ruben could. He got two lines out, walked off stage left, and Ruben Studdard himself walked on stage right. It was wonderful to see Ruben in what it turns out is his element, as well as Clay's.

After the song, the two had some great comedic banter about how awful music today is. ("It's crap," said Clay, "and that's an industry term.") So, calling upon one of Clay's amazingly talented backup singers, Quiana Parler, the three promised a medley of classic big band songs that they love.

The instrumental introduction started out with lots of big strings and horns, and Clay came in with, "I like big butts and I cannot lie!" The audience roared with laughter as other pop songs were presented in big band style, like "Poker Face," "Can't Touch This," "Tik Tok," "Maneater," "Crazy in Love," and "Play that Funky Music White Boy."

The new record, to be released this summer, will definitely appeal to those who have stuck by the former Idol since Season 2 ended.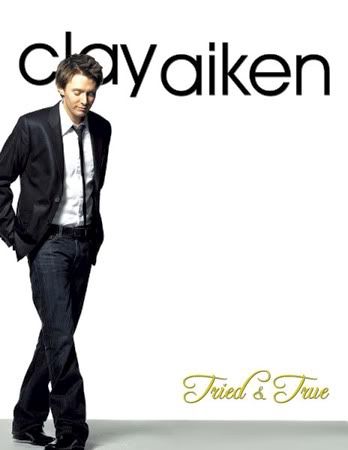 In a Facebook post Monday,
International Media
verified that Clay's PBS Special/Tried and True preview is just around the corner:
Coming Soon To PBS: CLAY AIKEN: TRIED AND TRUE!

Thank you to all those who attended his recent Memorial Auditorium concert! Stay tuned for more!
Texans Rediscover Clay, Attend Special
While rewinding the calendar to the incredible March 12 PBS taping, it is only appropriate to share this special Not.Just.Us story Claymatron posted in her recap at Clayversity:
I was sitting beside a couple from Texas who had never seen Clay in concert but they'd driven 1600 miles for the show because they had found his music on YouTube. They remembered him from AI, but then lost track until a year or so ago when the woman (in her 40's) was hospitalized with a very serious medical problem and nearly died.

When she came back to her hospital room after one of her many surgeries, she looked over at her husband, who was fast asleep from exhaustion in the chair beside the bed, and said she felt overwhelmed with love for him.

She picked up her laptop and checked YouTube for Celine Dion's version of "Because You Loved Me", which was "their song," and found Clay's instead.

Her husband woke up, and the two of them sobbed in each other's arms over his beautiful rendition. They were both hooked and searched YouTube for every song he ever sang, and checked out the Internet to find out when he'd next be in concert and found the announcement for the PBS taping.

They loved the show and held hands all the way through it. It was truly a special time for them, and I know we have another couple of devoted fans.
I have no doubt that Clay will find his way into many new hearts with this album, and it will be wonderful that they will love and accept him for who he is and for his amazing talent.

It truly warmed my heart and made me realize that because we have followed this man so faithfully over the years, dissecting and analyzing his every move, riding the roller-coaster with all its highs and lows, and being there through it all that we have lost sight of the wonder and beauty of his sheer talent.

It truly made me feel we all need to get back to that. Just enjoy because that's exactly what he's doing!
Mark Your Calendar
Confirmed Cluben Tour dates, also tagged the "Clay Aiken-Ruben Studdard Summer Not a Tour," include:
July 23, 8 p.m. EDT:

Biltmore Estates

, Asheville, NC. Tickets go on sale April 6 at 8 a.m. EST.
August 10, 8 p.m. EDT: Hampton Beach Casino Ballroom, Hampton Beach, NH. Ticket sales through Ticketmaster TBA.
Below is a clickable of AmazingCA's opening graphic: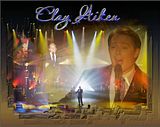 Basketball tourney and this oboist's tales from cantata weekend will have to wait until next time. Meanwhile, a couple of cheers for Monday and Tuesday National Invitational Tournament games:
Go, Virginia Tech Hokies and Carolina Tar Heels!!!
Have an awesome week, Clay Nation!
Caro