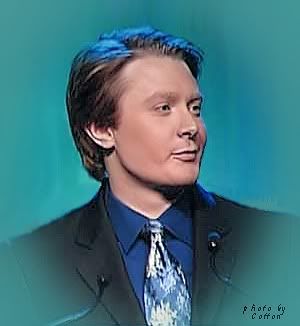 Clay Aiken - Photo by Cotton
Enhanced by Claystruck
PBS Taping To Be Special
'Tried and True' Pre-Sales Soar
Since I wrote this blog, there have been several updates, including WRAL-TV and NBC17 video interviews (with Sendspace), Lynda Loveland's radio interview (with Sendspace), and the March 12 Mark Ehlers interview in the News and Observer.

The Meet&Greeters who observed Thursday's three-hour dress rehearsal and talked with Clay shared these notes: David Novik from Decca was at the rehearsal and the Q&A ... A man with hand-held camera followed Clay around constantly ... The show's production and orchestrations are out of sight ... On stage were an orchestra and a rock band .... Faye Parker, Clay's mother, greeted the fans ... and, most of all, BE PREPARED TO BE BLOWN AWAY at the concert!!!
March 9 quickly turned into an

kind of day as Clay Aiken released extra tickets for his March 12 PBS Special in Raleigh and pre-orders for his much-anticipated Tried and True album blasted off to a rip-roaring success at Amazon.

With a June 1 release date, Tried and True has steadily climbed Amazon's Music Bestsellers list. When I first checked the listing, TNT was at #52. Within a couple of hours, the CD/DVD Deluxe Edition was at #19. TNT is #5 now and still climbing!

No album cover or track list yet, but the TNT [Deluxe Edition] is priced at $12.99 and is eligible for free shipping at Amazon.
For two days, TNT was #1 on Amazon's Movers & Shakers in Music list, hopefully foretelling future chart-climbing adventures!
Stage Set-up Allows Extra Seating
When news of additional March 12 PBS Special tickets hit Triangle entertainment sites Tuesday, CA fans followed the Ticketmaster trail for the best possible seating at the Friday concert taping in Raleigh's Memorial Auditorium.
Another good site for last-minute seating is Ticket Liquidator. According to the Progress Energy Center diagram, there are some excellent possibilities. The tickets are listed by price from the least to the most expensive.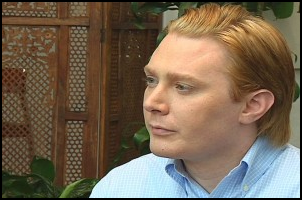 Clay talks with Raleigh press about concert.
Lynda Loveland chatted via phone with Clay about the concert and album on Friday's Mix 101.5 Morning Show. The interview is available at the show's link and can be dowloaded with this Sendspace mp3 file. You can follow Lynda on Twitter here: lloveland.
The singer spoke with NBC17's Erica Bustamante about his new CD, Friday's PBS Special, and the educational scene in Raleigh. The video can be viewed in the player below or at My NC Blogs; it can be downloaded with this Sendspace link.
Clay also discussed the Raleigh concert and TNT album with WRAL-TV Thursday night.

NBC17 interview with Clay.
PBS Concert in N&O Headlines
Friday's News and Observer article by Matt Ehlers, Classic Move, provides additional information about the PBS concert taping. To read the complete article, click on the N&O link:
RALEIGH -- When Clay Aiken hits the stage tonight at Memorial Auditorium, he will be performing for the couple of thousand people in the crowd, as well a future audience that could be much, much larger.

The concert, which will feature the first live performance of his coming album, "Tried and True," will be taped for a PBS special that will air this summer. It's a one-time-only deal, and Aiken, the Raleigh native and "American Idol" runner-up, will sing each song from the new album.

"Tried and True," scheduled for a late May release, is Aiken's first album for Decca Records. It's also the first in which he didn't feel record-company pressure to go in a pop-friendly direction. Working with Decca, he and longtime manager Simon Renshaw charted a different course for Aiken's career.

"Our idea was always to head toward a Johnny Mathis-y kind of thing," Aiken said recently during an interview in a downtown Raleigh coffee shop.

So the songs on "Tried and True" are lushly arranged classics. Aiken's hard-core fans will hear some familiar tunes, standards that he performed on "Idol." The new album includes "Unchained Melody" and "Mack the Knife."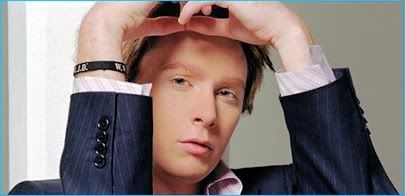 International Media
has added information about Clay's March taping to its new blog. Read the entire piece at the above link. Here is the beginning:
Clay Aiken will hit the stage for a special one-night-only concert at the Memorial Auditorium in his hometown of Raleigh, NC on Friday, March 12.

The singer is promising fans an exciting 2010 with this show being just the beginning! The performer extraordinaire is gearing up for the release of his new album, "Clay Aiken: Tried and True."

The event, which will be taped for a television special produced by International Media, is the world premiere live performance of Aiken's forthcoming album being released on Decca this Spring.
TWWMAD Funnels Donated Tickets
The Way We Make a Difference has worked closely with several agencies in the Triangle to provide concert tickets for those who otherwise would not be able to attend the taping.
Fostering inclusion, a cause close to Clay Aiken's heart, TWWMAD accepted tickets through noon Thursday. Approximately 136 donated tickets will be used for the PBS Special by the following organizations: ARC of Chapel Hill, ARC of Wake County, ARC of Durham, Ronald McDonald House of Durham, YMCA Finley, and the Alexander Family YMCA.
In the future, to donate extra tickets, contact TWWMAD with this email address: ticketdonation@thewaywemakeadifference.org. (Ticketfast only)
Between pre-ordering TNT, dancing the "Ticketmaster Tango" again, and packing for the Raleigh trip -- this has definitely been a headline day for CA fans.
Have an

week, Clay Nation. Be sure to pack an umbrella for this weekend's trip to North Carolina!
Caro