Everything I Don't Need - Montage by Gerwhisp
Forewarning of Traffic Jam
EIDN Accompanies Hectic Day
Close adherence to schedule and a healthy dose of good luck are key ingredients for the days I teach music in a neighboring city. Monday my drive was bereft of the latter and everything I didn't need.
With Clay Aiken belting out his On My Way Here track Everything I Don't Need on my car's sound system, you could say I was forewarned that something was askew ...
Music books in tow, I hit the main drag between Greensboro and High Point 35 minutes before my 2:45 p.m. piano student at Wesleyan Christian Academy. Just one mile from my house, my car came to an abrupt standstill behind four lanes of non-moving vehicles as far as the eye could see, all trapped and going nowhere.
Frenzied Drive Follows Bottleneck
Weighing options, I noticed there were no vehicles in the approaching four lanes. At the rear of the inside lane, I happened to be in the right position to make a U-turn into an exit leading to an alternate route. The lazy, two-lane road I generally use for a peaceful drive home was nothing but hectic in the early afternoon.
Hoping to contact Brenda, my first piano student, I left messages at two academy numbers. At the first stop light, I frantically shuffled through student info sheets for the cell phone number of her father, dialed wrong, then correctly, and finally left him a message, too.
A similar traffic jam and resolution occurred last summer, but Monday's frenzied maneuvers played out in prime time for elementary school dismissal. My car quicly became the caboose for three school buses, each stopping 1-3 times before turning onto a side street.
Thank Goodness for Cell Phones!
I needed three sets of hands for this wacky trip, but thank goodness for cell phones! As the clock ticked towards to the first appointment, the studio director returned my call and I gave Brenda the assignment to warm up. A few minutes later, her father called. As I turned onto the Wesleyan's street, I was thanking him for waiting.
After the crazed drive, the lesson began only seven minutes late. The next student was tardy, and the buffer after his lesson came in handy.
Hours later while driving my normal two-lane route home, I called a friend to see if anything had appeared on the local news RE the traffic bottleneck.
Sure enough, an overturned tractor trailer was the culprit and the source of everything I didn't need Monday. Not just me -- but also the injured truckers and the hundreds of vehicles caught in the web that lasted several hours!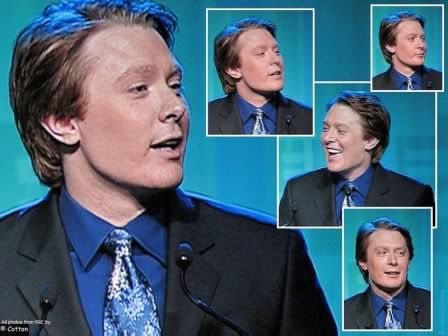 Clay Aiken Speaks at HRC Gala - Fountaindawg/Cotton
Clay-Ruben Concert in Biltmore Series
Meanwhile, Monday was a really good day for "Tried and True" CD news. According to a Twitter post, BeLikeWater Productions, a music production and artist management company, is in the midst of mastering Clay's TNT album.
BeLikeWaterProd: Vlado mastering the new Clay Aiken album for Decca. Dave Novik in the studio.
Not long after the Biltmore Concert Series for June-October was posted, news spread through Clay Cyberspace that Singer Man and Ruben Studdard are scheduled for the South Terrace on July 23.
Hopefully, just the first date of a cross-country summer tour promoting the TNT album!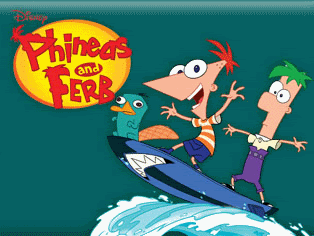 Clay To Guest on 'Phineas and Ferb'
The kids upfront season began in earnest Tuesday night as Disney Channels Worldwide presented US advertisers and the press with its 2010-11 slate of programming for Disney Channel and Disney XD.

This summer both networks will premiere a new one-hour episode of Phineas and Ferb that features guest stars Clay Aiken and Chaka Khan.
'Turnaround' Highly Recommended
If you haven't read Living in Turnaround's take on Saturday's Human Rights Campaign Gala speeches by Clay and actor-producer Meredith Baxter, follow this link. Here's a hint:
As HRC's speechwriters found out when Aiken declined their assistance, you can't put words in the mouth of the kind of person Clay Aiken is.

He is an eloquent and gifted writer, a thoughtful, inspirational and funny speaker and I think it is obvious that, for the things to which he is deeply committed (inclusion for children with disabilities through the Project, support for children in crisis through UNICEF and now support of equal rights for the LGBT community), Clay speaks perfectly well for himself.

Clay Aiken is finally being recognized for his thoughtfulness, his intelligence, his humor, and his dedicated activism for the causes he believes in.

It's about damn time.
Have a wonderful week, Clay Nation!
Caro