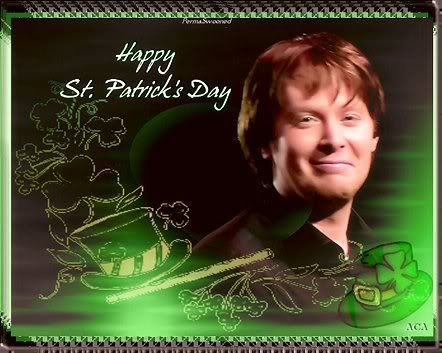 ALL THINGS GREEN -- Clay Aiken graphic by AmazingCA.

March Honors Irish Traditions
Everyone's a little bit Irish on St. Patrick's Day. This blog commemorates the week with "Spamalot" green, signature color of Sir Robin, Clay Aiken's recent role in the hit Broadway musical.
The most well-known March observance is St. Patrick's Day, honoring the patron saint of Ireland, the man who brought Christianity to the Irish in the 400's A.D. March 17 is truly a day for celebrating Irish history, ancestry, traditions, and customs.
Around the globe, St. Patrick's Day festivities are generally themed around all things green and Irish. The secular version of the holiday is marked by wearing green or orange, eating Irish food and/or green foods, imbibing Irish drink (usually Guinness), and attending parades.
Irish colonists brought St. Patrick's Day to North America. The event was first commemorated in the 13 colonies in Boston, MA, in 1737.
Everyone's a little bit Irish on St. Patrick's Day!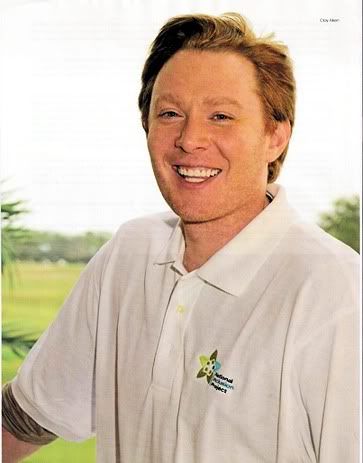 Clay co-hosting 2010 GFI in Palm Beach Gardens.
Double clickable photo by Alicia Donovan
Palm Beach Magazine Features GFI
Golfing for Inclusion
is featured in the March 2010 issue of Palm Beach Gardens Lifestyle magazine. Written by Laura Delgado with photography by Alicia Donovan, scans of the article are available at Clay Aiken The Ideal Idol.

Clay Aiken sings, tours, performs on Broadway, raises funds and acts as a spokesperson for various causes. But can he play golf?

Aiken recently teamed up with PGA Professional Wayne Player to hose the 3rd Annual Golfing for Inclusion on February 1 at The Country Club at Mirasol, right here in Palm Beach Gardens.
The three-page spread incorporates the history and agenda of the National Inclusion Project, as well as the 2010 GFI event. Five photos accompany the story.

"I have never golfed, and I think -- in the best interest of others -- we should keep it that way," he said with a laugh.
To read the complete story, link to
Clay Aiken The Ideal Idol
.

INTERLUDE IN GREEN
: Sir Robin's penchant for green lends itself to a clickable St. Patrick's Day interlude. Included are graphics by Amazing_CA

with

photos by

Joan Marcus

, 1, and

Toni7babe

, 3;
Claystruck

, photo

by

Disneydeb84

, 2.
No One As Irish As Barack Obama
More than 34 million Americans are of Irish descent, nine times the population of Ireland. Among them is US President Barack Obama, whose maternal great-great-great grandfather Falmuth Kearney was born in Moneygall, a tiny village in central Ireland.
Between 1845 and 1851, more than a million people left Ireland on 'famine ships' to escape mass-starvation caused by potato blight; and, according to documents unearthed by an Irish vicar, passenger lists show Falmuth Kearney was among them, arriving in New York in 1850 before settling in Ohio.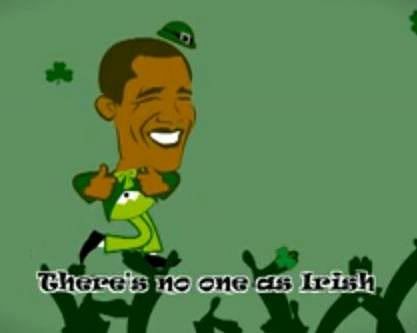 Screen cap links to animated montage.
The song "There's No One as Irish as Barack O'Bama," which was written by Hardy Drew and recorded by the Corrigan Brothers, helps fill in the blanks about President Obama's 3% Irish heritage. The concert and animated versions can be viewed at YouTube.
Everyone's a little bit Irish on St. Patrick's Day!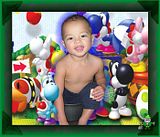 Kai, our clan's pot o' gold, is 2 1/2 years old today!
Clickable 2009 St. Patrick's graphic by Ashes
Grandma's on Kai's Radar
Being a long-distance grandmother can be difficult at times; but there are some high moments, too. Kai, who celebrates 2.5 years today, and I are enjoying getting to know each other in telephone conversations. Ten-month-old Lia tries to copy everything he does, so our phone time is coming.
Kai has always loved telephone buttons and now delights in providing a running commentary of all that's happening ("The dogs are getting ready to go out ... Lia is taking a nap"), as well as walking around the room pointing out items ("This is our TV; here's Lia's high chair; and this is my dump truck full of Cheerios.")
"Grandmother" has become the voice on the phone so much so that last week while his mother was talking with a friend, Kai yelled from across the room, "Hello, Grandma!"
I look forward to the time when "across the room" is literally just that. Happy 2.5, Grandson!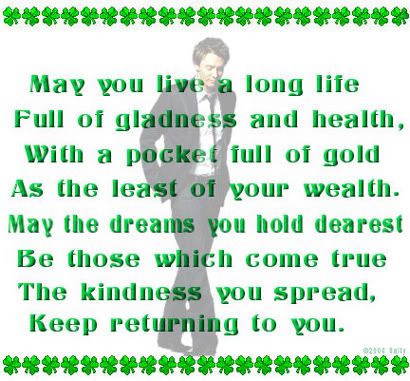 Your Carolina blog visits -- and especially thos who stop and comment -- are always appreciated. According to the attached Feedjit Live Feed and ClustrMap applications, visitors from 144 countries have stopped by this year, the newest being Armenia. Greetings to all!
Accompanying the above Irish blessing (graphic by Sally) is a very special wish to all for a Happy St. Patrick's Day!
Caro