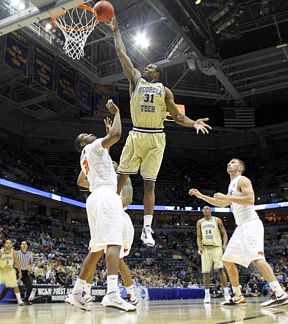 Georgia Tech wins with free throws.
AP Photo/Jeffrey Phelps
Cluben Tour Adds Dates
NCAA, NIT Clear Clay Calendar
Despite the fact that my team, the Carolina Tar Heels, defending national collegiate basketball champions, didn't make the 2010 NCAA Tournament, March Madness has once again taken over my life and temporarily bumped Clay Aiken from my computer.
The Heels will meet Mississippi State in the second round of the National Invitational Tournament at noon Saturday; and you can bet I'll be in front of my TV waving Carolina blue and white pom-poms as soon as my oboe and I arrive home from a cantata rehearsal. [UPDATE: Heels won!]

Clay Aiken previewed "Tried and True" CD tracks at 3/12 concert.
Click to enlarge graphic by LovesClaysVoice/AP photo by Jim R. Bounds
I usually keep up with the latest Clay news, but this week March Madness has consumed my TV and computer time. Friday morning I swung by several message boards to check the status of the Cluben Tour Ticketmaster Tango for Reno, NV.
Although some fans scored good seating through Ticketmaster, many seemed to get better results by phoning the Silver Legacy Hotel directly (1-800-687-8733). Here's the promo appearing on the Silver Legacy -- and other Cluben Tour -- sites:
American Idol stars Clay Aiken and Ruben Studdard join together for a night of POP and R&B hits at Silver Legacy.

Since appearing together on the second season of American Idol Aiken has gone on to release five albums, his debut album went multi platinum and perform on Broadway. Studdard has received a Grammy award nomination and released four albums.
Confirmed Cluben Tour dates, also tagged the "Clay Aiken-Ruben Studdard Summer Not a Tour," include:
Wall-to-Wall Basketball Prevails

Except for teaching violin lessons, I was front and center for all of Thursday's first round NCAA games right up until New Mexico, the third seed, squeaked out a win over #14 Montana in the wee hours. In fact, most of the night I watched two games at once, one on TV and one on my laptop.

Now that was really a sight to see, especially during the Wake Forest-Texas and Tennessee-San Diego State games. A former Texan and Tennessean, I generally cheer for the teams from my previous "home" states. Thursday, however, I supported Wake Forest and the Atlantic Coast Conference.

Coincidentally, both Texas and Tennessee have the same school colors, orange and white. As the higher rated team in their games, the Longhorns and the Volunteers wore their lighter, predominantly white, uniforms.
TV Updates Tease Psyche
Wake, my TV team, was in the darker jersey while, on my computer, Tennessee was in white. As the night wore on, keeping up with the team colors became complicated and even comical.
The games were very close; and during the final minutes, CBS continually switched back and forth between the two, usually with no warning. I was already mentally shuffling opposite team colors from TV to laptop, only to find myself temporarily viewing the same game in both places.
All host basketball courts have been prepared to look the same with the center NCAA insignia and blue borders, so that didn't help either.

The Vols won, 62-59; and Wake prevailed in overtime, 81-80, with a buzzer-beating final shot that had "replay" written all over it -- the same type of shot that took out Vanderbilt from my old Nashville stomping grounds. Video highlights of these and other stunners are available on the ESPN web site.
Now it's Friday night, and I have cheered Georgia Tech, an ACC team, to victory while watching on my laptop. During the final seven minutes, I provided my friend Terri a play-by-play report before wrapping up this blog.

1957 Triple Overtime Spurs Tactic

A classical violinist and lifelong Tar Heel fan, Terri and I share a love for college basketball. When Carolina is playing, she dons the sweatshirt she wore when the team won the NCAA crown in 2005.

My own secret weapon dates back to my childhood when it took three overtimes for the Tar Heels to defeat Kansas in 1957. Between each extra period, I slipped into my bedroom and prayed for victory while holding my Bible. Eventually, Carolina prevailed.

Years later I told Terri about the Carolina-Kansas strategy. When the Carolina team gets into hot water, she often calls and urges me to "go get the Bible."

Since the Heels are not in the NCAA this year, we are transferring our winning tactics to other teams. During Friday's first game, we joined Mountaineer fans in cheering West Virginia on to the next round.
I taught piano and violin students all afternoon while Terri waved poms for both of us. To the teams we "adopt," we are prepared to bring out our secret weapons -- the Carolina sweatshirt and special Bible.
As sports analysts bestow their audiences with hours of statistics and predictions, little do they know that two retired orchestra teachers really hold the possible keys to a game's outcome.
Have a wonderfully "mad" weekend, Clay Nation!

Caro