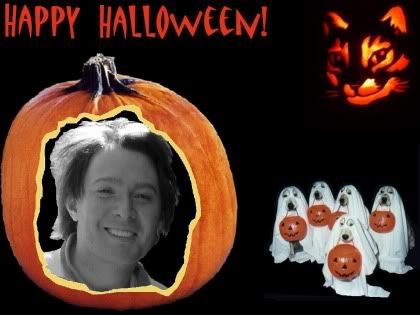 TOT for UNICEF Marks 60th Year - Halloween graphic by Fountaindawg links to video celebrating the 60th anniversary of Trick-or-Treat for UNCEF.

For UNICEF, National Inclusion Project

Trick or Treat, Text and Treat

As spooks and goblins prepare to party down on Oct. 31, Clay Aiken and his fans are also championing two special charities this Halloween season -- Trick or Treat for UNICEF and the National Inclusion Project for which "Text & Treat to Send a Kid to Camp" has become a slogan in the Pepsi Refresh campaign for a $50,000 grant.
Trick-or-Treat for UNICEF
, which began in Philadelphia 60 years ago, has raised nearly $160 million dollars since its auspicious beginning. The American tradition in which children collect monies for UNICEF while trick or treating, will be celebrated across the land and on Broadway in a big way.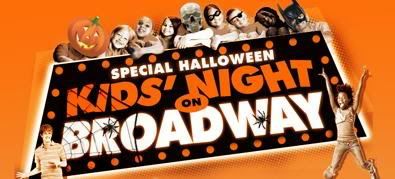 Broadway Kids' Night Salutes UNICEF
At Sunday's Halloween festival on the Great White Way,
Kids' Night on Broadway
will salute the 60th anniversary of this American tradition with a UNICEF/Broadway Cares Kids Care booth where participants can decorate orange UNICEF boxes.
The Halloween KNOB Fan Fest, set for 11 a.m. - 2 p.m. Sunday, will also include a pre-theatre party/tour of the wax museum at Madame Tussauds, complete with face painting, costume pointers, and an autograph alley.

Prior to attending a Broadway
show for free (when accompanied by a full-paying adult), young people will be able to trick or treat at participating stage doors.

A conversation with Clay Aiken, UNICEF Ambassador.
View video full screen at YouTube.
A speaker at July's Key Club International Convention in Memphis, Clay reported ways the organization's involvement with TOT for UNICEF helps people around the globe. A taped question and answer session about his experiences as a UNICEF ambassador is the nucleus of the above video.
Kids helping kids has moved into the 21st century with digital age technology. Supporters can create a UNICEF fundraising web page so friends and family can help
Trick-or-Treat Online
, as well as utilize
iPhone and Facebook apps
for the latest news and through which secure donations can be made.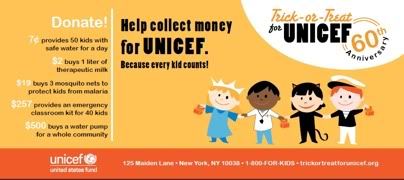 Click to enlarge Trick of Treat for UNICEF info.
On Halloween night 60 years ago, American children changed the world. They were kids helping kids by Trick-or-Treating for UNICEF.

Through the small change they raised door-to-door, they were going to make a big difference for children everywhere, helping UNICEF to provide nutrition, medicine, education and the things kids need to thrive.
Mary Emma Allison, 93, co-founder of TOT for UNICEF, died Wednesday at her home. The announcement was made Thursday by Caryl M. Stern, president and CEO of UNICEF in a
Field Notes
blog.

Personal Trick-or-Treat for UNICEF stories, as well as condolences and remembrances for the family, may be included in the comments.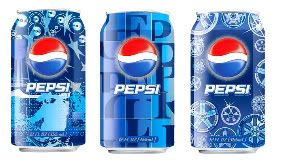 NIP Needs Halloween Miracle
Currently at #16, the National Inclusion Project needs nothing short of miracle to move into the top 10 charities and claim a $50,000 grant in this month's Pepsi Refresh Challenge at midnight Oct. 31.
If you are like me, you have asked everyone you know -- and then some! -- to vote 1-2-3 ways daily for the Inclusion Project. Success stories of children with disabilities experiencing life with their peers through the foundation's inclusive programs have been shared repeatedly.

My hope is that a large corporation or charity with a colossal database will put the National Inclusion Project front and center for the four remaining days and create a tsunami of new votes to put the foundation into the top 10 of the $50k group.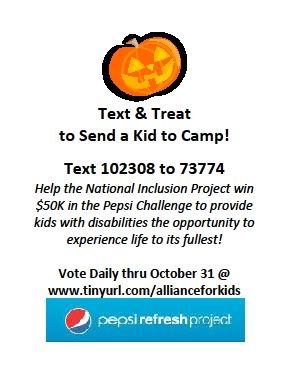 Schools and businesses are well into the Halloween spirit. Download a page of four
Text and Treat
fliers in PDF format to hand to your circle between now until Halloween. Have them at the door for parents of trick or treaters.
NIP supporters have carried batches of pumpkin fliers to the gym, the zoo, dance class, etc., for immediate text vote results. Thinking big, take the fliers to football games, fall festivals, and school/business meets to recruit voters who will commit to four days.

In emails to friends, family, and associates, be sure to remind them to register and vote through the National Inclusion Project

website for a chance to win a new iPad.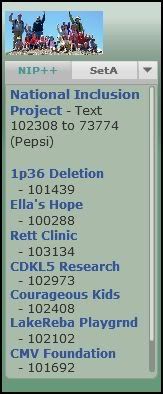 Click to link to NIP widget.
Vote, add to websites.

Created by

Scarlett

and updated daily, the voting widget in the Carolina sidebar includes links/text numbers for the NIP, its alliances and partners reciprocating votes. Be sure to copy/paste a message similar to the one below so the organizations will know the Inclusion Project is supporting their cause:
National Inclusion Project just voted for you. http://www.refresheverything.com/nationalinclusionproject. Text 102308.
Who knows? Maybe that miracle, avalanche, or tsunami of last-minute votes is just around the corner!

Below are clickables of Halloween graphics by

Fountaindawg

. It's never too early for CA fans to prepare for a spooky Oct. 31!

Have an awesome Halloween Week, Clay Nation!

Special thanks to Linda (ABM)
for my sassy pumpkin signature!