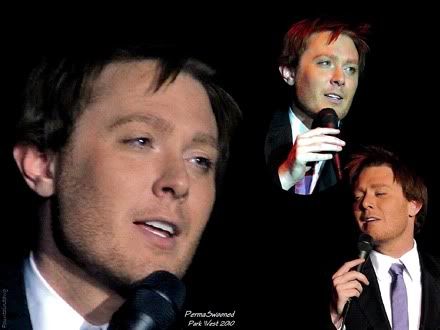 CHICAGO REPLAY - Fountaindawg's Park West design rewinds the Oct. 14 Chicago Concert with photos by Permaswooned.
Carolina Visitors Represent 158 Countries
Fans Anticipate Worldwide Tour


If the Carolina blog's visitors from 158 countries are any indication, Clay Aiken's popularity is worldwide and international fans can look forward to a global tour sometime in the future.

According to ClustrMap and Feedjit Live Feed, which have monitored the location of this site's visitors since December 2007, fans from 158 nations have dropped by this corner of the Internet for the latest news about Clay Aiken. On any given day, the number averages from 100-300.

New countries in 2010 include

Iraq, Kyrgyzstan

, and

Uzbekistan

(ASIA);

Tunisia, Mauritania, Libyan Arab Jamahiriya, Angola, Senegal

, and

Zimbabwe

(AFRICA);

Macedonia, Cyprus

, and

Armenia

(EUROPE);

Saint Kitts and Nevis, Netherlands Antilles, Nicaragua, Turks and Caicos Islands,
Barbados

, and
Belize

(NORTH AMERICA).



Click to enlarge Carolina On My Mind ClustrMap.

All continents except Antarctica have followed a trail here, either via search engines or links on other websites. I am always intrigued in how a person lands at the Carolina doorstep; and I was very excited to see the Senegal flag, one of the newest countries from Africa, in the Feedjit feed. Turned out, the newcomer was googling "Ruben Studdard."

Countries registered by ClustrMap are listed at this link. Countries appear on the Feedjit Live Feed in real time.

Google Often Surprise Visitors

Most visitors arrive looking for news about Clay Aiken or his charitable endeavors. However, a wide range of topics bring readers to the Carolina doorstep, accidentally and on purpose.

A frequent search from Singapore is for the storm Kai, and that lands a person squarely in the middle of

Hurricane Kai Strikes Texas Home (Oct. 2007):

Many may recall that in answer to my plea for more pictures of our brand new grandson, Kai's grandfather sent images of an apartment in total disarray -- dirty dishes in the sink, newspapers stacked up, you name it, to prove how little picture-taking time was available.

From these photos, my friend Sally created the "Hurricane Kai" graphic with grandson calmly sleeping in the eye of the storm.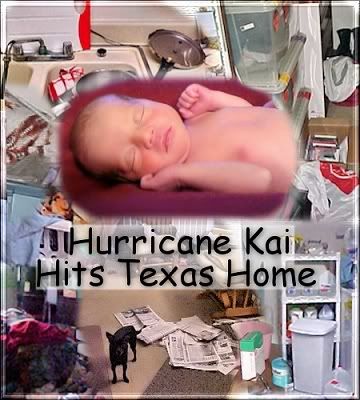 Potato Rolls, Music Popular Links
Hopefully, the visitor who googled "what's for dinner?" enjoyed reading about -- and possibly baking -- my Aunt Lill's Potato Rolls (Feb. 2007). My great-aunt, who taught piano into her 90's, often sent a pan of her special rolls home with students, an unlikely event for the young charges of this non-baking music teacher.

Occasionally, I report on rehearsals, performances, and other accomplishments of my piano/string students. Someone searching for a drought remedy came across Spring Recital Yields Surprise. Because "video games" inspire new themes with one of my student composers, the term frequently yields Young Musicians Share Compositions (Aug. 2010).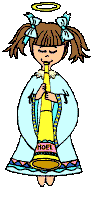 Regular searches for "Loree oboe" or "John Ellis," oboe professor at the NC School of the Arts, pull up Trusty Oboe Could Tell Tales (Nov. 2006).

Other popular searches yield my experiences as a marching band director, Football Season Stirs Memories (Oct. 2006) and Clay's 2006 holiday tour lessons on "fancy Eye-talian" definitions, Musical Terms Provide Grins (Jan. 2007).

Blogs about Dr. Martin Luther King, Jr. like Country Honors Legacy of MLK (Jan. 2007) have been magnets for international visitors and, no doubt, students completing homework assignments. Storms Stir F-5 Tornado Memories, subhead in a Sept. 2008 entry, pops up when there's a twister in the forecast.

Just this week a Texan searching for "Sonny James Nashville" arrived at the first blog I posted on the Internet, Real Rebels of Country, Pop, in which I discussed how Sonny and Clay are the true "rebels" in their music genres. My husband played drums for Sonny when we lived in Nashville.

Many thnx to all who stop and leave comments. So far, four countries are represented in the remarks: Indonesia, Kenya, Canada, and the US. It would be great to hear from non-Clay fans who accidentally find themselves in the midst of a blog about the singer.

Thank you, too, for the ongoing geography lesson. No doubt, we are making "Teacher Clay" proud!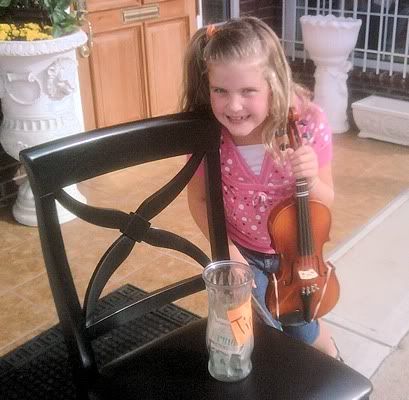 Violinist Tatum Davis, 8, earned $34 with impromptu market gig.


Young Violinist Plays First Gig



Tatum Davis, my youngest violin student, came to her lesson last Tuesday with the exciting news that she had played her first paying gig during October's High Point Furniture Market.

Her father, owner of Luke Leather Furniture, was bemoaning the fact that he had not engaged a guitarist for the semi-annual event. His wife reminded him that he has a violinist, and Tatum was "hired."

After a quick trip home for her violin and a "tips" jar, she set up in front of her father's showroom and began playing through her repertoire: "Frere Jacques," "Ode to Joy," "Allegro," "Twinkle Variations," "Go Tell Aunt Rhody," "Long, Long Ago," and "Bile 'Em Cabbage Down."

International buyers visiting her dad's display, filled the young violinist's jar three times. In one hour and 20 minutes, Tatum earned $34, all of which is headed for her new bank account opened just last month.

High Point Furniture Market draws approximately 75,000 furniture buyers to the Triad twice yearly. A second grader at Wesleyan Christian Academy, Tatum is already making plans to perform at the April 2011 market.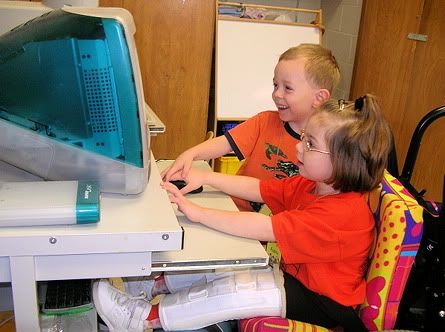 LET'S ALL PLAY -- Children with and without disabilities participate in the National Inclusion Project's programs. Too young to vote in the Pepsi Refresh Challenge, these two are relying on the dedication of adults.

Pepsi Grant To Fund New Camps

During the past few weeks, I have written numerous blogs and emailed friends, relatives, associates, and current/past music students and their parents asking all to help the National Inclusion Project secure a $50,000 grant by voting three ways daily in the October Pepsi Refresh Challenge.

Vote for Inclusion 3 Ways Daily
1. Login to the

National Inclusion Project

page at the Pepsi Refresh site. Cast one vote through Pepsi.

2. Log out of Pepsi (lower left corner) and right back with above link, select Facebook, and vote again.

3. From mobile phone,

text

102308 to Pepsi (73774)
Voting three ways takes less than five minutes. To vote for alliance/partner charities, use the voting widget in the sidebar below the calendar.
Clay Speaks, Auctions, Sings for NIP
No one explains or exemplifies the mission and accomplishments of the National Inclusion Project better than co-founder Clay Aiken in the speech he gave at the the Oct. 16 Champions Gala; the Dutch Auction he conducted, and his final song, "Both Sides Now," performed as a duet with Debra Leisey, who signed the lyrics.

Even in such tough economic times,
numerous NIP supporters pledged multiples of $250, the cost for sending one child to a Let's ALL Play Camp next summer. (middle video)

IMPORTANCE OF INCLUSION -- Co-founder of the National Inclusion Project, Clay reported on foundation's accomplishments and goals in a speech at the 2010 Champions Gala. Video by Robyn 428.

DUTCH AUCTION - Clay conducted a Dutch Auction at the Gala during which attendees donated multiples of $250 to send from 1-10 kids to a Let's ALL Play Camp next summer. Video by Robyn428.


BOTH SIDES NOW - In the final song of his performance at the 2010 Gala, Clay sang "Both Sides Now," as Debra Leisey signed the lyrics. Video by Robyn428.

Have a wonderful week, Clay Nation!