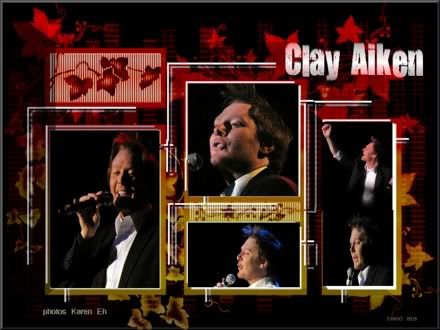 IN CONCERT - Clay Aiken performs in a special Chicago concert Thursday and entertains at the Gala Benefit in Raleigh on Saturday. Graphic by AmazingCA, photos by Karen Eh.
NIP Aims for $50k Pepsi Grant

Chicago Sell-Out, Gala Fill Agenda

Clay Aiken and a huge contingent of fans are days away from a jam-packed weekend that opens with a sold-out Tried & True Concert at Park West in Chicago, IL, Thursday followed by the 2010 National Inclusion Project Champions Gala Benefit 862 miles away in Raleigh, NC, on Saturday.
Sponsored by WTTW, Chicago's PBS station, the exclusive one-night-only performance at the intimate Park West Theatre will feature the singer's chart-topping hits as well as tracks from his brand Decca release,

Tried & True

.
The
special 7:30 p.m. concert was declared a sell-out this week.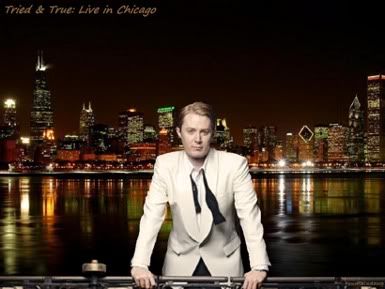 Clay Aiken: Tried & True ~ LIVE in Chicago!
Double click to expand graphic by Fountaindawg.
While most fans will opt for a few hours in the air, some plan to drive the 800+ miles from Chicago to North Carolina for the Inclusion Project's annual Gala Benefit-Awards Dinner at the Raleigh Convention Center.
The Champions Gala annually celebrates individuals, corporations, and the National Inclusion Project's impact on improving the lives of children and families across the country.

Saturday's event will include dinner, recognition of the honorees, silent and live auctions in support of the foundation's programs, and a special performance by Clay, who co-founded the organization with Diane Bubel of Charlotte, in 2003.

A VIP reception with the singer is scheduled for 7 p.m. Friday.
For additional information, see
schedule and tickets
and
live/online auctions
at the NIP website.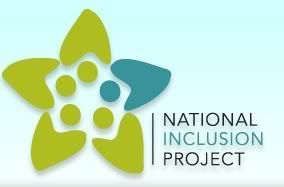 Foundation To Honor Champions
Selected for their substantive efforts to ensure no child sits on the sidelines, the 2010 honorees include

PepsiCo EnAble

,

I Am Norm

, and 11 college friends, who took a school pal on the adventure of a lifetime in 2005.

They include

Andrew Carson, Ben Smalley, Collin Shepley, Daniel Epting, Dylan Wilson, John Hadden, John Harmon, Jason Hees, Kevin Weir, Logan Smalley,

and

Sam Johnson

.
Below are videos and capsules of the 2010 honorees.
Extended bios of the 2010 champions are posted on the
Inclusion Project
website.

SUPER BOWL COMMERCIAL - Pepsi's 2008 Super Bowl ad, Bob's House, was a unique and hilarious commercial illustrating a popular joke in the deaf community. It was created and enacted by deaf members of the Pepsico workforce, EnAble.

PepsiCo EnAble Champions Inclusion
PepsiCo EnAble
creates an inclusive environment for people with different abilities. In line with PepsiCo's values and talent-sustainability goals, EnAble seeks to promote physical, technological, and cultural opportunities to "EnAble" their people to realize their fullest potential.
With a global reach and partnerships such as those with Guiding Eyes for the Blind and Walgreens, as well as their own Accessible Technology initiative and Inclusive Advertising focus, PepsiCo EnAble is leading the way in real, measurable, and practical ways to make a difference for all people they touch.

I AM NORM - This brief documentary of the National Youth Inclusion Program's summit in January 2010 describes the group's goals. View full screen at YouTube.
20 Young People Form 'I Am Norm'
In January, 20 young people with and without disabilities flew from various locations across the United States to meet each other for the very first time in Washington, DC.
In just one weekend, the

I Am Norm

group designed a campaign in hopes of bringing about that change. Through this campaign, they hope to raise awareness about inclusion, provide opportunities for youth to share their ideas about inclusion, and promote inclusive practices in schools and communities.

ADVENTURE OF A LIFETIME - The above trailer provides glimpses into this excursion with its goals. The entire video can be viewed at the Darius Goes West website.

'Roll of His Life' Builds Awareness

In 2005, eleven college friends -- Andrew Carson, Ben Smalley, Collin Shepley, Daniel Epting, Dylan Wilson, John Hadden, John Harmon, Jason Hees, Kevin Weir, Logan Smalley, and Sam Johnson -- decided to take their 15-year-old pal, Darius Weems, who had never left his hometown, on the adventure of a lifetime.

Cameras were rolling as they left Athens, GA, and headed west for Los Angeles, CA, with three goals in mind: to raise awareness of Duchenne muscular dystrophy (DMD), the disease Darius has; to test wheelchair accessibility across the country; and to convince MTV's popular show "Pimp My Ride" to customize Darius' wheelchair.

Despite their lack of movie-making experience, the resulting documentary,

Darius Goes West: The Roll of His Life

, has won 28 film festival awards, turned into a grassroots movement with a huge global fan base, and raised nearly $2 million for DMD research.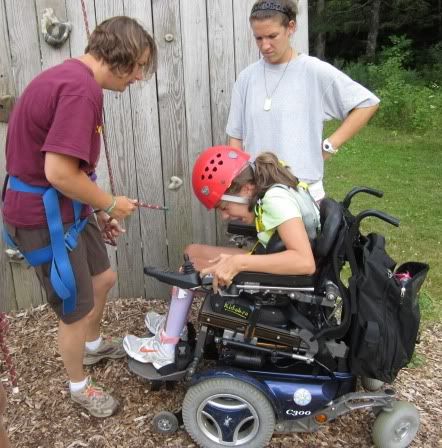 CAMP HOWE - Children with and without disabilities participate in a Let's ALL Play Camp. New camps will be funded with the $50,000 grant from Pepsi.

NIP Drops to #8 in Pepsi Refresh

"There are no words to explain what camp has meant for my son, who has never truly felt a sense of belonging to be recognized for who he is.

What is the saddest thing is that he never expects to be recognized, because being overlooked is a way of life for him. I have never seen him look so sure of himself and so happy."

-

Mother of a son who benefited from an inclusion camp experience this summer.
Entering the second week of October, supporters of the National Inclusion Project are, hopefully, on the way to proving This.Is.The.Month for the foundation to land in the top 10 and secure a $50,000 grant in the Pepsi Refresh Challenge.


US citizens at least 13 years of age have a total of 30 daily votes to cast via text, Facebook, and through the Pepsi site. That's three votes a day for the National Inclusion Project from each eligible voter/account in a family. The remaining 27 should be spread among the charity's voting partners.
For supporters with limited time, the simplest way to vote is via text:
#102308 to #73774
(Pepsi). Enlist texters singly and in groups (luncheons, dinner parties, school club meetings, etc.).
Imagine the immediate impact a fan-filled baseball park, football stadium, Chicago concert, or Champions Gala would have executing a group text for inclusion!
Register for Reminder, iPad Drawing
By registering at the National Inclusion Project home page, you will receive a daily voting reminder and be eligible for an iPad if the foundation wins the $50k grant this month.
In less than 10 minutes a day, early risers can easily vote through the National Inclusion Project's alliance list, as well as a second or third set of partnerships fans formed last month.

Just this week, new partners have been added to the NIP voting lists. In fact, charities have noted the faithful voting by NIP supporters and are requesting to be included in a group.

Thnx to

Scarlett

, fans can vote with the Carolina's new sidebar Pepsi Refresh widget or via the links below. Look for the widget at Facebook and in other Clay Aiken blogs.



NIP + Alliances




National Inclusion Project
- Text 102308 to 73774 (Pepsi)
1p36 Deletion Syndrome
- Text 101439 to 73774 (Pepsi)
Ella's Hope
(autism) - Text 100288 to 73774 (Pepsi)
Oakland Children's Hospital
(Rett) - Text 103134 to 73774 (Pepsi)
Int'l Foundation for CDKL5 Research
- Text 102973 to 73774 (Pepsi)
Center for Courageous Kids
- Text 102408 to 73774 (Pepsi)
Lake Reba Playground
(handicapped) - Text 102102 to 73774 (Pepsi)
Congenital CMV Foundation
(childhood disability) - Text 101692 to 73774 (Pepsi)
Empower Women
(cancer research) - Text 103297 to 73774 (Pepsi)
Be sure to copy/paste a message similar to the one below so the organizations will know the Inclusion Project is supporting their cause:
National Inclusion Project just voted for you. http://www.refresheverything.com/nationalinclusionproject. Text 102308.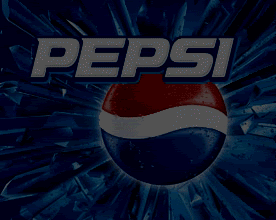 Throughout September, NIP supporters exchanged votes with other charities. Choose Group A, B, or C (extra accounts) for your second/third rounds of voting. Leave a message similar to the one above so a vote for the NIP will be returned.
Group A
National Inclusion Project
- Text 102308 to 73774 (Pepsi)
She Shall Go Free
- Text 102913 to 73774 (Pepsi)
UNC Pediatric Hematology/Oncology
- Text 103835 to 73774 (Pepsi)
Courageous Disabled Friends
- Text 100058 to 73774 (Pepsi)
Girl Scouts of Eastern SC
- Text 103373 to 73774 (Pepsi)
Fox Road Elementary School
- Text 102179 to 73774 (Pepsi)
McKemy Middle School
- Text 100283 to 73774 (Pepsi)
Saving Shelter Pets
- Text 102190 to 73774 (Pepsi)
Fit Trix Fit Kidz
- Text 102062 to 73774 (Pepsi)
SWOOP
- Text 102191 to 73774 (Pepsi)
Group B
National Inclusion Project
- Text 102308 to 73774 (Pepsi)
Libby Tennis Courts
- Text 101307 to 73774 (Pepsi)
Rosie's Ranch
- Text 101742 to 73774 (Pepsi)
The Bag Ladies
- Text 101126 to 73774 (Pepsi)
Marine Science Center
- Text 103443 to 73774 (Pepsi)
Cystic Fibrosis
- Text 102534 to 73774 (Pepsi)
Hatch's House of Hope
- Text 101703 to 73774 (Pepsi)
RATCO Freedom Foundation
- Text 100570 to 73774 (Pepsi)
Earl J. Crowe Purchase SUV
-
Text 102913 to 73774 (Pepsi)

Eicosanoid Research -
Text 103313 to 73774 (Pepsi)
Group C
(Extra Accounts)
National Inclusion Project
- Text 102308 to 73774 (Pepsi)
Tiger Crane Kung Fu
- Text 101996 to 73774 (Pepsi)
Children's Rainbow Mountain Retreat
- Text 100520 to 73774 (Pepsi)
Cal Ripken, Sr., Foundation
- Text 102661 to 73774 (Pepsi)
The Blue Shadows
- Text 101370 to 73774 (Pepsi)
ADERS
(autism) - Text 101217 to 73774 (Pepsi)
Stop Suffering Dogs EPI
- Text 102730 to 73774 (Pepsi)
Karo Grillo Golf Cart/WC
- Text 101966 to 73774 (Pepsi)
Second Chance Wildlife
- Text 100265 to 73774 (Pepsi)
Granara Skerry
(pancreatic cancer) - Text 101844 to 73774 (Pepsi)
A Place Called Home
- Text 103445 to 73774 (Pepsi)
Leaning Post Ranch
(for disabled) - Text 102968 to 73774 (Pepsi)

Inclusion is giving everyone the opportunity to participate.
View montage by SueReu full screen at YouTube.
'Open Arms' performed by Clay Aiken.
Kai Keeps Grandma in the Loop



I talked at length with grandson Kai Friday evening. Actually, I mostly listened and asked questions while he chatted away about cars, trucks, football, basketball, Hawaii, among other subjects.
His mother is usually nearby to translate any words I don't catch, but she was busy in the kitchen.
Lia has progressed to "hey" when we talk. Turns out she was my mystery caller a couple of weeks ago while I was teaching an afternoon of lessons at the academy. When I returned home and checked phone messages, there was one of silence that gradually evolved into a distinctive nibbling of crackers.
I dialed my daughter to see if Kai had randomly called me again. Upon hearing the description of near silence, she said, "Oh no, Mom, that was Lia! Kai would have started talking to you the minute he heard your voice on the machine."

Below is a clickable of the opening graphic by
AmazingCA
: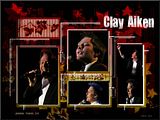 Happy Thanksgiving to the Canadians! Have an awesome new week, Clay Nation!
Caro