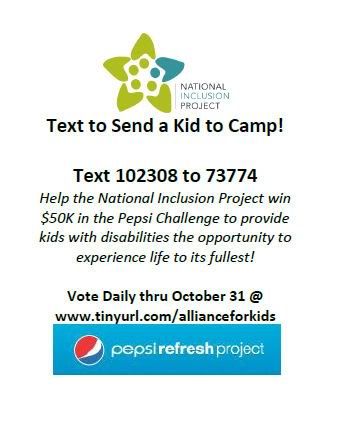 In Pepsi Drive for $50k Grant


Fans Go Creative for NIP Votes


With 10 days remaining in October's Pepsi Refresh Challenge, National Inclusion Project supporters are creatively seeking new avenues of voter enlistment to bring home the $50,000 grant on Halloween Night.
QUESTION: What actions would you take if you knew the NIP would move into the top 10 ONLY if you were responsible for 100 votes today? Would you explain the mission and programs of the National Inclusion Project? How would you round up 100 votes?

Below are ideas from Clay Aiken message boards and the National Inclusion Project that you may be able to adapt. Hopefully, you will share your recruitment activities and successes in the comments so they can be included in this entry.



MagicalMusic

printed fliers and handed them out to 100 participants at a Bingo Night for Inclusion. Following a brief video about the National Inclusion Project, the group sent NIP text votes together. Participants were asked to continue voting daily through Oct. 31.

Here is a double clickable of her flier that you can copy, print, and use in a similar manner: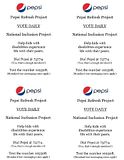 Double Clickable Flier
Copy, print, distribute!

Text & Treat This Halloween Season



The lead flier came from the National Inclusion Project in PDF format with the recommendation to print and pass out at community events. Download and print a page of four NIP Pepsi Text fliers to encourage text voting at booths, tables, games, gates, and other fall gatherings.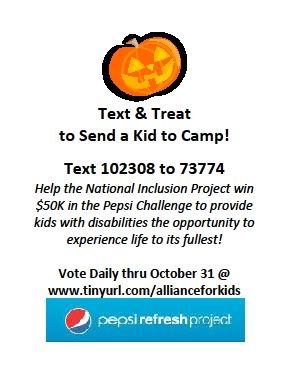 Schools, communities, and businesses are well into the Halloween spirit, and a page of four Text and Treat fliers can be downloaded from the NIP link. These will also be good to have at the door for parents of trick or treaters.



FearofH20

plans to pass out fliers at the gym, and

Scarlett

plans to hand them out at the zoo near her church. According to her follow-up report, this was a very successful venture. Perhaps all NIP supporters should have a batch of pumpkin/NIP fliers with them at all times.

Let's keep thinking outside the box!



Score NIP Votes at Football Games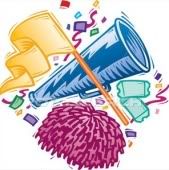 Tonight begins another round of high school, college, and pro football games during which NIP supporters can enlist voters for the Pepsi Refresh Challenge.

Copy and print any of the clickable fliers in this blog to hand to fans for texting NIP votes at the game and each remaining day in October.

Suggestions of places to ask for votes during the next 10 days include:

1. The scoreboard or public address system at home games of high schools/universities with a message to TEXT NOW for the National Inclusion Project: 102308 to #73774.


2. Booth at local school homecomings.


3. Place in the homecoming parade.


4. Free PSAs on the radio promoting the NIP.

5. Fall festivals, trick or treat parties, pumpkin patches, churches.

6. Political candidates promoting the cause on Facebook or the campaign trail.

Teacher Turns Out Student Votes



If you have friends who are teachers in middle school or high school or you are one yourself, ask that the class be given the opportunity to vote daily.



Aikenite

, a high school substitute teacher, posted at Clayversity that she would be having her students text a vote for the NIP in return for being allowed to listen to their iPods during classwork.
Friday morning updates from the "teach" were as follows:

1st Period

(First-year French):

About 25 votes for the NIP




2nd Period

(AP English):

About 20 votes for the NIP





Hey, this is working. It helps being known as "the cool sub"!



NIP Enters Weekend at #13



In the top 10 during the first two weeks, the National Inclusion Project has fallen into the teens and needs every vote supporters can swing to return to a 1-10 money position. Be sure to register at the National Inclusion Project for a chance to win a new iPad. You can also vote via this link.

US residents 13 an older can vote three ways 10 times -- via the Pepsi site, Facebook, as well as mobile phone texts (

#102308 to #73774

). That's three votes for the National Inclusion Project with the remaining 27 spread among the charity's voting alliances and partners from

every eligible member in the household!



International supporters of inclusion should send the information/voting links/ideas to friends and relatives in the US so they can cast votes in your stead.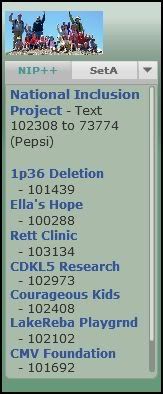 Replica of NIP Widget

Created by

Scarlett

, the NIP widget is a handy voting tool. Situated in the Carolina sidebar, on Facebook walls, and many other sites, the widget contains the latest links for all NIP alliances and partners. Following the alliance list, select from Groups A, B, C, and D to complete daily voting.

Be sure to copy/paste a message similar to the one below so the organizations will know the Inclusion Project is supporting their cause:
National Inclusion Project just voted for you. http://www.refresheverything.com/nationalinclusionproject. Text 102308.
Charities Tap Into Social Networking
Tapping into the full potential of social networking has proved to be a winner with successful Pepsi Refresh recipients in the past.
There is no group more adept at social networking than high school and college students. The Inclusion Project recommends the following:
*

If you have a son, daughter, nephew, niece, grandson, granddaughter, next door neighbor, etc., consider sending them a message asking to help.
*

Were you a member of a fraternity or sorority or are you currently a member of an alumni association? Pass the word on so that they can possibly send out a message to their current contact list.
*

Send a message to YOUR contact list and include one of the fliers from this blog. Here is a message you can copy/paste/tweak to email:
A cause that I am passionate about is currently competing in the Pepsi Refresh Challenge. Would you consider helping me get the word out about the National Inclusion Project's quest to win $50K to send hundreds of kids to camp? They believe no child should sit on the sideline and so do I.

It only takes a few minutes and you can vote through email, Facebook, or texting. Just go to Alliance for Kids and you can click down the page to vote for the Project and some very worthy partners.

You can then text 102308 to 73774. Your vote means a ton, and it would mean even more if you would pass the word to all your friends. Thanks!
In your email, include a link to a video that explains the work of the National Inclusion Project. The video below was created by

SueReu

.

INCLUSION is giving everyone rightful opportunity to participate. Clay Aiken, co-founder of the National Inclusion Project, sings 'Open Arms' in the montage. View the video full screen at YouTube.

Daily Dragon Joins NIP Cause
Thursday the

The Daily Dragon Online

joined the National Inclusion Project's Pepsi Refresh campaign by posting a request for votes to its membership base of 40,000. Below is part of the post, all of which can be read at
National Inclusion Project Needs You
:
The National Inclusion Project has been named as the 2011 Beneficiary of Dragon*Con Charity Events. Please help it earn a $50,000 "Refresh Everything Challenge" grant from Pepsi right now!

The National Inclusion Project serves to bridge the gap that exists between young people with disabilities and the world around them. NIP partners with communities and inclusive programs creating awareness about the possibilities that inclusion can bring. Inclusion means giving people their rightful opportunity to participate, and NIP works to make full inclusion a reality.

Pepsi is currently holding their Pepsi Refresh Everything Challenge in which they are giving away millions of dollars to nonprofit organizations each month. For the month of October, the National Inclusion Project is in the running for a $50,000 grant. [snip]

National Inclusion Project is not an organization with a huge email distribution, or with a large media campaign budget. $50,000 would make a HUGE difference for them and in the work that they do. So please vote now. Votes can be submitted daily through text message by texting *102308* to Pepsi at (73774), or through Facebook or the Pepsi website.

Dragon*Con has a collective fan base of over 40,000 memberships from this year, and National Inclusion Project has asked for help with voting. If everyone voted only once, it would make a difference.

If everyone voted daily, we could see NIP at #1 before the month is out. There are only a few days left in this event, so please contact everyone you can as soon as possible! And vote!

Clickable Flier
Have a wonderful weekend getting out the vote, Clay Nation!

Caro
In loving memory of Mary Ann Doxey, whom the Clay Nation knew as

TruthRules

and

Clayzessed

. Her name links to a page where friends can post remembrances and condolences for the family.