In a public service announcement, singer-songwriter and UNICEF Ambassador Clay Aiken calls for more help for children affected by the devastating floods in Pakistan.
Clay Aiken Speaks for Children

UNICEF Issues Pakistan Appeal
UNICEF Ambassador Clay Aiken has joined the plea for aid for children affected by the catastrophic floods that began in Pakistan after heavy monsoon rains in late July, submerging thousands of villages and towns and killing over 1,500 people.
The United Nations immediately launched an appeal for $460 million to provide emergency relief to people affected by the deluge. That amount has not been met, and workers have been struggling to supply aid to the millions in relief camps and to reach the estimated 800,000 people still marooned in various locations.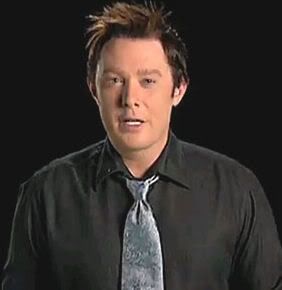 UNICEF Ambassador Clay Aiken
Learn more about UNICEF's emergency relief efforts for children in Pakistan. View Clay's PSA full screen and click on the
DONATE
button at
UNICEFUSA
on YouTube. There are currently four pages of comments by UNICEF supporters.
Below, a CNN video of July 31 leaves no doubt about the overwhelming devastation during the first three days of the Pakistan flood:

View CNN video full screen at YouTube.
Portions of UNICEF scrambles to save malnourished children in Pakistan, 8/28 news story in The Hindu, are quoted below:
The United Nations Children's Fund UNICEF immediately needs 80 million dollars to provide emergency food supplements to over 272,000 malnourished Pakistani children displaced by the devastating floods, a UN official said on Saturday.

The worst floods in the country's living memory displaced over 17 million people, including 2.1 million children under five. At least 13 per cent of them are suffering from severe or moderate malnutrition, the UN said.

"We have at least 72,000 under-five children suffering from severe malnutrition and over 200,000 suffering from moderate malnutrition among the flood-affected people," Dr Shahid Mehboob of UNICEF told the German Press Agency dpa.

"We need an additional $80 million to launch a special nutrition programme. Otherwise, these children may die of malnutrition or other diseases caused by it."
The latest plea for Pakistan assistance has been advertised this weekend on several websites, among them UNICEF Field Notes, Just Jared, and the Clay Aiken News Network.

Young Musicians Share Compositions
Longtime readers of the Carolina blog generally hear about my students around Christmas and spring recital times. Today I would like to share some of the creativity that is blossoming within our ranks. Music is a language, and these students are not only learning to perform it but also to write it.
In May, Joseph Held, now an eighth grade piano student at Wesleyan Christian Academy, performed "Le Pienture de Die" (God's Painting) on our spring recital. During June, Joseph spent the day with his musical brother-in-law, who helped him add a modern slant to his composition, the result being "Le Pienture de Die Remix."
Among this student's earlier compositions are "Coming Storm" and "Song of the Sea." To listen to Joseph's compositions, click on the player's start arrow, third button down.
Video Games Inspire Themes
Caleb Hernandez, seventh grade pianist at Penn-Griffin and a prolific composer, often finds inspiration for a musical theme or rhythm pattern in video games. Among his compositions are "Media Nox Marmor" (Midnight Sea), "The Jazz Dragon," "Arabian Nights," and "Vanderdecken's Curse."
Unfortunately, I don't have recordings of Caleb's music; but we are working on that. I can guarantee that he has kept his teacher challenged most of the summer helping him notate the rhythms he creates.
Jessicca Hayes, sixth grade student at Triad Baptist Christian Academy, also adds composition to her piano studies. She is currently completing a piece entitled "Clocks."
I am often the beneficiary of her creativity, which extends to art and poetry, as well. Below is "Even," a poem she wrote this summer.
Even

Even when you're angry,
Even when you're mad
Even when you might lose everything you have.
Even in the darkness,
Even in the light,
Even in those times you feel you want to cry,
God still has a reason for every little thing.
It may be hard
It may be rough
It may bring joy
It may be tough.
But even still God loves you so.
So even in the times you feel you want to cry,
Jump up, praise God.
He loves to see your eyes!
Where Did 50 Years Go?
About a week ago, organizers for my high school class reunion located me and called. Having lived in Texas and Tennessee, I apparently have been in the "lost" column for quite a while. It was fun to hear the latest on many of my former classmates.
After recovering from the initial shock that next year the New Hanover High School Class of '61 will celebrate a 50th reunion, I was actually able to speak intelligently with a friend whom I remember from journalism class. Phyllis asked if she had caught me at a good time, and I assured her we were fine; my fall teaching schedule would begin the following Monday.

"YOU'RE STILL WORKING?!?!?!" was her immediate, unedited response. I laughed out loud and replied that I enjoy working with young students and the fees help pay the bills. I had a great-aunt who taught piano until she was 96, so maybe it's in the genes.

When I relayed the start of this conversation to my younger sister, who has also hit retirement age, we got tickled all over again. She and I both still play gigs and teach three days a week.

Click to enlarge 'The Painted Garden' design by Erin Houghton.
Reconnecting with Old Friends
An interesting by-product of "being found" is that I am now receiving updates on 1961 graduates, the latest being Erin "Neblett" Houghton, well-known California artist and a nine-year survivor of breast cancer.
At Erin's website, The Painted Garden, there are many interesting aspects of her whimsical impressionist style on display in links to her gallery, studio, the press she has received as an artist, and her blog, subtitled "Finding Inspiration Here, There, and Everywhere." Now, my students can relate to that!
Even though the numbers 1961 and 2011 actually do compute, it is still hard to believe almost 50 years have passed since high school graduation. Already reporting for the Wilmington Morning Star, I actually donned tassels and gown at the newspaper office.
Since then, I have raised a daughter, taught a lot of music students, played a lot of music, and written for newspapers in three states. An extraordinary week that has come full circle!
Have an awesome weekend, Clay Nation!
Caro
Thank you for your blog comments and props for the contributing artists. To leave a remark, scroll to the bottom of that section, click on the "Post a Comment" link, and write in the box provided. Many thnx for stopping by today! - Caro