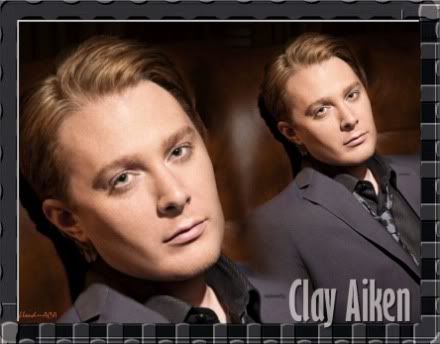 TIMELESS TOUR - AmazingCA's handsome graphic began as a simple photo accompanying an Internet promo story about Sunday's Lancaster, PA, concert.
In Windsor, Ontario
Timeless Pair Plays Packed Hall
WINDSOR, ONTARIO -- Clay Aiken, Ruben Studdard, and the Timeless Tour musicians not only won the hearts of a near-capacity crowd at Caesars Windsor Coliseum but also high praise from The Windsor Star.

Taking a cue from 1960s TV variety shows, the two teased and joked with each other in a well-rehearsed revue that covered four decades of popular music. [snip]

Studdard and Aiken work seamlessly together -- both have musical stage acting in their backgrounds, and it pays off during the banter between songs.

This is a concept that could easily be translated to the small screen -- maybe it's time to revive weekly variety television.

Ted Shaw's complete review -- Ex-Idols entertain with smart, tasteful show -- can be read at the Ontario paper's online website.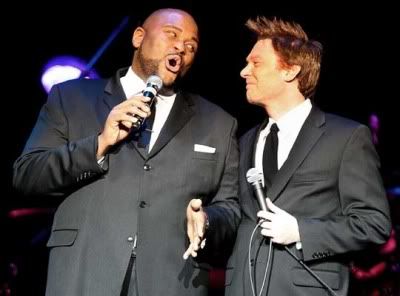 Ruben, Clay perform in Windsor. Photo by Scott Webster.

Duo Promotes Shows from Road

In the midst of the "clack" overload that invariably accompanies a Clay Aiken tour, Internet fans wasted no time in converting the latest Timeless image, a Pennsylvania promo photo of the singer, into avatars, message board banners, and graphic designs like the one atop this blog entry.

As a prelude for Sunday night's Timeless Tour Concert in Lancaster, PA, the Intelligencer Journal is featuring an online interview with Clay -- Once 'Idols,' Now Friends - Clay Aiken, Ruben Studdard join forces for tour -- conducted while the entourage traveled eastward from Wisconsin.
Seven years after squaring off against each other on the second season of "American Idol," Clay Aiken and Ruben Studdard are again sharing the same stage.

The two singers will bring their "Timeless" tour to the American Music Theatre Sunday night.

It's the first time they've toured together and Aiken says they'll be performing songs from the 1960s, 1970s, 1980s and 1990s. He says they have an 85-song set list to choose from.

"If people name two or three big songs from any one of those decades, chances are we're doing at least one of them," Aiken says from his tour bus while it travels through Wisconsin.
Jon Ferguson's article, which also includes information about the Tried & True CD and Clay's 2011 Winter Tour, can be read at the Lancaster link. A similar bus interview with Ruben promoting Saturday's Timeless Tour show at the MGM Grand at Foxwoods Resort and Casino can be read here.

This weekend's Timeless Tour concerts include Friday, 8:15 p.m. ET, Chautauqua, NY, Chautauqua Institution Amphitheatre; Saturday, 8 p.m., ET, Mashantucket, CT, MGM Grand Foxwoods; and Sunday, 7 p.m. ET, Lancaster, PA, American Music Theatre.




KISS SEQUENCE - Milwaukee will be remembered for the playful kiss
between Clay and Casey at the end of "Don't Go Breakin' My Heart."
Click to enlarge photos by Shamrock and Snix, blended by Floridaiken.
Milwaukee: Songs, Laughs, and More
Thrilling fans of the Midwest, the Timeless Tour show in Milwaukee proved yet another performance packed with 85 songs and a special chemistry between Clay and Ruben during their continuous comedic dialogue, loosely scripted and freely altered with ad-libs from both entertainers.
Besides the concert description, Leroy's recap includes a NJU report:
I truly loved every minute of the Milwaukee concert. Our seats were wonderful, and both Ruben and Clay were in fine voice. I just kept shaking my head over how great they sounded and how much fun they were having up on that stage. I'm sure I had a big smile on my face the whole time when I wasn't laughing at their antics.

I kept looking over at my sister, and she was having a blast, too. I asked her later what she thought was the best part. She said it was all perfect, but she thought maybe "Footloose." I think we were up on our feet clapping and dancing at that point.

Afterwards she said she didn't want it to be over and that it was the best concert she had ever seen; and she's seen quite a few great acts. No, she's not a member of the Clay Nation quite yet, but I don't think she'll miss another Clay concert if she can possibly help it.
This clickable collection of photos provides an overview of the Milwaukee show. Photographers include

toni7babe

, 1, 4;

leslie42

, 2, 3; and

Shamrock

, 5.
Fans following the Timeless Tour, either live or via clack, have enjoyed the mid-concert healing of Clay's "lackofrythmitis" affliction by "Rev Studdard." The revival segment, which changes nightly, is introduced by "Sister Quiana." The hilarious Windsor Revival was uploaded to YouTube Friday.
Below is Scarlett's video of the revival skit from the Reno, NV, concert, posted at YouTube by Wowzers4Clay.

Pastor Studdard "heals" Clay of his lack of rhythm.
Reno, NV, Timeless Tour video by Scarlett.
View full screen at YouTube.
Tried & True LIVE #5 at Billboard
According to Wednesday's AP Entertainment report, SoundScan charts for the nation's Video Bestsellers as they will appear in next week's issue of Billboard magazine place Tried & True LIVE at #5:
Top Music Video Sales

1. "Beyond The Lighted Stage," Rush.

2. "The Best Of The Hoppers: From The Homecoming Series," The Hoppers

3. "360 Degrees At The Rose Bowl," U2.

4. "London Calling: Live In Hyde Park," Bruce Springsteen & The E Street Band.

5. "Tried And True: LIVE!" Clay Aiken

6. "Live At Madison Square Garden," Bon Jovi.

7. "Live In Bucharest: The Dangerous Tour," Michael Jackson.

8. "Stones In Exile," The Rolling Stones.

9. "When You're Strange," The Doors.

10. "Number Ones," Michael Jackson.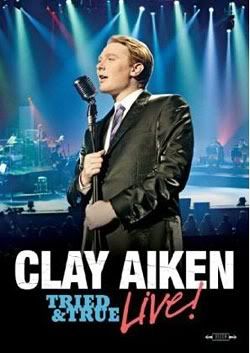 Double clickable T&T LIVE DVD cover.
'Tried & True' Headlines Pledge Drives

The Clay Aiken: Tried & True ~ LIVE! PBS Special, which kicked off in 30 markets coast to coast last past weekend, continues as a headliner for pledge drives throughout the country.

Dates and locations for PBS Special telecasts are available on message boards throughout Clay Cyberspace. Search the CANN PBS Database for an air date/location near you.

In most cases, the telecast coincides with the fall pledge drives of public television. Supporters are able to donate to their local station for a variety of thank-you gift packages: the Tried & True CD, Tried & True LIVE DVD, as well as premium Tried & True Tour tickets and M&G passes in areas where a February-March 2011 concert is scheduled.

2011 Tried & True Tour Sites

Miami, FL - Feb 10, The Adrienne Arsht Center
Orlando, FL - Feb 11, The Hard Rock Cafe
Sarasota, FL - Feb. 12, Van Wezel Performing Arts Hall
Houston, TX - Feb. 14, Jones Hall
Atlanta, GA - Feb 16, The Cobb Energy Centre
Knoxville, TN - Feb. 17, Tennessee Theater
Pittsburgh, PA - Feb 18, Carnegie Library Music Hall (Homestead)
Cleveland, OH - Feb 19, Playhouse Square
Baltimore, MD - Feb 22, Kraushaar Auditorium (Goucher College)
Charlotte, NC - Feb 23, Blumenthal Performing Arts Center
Greenville, SC - Feb 24, The Peace Center
Glenside, PA - Feb 27, Keswick Theater
Cincinnati, OH - Mar 01, Taft Theatre
Minneapolis,MN - Mar 05, State Theatre
Memphis, TN - Mar 07, Minglewood Hall
Grand Prarie, TX - Mar 08, Verizon GP
Mesa, AZ - Mar 10, Mesa Arts Center

Other possible concert sites mentioned include Boston, MA; San Francisco, CA; Waukegan, IL; Fort Wayne, IN; Ann Arbour, MI; St. Louis, MO; Los Angeles, CA; and San Diego, CA. Check back for updates.
Below is a clickable of AmazingCA's opening graphic:
Don't forget Phineas and Ferb: Summer Belongs To You! premieres on the Disney Channel at 8 pm ET Friday. The Clay Aiken-Chaka Khan "I Believe We Can" duet can be downloaded at iTunes.

Have a wonderful weekend, Clay Nation!
Caro
Thank you for your blog comments and props for the contributing artists. To leave a remark, scroll to the bottom of that section, click on the "Post a Comment" link, and write in the box provided. Many thnx for stopping by today! - Caro