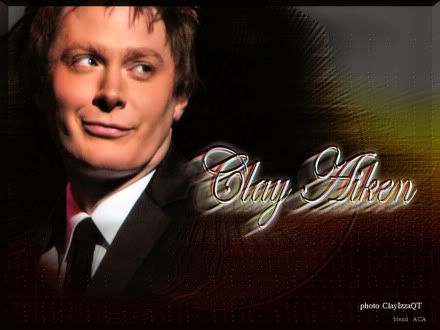 Clay deadpans a Ruben quip during Timeless show banter.
Graphic by AmazingCA, photo by ClayIzzaQT.
Tried & True Tour Takes Shape

Music, Laughs Fill Timeless Show

Seven concerts into the 17-city Timeless Tour, Clay Aiken, Ruben Studdard, & Company this week take their music and antic-filled variety show east to venues in Wisconsin, Ontario, New York, and Connecticut.

Everywhere they have performed -- Asheville, NC; a trio of Florida venues; Snowqualmie, WA; Reno, NV; Los Angeles, CA -- audiences depart singing praises for the vocals and comedic stylings of two good friends who met seven years ago on American Idol, wound up the Season 2 winner/close runner up, and effortlessly display in show after show the seasoned entertainers they are today.
Below are clickable graphics of the early Timeless Tour shows by AmazingCA and Fountaindawg. Photographers represented are Tasapio, Invisible926, deemer, toni7babe, and ClayIzzaQT.


As concert clack and fan recaps reveal, Clay and Ruben adeptly perform their renditions of classic hits from the past five decades, blending their vocal and comedic talents for an unforgettable evening of entertainment. A rocking band and soulful singers Quiana Parler and Casey Thompson back the duo.
These graphs from

lovethatguy

's LA concert report summarize the show:
I have heard this tour described as the Jukebox Tour on speed. I actually would call it "JBT meets the JNTII" (Joyful Noise). Because the whole thing flows with themes and a storyline, it's more than just a concert.

The themes of friendship, playful competition, camaraderie, Clay's inability to dance, the difference in their musical tastes all wind beautifully throughout the concert; and the choices of songs and solos make so much sense when you realize this. It is really well thought out, well written, and so impressive.

It is incredibly appropriate that they finish with 'The Time of Your Life' because that is exactly how I felt at the end. I had the time of my life.



Clay, Ruben, & Company: 90s Medley in Reno
Watch full screen at YouTube.
Reno, NV, video by Scarlett
By this point in the show, Clay has been mostly "cured" of his perceived "lack of rhythm," and it becomes clear to audience members that the singer from North Carolina can move with the best of them. His new Hammer pants temporarily throw Ruben for a loop.

Songs in the 90s Medley include "This Is How We Do It," "Poison," "Achy Breaky Heart," "The Right Stuff," "MMBop," "End Of The Road," "I Swear," "I Want It That Way," "Remember The Time," "You Ought To Know," "Jump Around," "Baby Got Back," "Livin La Vida Loca," and "One Sweet Day."
View other Timeless Tour videos by

Scarlett

at
Wowzers4Clay Channel
on YouTube.
Listed below are the remaining Timeless Tour concert sites, some of which are sold out. Recaps almost inevitably include the phrase "don't miss this show!" -- so give the venue links a whirl and see if there is an opening available near you:
Aug-03 - Milwaukee, WI -
Potawatomi Casino

Aug-05 - Windsor, ON -
Caesars Windsor

Aug-06 - Chautauqua, NY -
Chautauqua Institution Amphitheatre

Aug-07 - Mashantucket, CT -
MGM Grand Foxwoods

Aug-08 - Lancaster, PA -
American Music Theatre

Aug-10 - Hampton Beach, NH -
Hampton Beach Casino

Aug-11 - New York, NY -
The Hammestein

Aug-12 - Verona, NY -
Turning Stone Casino

Aug-13 - Hammond, IN -
Horseshoe Casino

Aug-14 - Biloxi, MS -
Beau Rivage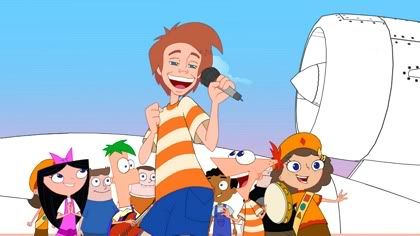 Cartoon Clay sings 'I Believe We Can' on Phineas & Ferb.
Double click photo to enlarge.
Phineas & Ferb Debuts on Disney

The Phineas & Ferb "Summer Belongs to You" special featuring Clay Aiken and Chaka Khan airs Monday (8 - 8:30 pm ET/PT) on Disney XD and Friday, Aug 6 (8 - 8:30 pm) on the Disney Channel. Check you local listings for the episode:
It's the summer solstice and because it's the longest day of the year, stepbrothers Phineas and Ferb decide to travel around the world in one day.

But not everyone believes they can actually achieve wha...t they've set out to do, leading them to get some encouraging words in the form of a duet, "I Believe We Can," from Aiken and Khan.
Follow
Mouse Clubhouse
on Facebook.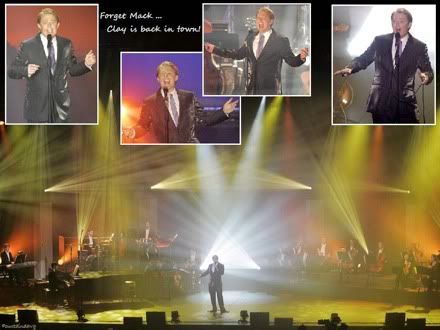 TRIED & TRUE LIVE - Graphic by Fountaindawg, photos by Jim R. Bounds.
'Tried & True' Pledge Drive Winner
The Clay Aiken: Tried & True ~ LIVE! PBS Special, which kicked off in 30 markets coast to coast this past weekend, continues as a headliner for pledge drives throughout the country.
Dates and locations for PBS Special telecasts are available on message boards throughout Clay Cyberspace. Search the CANN PBS Database for an air date/location near you.

In most cases, the telecast coincides with the fall pledge drives of public television. Supporters are able to donate to their local station for a variety of thank-you gift packages: the Tried & True CD, Tried & True LIVE DVD, as well as premium Tried & True Tour tickets and M&G passes in areas where a February-March 2011 concert is scheduled.
Tentative 2011 T&T Tour Sites
Miami, FL - Feb 10, The Adrienne Arsht Center
Orlando, FL - Feb 11, The Hard Rock Cafe
Atlanta, GA - Feb 16, The Cobb Energy Centre
Knoxville, TN - Feb. 17, Tennessee Theater
Homestead, PA - Feb 18, Carnegie Library Music Hall at Homestead
Cleveland, OH - Feb 19, Palace Theatre
Towson, MD - Feb 22, Kraushaar Auditorium
Charlotte, NC - Feb 23, Blumenthal Performing Arts Center
Greenville, SC - Feb 24, The Peace Center
Long Island, NY - Feb 26, Capital One Bank Theater at Westbury
Glenside, PA - Feb 27, Keswick Theater
Cincinnati, OH - Mar 01, Taft Theatre
Minneapolis,MN - Mar 05, State Theater
Mesa, AZ - Mar 10, Mesa Arts Center
San Francisco - Mar 12 and/or 13
Other concert sites in play include Memphis, TN; Sarasota FL; Waukegan, IL; Ann Arbour, MI; St. Louis, MO; Los Angeles, CA; San Diego, CA; and Dallas/Grand Prairie, TX. Check back for updates.
The unofficial 2011 Tried & True Tour information has been gathered by various means -- PBS stations, Ticketmaster, announcements by the singer during Timeless Meet & Greets with fans this week.


Check with your local PBS station to see if (a) a Feb-March concert is part of the pledge package and (b) if the tickets are on sale prior to the telecast. An official tour announcement will be made at clayaiken.com when all dates finalized.

Timeless Tour - 60s Medley
View full screen at YouTube.
Clearwater video by Scarlett
Clack Unlimited Needs Donations
The Clay Nation loves its "clack"; and for years, many have depended on Clack Unlimited as the main source for videos, audios, montages, etc., of the singer's performances and appearances.
Some videos, like Scarlett's Timeless Tour 60s Medley above, are uploaded to YouTube. However, much clack is only available through CU and a few message boards. Like everything else these days, it takes money to operate Clack Unlimited.
Below is a special message for CA fans who appreciate, frequent, and utilize the site:
This season there has been very heavy activity on the CU site with a lot of bandwidth being used. Obviously, there are still a great deal of fans out there who are enjoying the use of the site.

However, donations for Clack Unlimited have been very low this year. In order for us to continue providing this site, donations/subscriptions to support its costs have to be made.

Please visit Clack Unlimited

for information on how you can help support the site.
Have a wonderful week, Clay Nation!

Caro
Thank you for your blog comments and props for the contributing artists. To leave a remark, scroll to the bottom of that section, click on the "Post a Comment" link, and write in the box provided.

Visitors have arrived at this site from 153 countries. Many thnx for stopping by today! - Caro