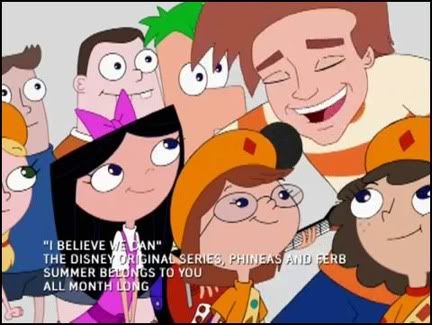 Cap links to Phineas & Ferb 'Summer Belongs to You' promo.
Clay sings 'I Believe We Can' from 'Summer Solstice' episode.
View related videos at DisneyXD YouTube Channel.
Phineas & Ferb Duet in Top 10
Concerts Draw Capacity Crowds
While the Timeless Tour concert played to capacity crowds in New England this weekend, the Clay Aiken-Chaka Khan Phineas and Ferb duet, "I Believe We Can," marched into the Top 10 songs at iTunes.

Disney XD's premiere of Phineas and Ferb: Summer Belongs to You, which ranked in the channel's top three telecasts of the year in total viewers with 1.32 million, posted triple-digit percentage gains over last year's numbers, marking a 196% gain in viewers.
After Thursday's knock-out show at Caesars Windsor's Coliseum, the Timeless entourage (Clay, Ruben, Quiana Parler, Casey Thompson, and band) thrilled crowds in Chautauqua, NY, (Chautauqua Institution Amphitheater) and Mashantucket, CT (MGM Grand Foxwoods).
True to form, the multi-generational audiences are running an even split gender-wise and represent longtime fans and newcomers alike.
Deborah Gibson Tweets Applause
Following the Foxwoods concert, singer-songwriter Deborah Gibson tweeted to her followers:
This show is brilliant! OMG! If you haven't seen Clay and Ruben, RUN; do not walk!
The Broadway star also posed with Clay and Ruben backstage. Below are clickables of her twitpics, as well as two Foxwoods photos by Cotton:
More of the same is expected for Sunday's 7 pm performance at the American Music Theatre in Lancaster, PA. At noon, the box office reported the show was less than 50 tickets from a sell-out.
Show-Stoppers Fill Timeless Concert
It's difficult to pinpoint peaks in the Timeless Tour show because there are so many. Without a doubt, the nightly revival in which Clay is healed of his so-called "lack-of-rhythmitis" is one. "Footloose" from the 80s Medley received an encore tag at Friday's Chautauqua, NY, show.
Shot by Scarlett, the video clack below is from Thursday's Windsor, Ontario concert. Incoporated in the 80s medley are Eye Of the Tiger, Rhythm Of the Night, Glory Of Love, Shout, Africa, Can't Fight This Feeling, Through the Fire, All Night Long, If This Is It, Alone, Caribbean Queen, Nothing's Gonna Stop Us, and Footloose.

Casey, Clay, and Quiana sing 'Nothing's Gonna Stop Us Now.'
Windsor, Ontario, Timeless Tour video by Scarlett.
View full screen at YouTube.
In the second video, "Preacher" Studdard attempts to heal Clay of his lack of rhythm/ability to dance during the Canadian Timeless Tour concert.

Due to a mic with a mind of its own, what is already a very entertaining skit becomes downright hilarious after Clay is 'healed' of his affliction. For many fans, the Windsor rendition has been declared the funniest of the entire Timeless Tour to date.

A mic with a mind of its own added to Windsor revival fun.
Windsor, Ontario, Timeless Tour video by Scarlett.
View full screen at YouTube.
Safe travels to those heading to Lancaster. Monday the Timeless Tour cast will enjoy a much-deserved break before completing the final leg of performance dates:
Aug-10 - Hampton Beach, NH - Hampton Beach Casino, 8 pm
Aug-11 - New York, NY - The Hammestein, 8 pm
Aug-12 - Verona, NY - Turning Stone Casino, 8 pm
Aug-13 - Hammond, IN - Horseshoe Casino, 7:30 pm
Aug-14 - Biloxi, MS - Beau Rivage, 8 pm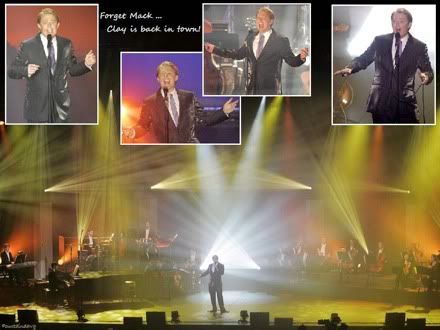 TRIED & TRUE LIVE - Graphic by Fountaindawg, photos by Jim R. Bounds.

'Tried & True' Headlines Pledge Drives

The Clay Aiken: Tried & True ~ LIVE! PBS Special, which kicked off in 30 markets coast to coast July 31-Aug 1, continues as a headliner for pledge drives throughout the country.

Dates and locations for PBS Special telecasts are available on message boards throughout Clay Cyberspace. Search the CANN PBS Database for an air date/location near you.

In most cases, the telecast coincides with the fall pledge drives of public television. Supporters are able to donate to their local station for a variety of thank-you gift packages: the Tried & True CD, Tried & True LIVE DVD, as well as premium Tried & True Tour tickets and M&G passes in areas where a February-March 2011 concert is scheduled.

2011 Tried & True Tour Sites

Miami, FL - Feb 10, The Adrienne Arsht Center
Orlando, FL - Feb 11, The Hard Rock Cafe
Sarasota, FL - Feb. 12, Van Wezel Performing Arts Hall
Houston, TX - Feb. 14, Jones Hall
Atlanta, GA - Feb 16, The Cobb Energy Centre
Knoxville, TN - Feb. 17, Tennessee Theater
Pittsburgh, PA - Feb 18, Carnegie Library Music Hall (Homestead)
Cleveland, OH - Feb 19, Playhouse Square
Baltimore, MD - Feb 22, Kraushaar Auditorium (Goucher College)
Charlotte, NC - Feb 23, Blumenthal Performing Arts Center
Greenville, SC - Feb 24, The Peace Center
Westbury, NY - Feb 26, Theater at Westbury
Glenside, PA - Feb 27, Keswick Theater
Cincinnati, OH - Mar 01, Taft Theatre
Fort Wayne, IN - Mar 02, Embassy Centre
Waukegan, IL - Mar 04, Genesee Theater
Minneapolis, MN - Mar 05, State Theatre
Memphis, TN - Mar 07, Minglewood Hall
Grand Prairie, TX - Mar 08, Verizon GP
Mesa, AZ - Mar 10, Mesa Arts Center

Other possible concert sites mentioned include Boston, MA; San Francisco, CA; Ann Arbour, MI; St. Louis, MO; Los Angeles, CA; and San Diego, CA. Check back for updates.

Fountaindawg created the perfect clickable birthday card for a special little guy born two years ago today. Happy Birthday, Parker Foster Aiken! May you learn these and many more lessons from your father: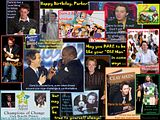 Happy Birthday, Parker!
Dream big and dare!
Have a wonderful week, Clay Nation!

Caro
Thank you for your blog comments and props for the contributing artists. To leave a remark, scroll to the bottom of that section, click on the "Post a Comment" link, and write in the box provided. Many thnx for stopping by today! - Caro