It's Just Dancin' - Montage by SueReu
View full screen at YouTube.
Downloads available at Clack Unlimited.
PBS Special, Tour Rewinds
Clay Aiken Music Fills the Air

Despite being between tours, Clay Aiken is singing -- and dancing -- everywhere. Take a stroll through the fan communities of Clay Cyberspace, and you'll see what I mean.
As Tried and True LIVE, the singer's PBS special, completes a coast to coast fall pledge cycle, ticket sales and travel/accommodation plans are well underway for the Feb-March 2011 Tried & True Tour.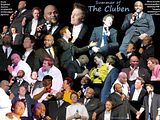 Summer of The Cluben
Graphic by Fountaindawg
All the while, rewinds of the July-August Timeless Tour of Clay and Ruben Studdard are flourishing as fans share photos, videos, and Not.Just.Us stories from the summer series.
In the opening montage, "It's Just Dancin'," SueReu captures one of the Timeless Tour themes -- Ruben's tireless efforts to rectify Clay's so-called inability to dance.
Interspersed with the comical sketches are moments that really move on out, including the "Footloose" encore from the Hammond concert at the end.
Fans Share Not.Just.Us Stories
Below are three Not.Just.Us experiences, two from the Timeless Tour and one RE the Tried & True CD. If you have experienced a NJU encounter recently, please share it in the comments. We would love the read more!
The clickable Biloxi graphic by Fountaindawg features photos by Invisible926.
keepingfaith
:
A 50-ish couple walking out of the Biloxi concert beside me were effusive in their praise. The woman said,"Both those boys are so talented; they both have great voices."
In a thick Southern accent her husband added, "That's the best show I've ever seen. That's God-given talent. God-given. And that preacher skit was the funniest thing I ever saw in my life."

Another man, walking out behind me remarked in a thick accent, "I've paid to see comedians who didn't make me laugh that hard, and those boys can SING better'n anythang I ever heard."

An older gentleman, sitting alone near the back of the floor, danced, clapped, and sang throughout the show. There were a lot of men in the audience, more than I've ever seen before at a Clay Aiken concert.
merrieeee
: A month ago I gave a "Tried & True" CD to someone who kind of knew of Clay but didn't know what kind of music he sang or much about him. Today she came into the office and said how awesome the CD is.
She now has it on a regular shuffle and just loves it when one of the songs plays. She wanted to know what else Clay has done.

When I told her about the PBS special, she became very enthusiastic and said she would have to watch it!
deemer
:
Last night I was sitting next to a woman who said she didn't buy the T&T CD, but she had heard the snippets of "Suspicious Minds." She commented that Elvis sang the song so much better and she didn't like Clay's rendition.
After seeing the live performance, she nudged me and said, "I changed my mind!!!" Hearing the full version, she decided Clay's SM was just wonderful!

Those Magic Changes - Montage by Scarlett
View montage full screen at YouTube.
Downloads are at Clack Unlimited.
Montage Features Broadway, Jukebox
"Those Magic Changes," new montage produced by Scarlett from her videos of Clay, is backed by the singer's vocals from his performance during the June 21 Bringing Broadway Home benefit concert for North Carolina Theatre.
Interspersed with the BBH performance is video footage from the 2005 Jukebox Tour.

The one-night-only benefit concert in Raleigh, NC, celebrated 27 seasons of Broadway at North Carolina Theatre with performances by Clay, Lauren Kennedy, Sharon Lawrence, Terrence Mann and Quiana Parler.

The BBH graphic by Fountaindawg features photos by Brightstar and toni7babe.
Have a wonderful week, Clay Nation!
Caro
Thank you for your blog comments and props for the contributing artists. To leave a remark, scroll to the bottom of the entry, click on the "Post a Comment" link, and write in the box provided. Many thnx for stopping by today! - Caro