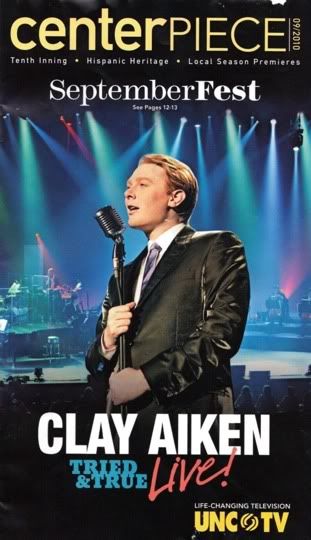 Clay Aiken featured on 'Centerpiece' cover.
Click twice to enlarge scan of UNC-TV magazine.
San Francisco Date Confirmed

UNC-TV Spotlights Aiken Special

The Clay Aiken: Tried & True ~ LIVE! special, playing on PBS stations across the nation since July 31, is finally coming "home" with a Sept. 11 premiere telecast on UNC-TV, North Carolina's 12-station statewide public television network.

Tuesday UNC-TV supporters received the September issue of the Centerpiece magazine with the Carolina native featured on the cover. The Tried & True concert kicks off a week of new specials and fan favorites Sept. 11 - 19 dubbed SeptemberFest 2010.
The special week of performance-packed prime time specials begins with a bang Saturday, September 11, at 8 PM as chart-topping American Idol alum Clay Aiken appears -- LIVE -- in the UNC-TV studio for the premiere of Clay Aiken Tried & True.

Throughout the evening, Clay reaches back into the romantic past of the '50s, '60s and '70s to put his stamp on some of music's most iconic and immortal songs.

Filmed in Raleigh's Memorial Auditorium, this hometown hero gets a little help from his friends. American Idol Ruben Studdard and leading lady Linda Eder join Clay for a night full of such sentimental standards as Mack the Knife, Misty, Unchained Melody, and Roy Orbison's classic lament Crying.
Operated by the University of North Carolina, the studios are located at the UNC Center for Public Television at Research Triangle Park. Below are double clickable scans from Centerpiece.
Clay Aiken: Tried & True ~ LIVE will air on
South Carolina ETV
at 7 p.m. EDT tonight (8/25) for this network of stations: WNTV, WNTV, WRLK-TV, WJPM-TV, WEBA-TV, WJWJ-TV, WRJA-TV, WNSC-TV, WHMC-TV, WRET-TV, WNEH. Tickets for the Feb 24, 2011 Tried & True Concert in Greenville, SC, will be offered during pledge drive breaks.


West Virgina Public Broadcasting (WPBY-TV, WSWP-TV, WNPB-TV) has also scheduled the Tried & True Live special for Sept. 11-19.

See the CANN
PBS Database
for other September airings.

San Francisco T&T Concert Set

A March 12 performance in San Francisco's Regency Ballroom was officially added to the 2011 Tried & True Tour roster Tuesday.


Built in 1909, the Regency Ballroom features blond hardwood floors, a horseshoe-shaped balcony, and a built-in stage. The Grand Ballroom has 35 foot ceilings and 22 turn-of-the-century teardrop chandeliers.

The Regency Ballroom is operated by Goldenvoice, a division of AEG Live, the nation's second-largest concert promotion and touring company. Below are clickables of the luxurious Regency Ballroom:


Official Fan Club members should watch for ticket pre-sales for San Francisco and other venues in mid September. Tickets for the San Francisco show will go on sale to the public on Oct. 3.
Currently, tickets are on sale for shows in Pittsburgh, Cleveland, Baltimore, Minneapolis, and Memphis. Below is an updated 2011 tour line-up.
2011 Tried & True Tour Sites
Miami, FL - Feb 10, The Adrienne Arsht Center
Orlando, FL - Feb 11, The Hard Rock Cafe
Sarasota, FL - Feb. 12, Van Wezel Performing Arts Hall
Houston, TX - Feb. 14, Jones Hall
Atlanta, GA - Feb 16, The Cobb Energy Centre
Knoxville, TN - Feb. 17, Tennessee Theater
Pittsburgh, PA - Feb 18, Carnegie Library Music Hall (Homestead)
Cleveland, OH - Feb 19, Playhouse Square
Baltimore, MD - Feb 22, Kraushaar Auditorium (Goucher College)
Charlotte, NC - Feb 23, Blumenthal Performing Arts Center
Greenville, SC - Feb 24, The Peace Center
Westbury, NY - Feb 26, Theater at Westbury
Glenside, PA - Feb 27, Keswick Theater
Cincinnati, OH - Mar 01, Taft Theatre
Fort Wayne, IN - Mar 02, Embassy Centre
Waukegan, IL - Mar 04, Genesee Theater
Minneapolis, MN - Mar 05, State Theatre
Memphis, TN - Mar 07, Minglewood Hall
Grand Prairie, TX - Mar 08, Verizon GP
Mesa, AZ - Mar 10, Mesa Arts Center
San Francisco, CA - Mar 12, Regency Ballroom


That's What Friends Are For - Montage by LovesClaysVoice
Performed by Stevie Wonder, Dionne Warwick, & Friends.
View full screen at YouTube. Download with this Sendspace.
Meanwhile, replays of the popular 17-city Timeless Tour of Clay Aiken and Ruben Studdard abound on YouTube and other video sites. Much has been written about the special bond between the headliners, whose close friendship and comedic timing were front and center during the summer shows.
In her latest montage, LovesClaysVoice highlights visuals from the summer performances to the accompaniment of Stevie Wonder, Dionne Warwick, and Friends.
Have a wonderful week, Clay Nation!
Caro
Thank you for your blog comments and props for the contributing artists. To leave a remark, scroll to the bottom of that section, click on the "Post a Comment" link, and write in the box provided. Many thnx for stopping by today! - Caro