Timeless Tour montage by mrbaconclayaiken17
Clay Aiken, Ruben Studdard & Co. dazzle coast to coast.
View montage full screen at YouTube or
download with this Sendspace file.
Gags, Surprises Add to Fun
Timeless Finale To Rock Biloxi
In a show already hailed as an entertaining trip through four decades of pop music embellished by powerful vocals, swinging arrangements, witty commentary, and close friendships, the Clay Aiken-Ruben Studdard Timeless Tour finale at Beau Rivage in Biloxi, MS, tonight promises to be off the charts.
To the delight of most audiences, final tour concerts are traditionally filled with loads of fun and unexpected gags by the performers on stage. Curtain time for Saturday's surprise package is 8 pm CDT.
Backup Musicians Captivate Fans
Partners in crime of the Timeless Tour headliners have been Quiana Parler and Casey Thompson, backup singers, and a sizzling band that has rocked both coasts -- Ben Cohn, keyboards/musical director; Eric Dubose, lead guitar; Alvin Garrett, bass; John Jackson, keyboards; and Felix Pollard, drums.
The opening montage by mrbaconclayaikenclayaiken17 provides fans a reminiscent review of the entertaining show performed in 17 cities coast to coast this summer.
Video clips and still photos are set to the song "Partners in Crime," written and performed by Jim Brickman, piano, and Dave Koz, sax.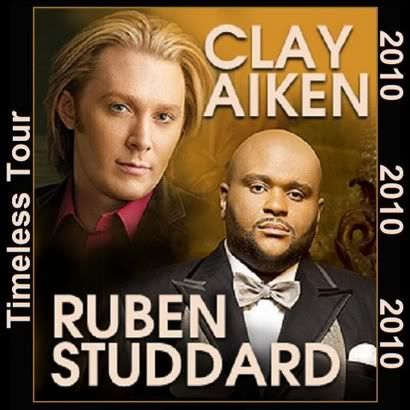 Photo links to Timeless Tour Slide Show at Clay Aiken Kids.
Graphics by Fountaindawg
Currently, at the Clay Aiken Kids site, a 2010 Timess Tour Slide Show allows fans to relive concerts from Asheville, NC, through Lancaster, PA, with more to come as recaps/clack are posted. Research, copy, and set-ups are by momo.
In addition to concert collages by Fountaindawg, each page contains information exclusive to that show which can be magnified and downloaded. See 2010 Timeless Tour with Ruben Studdard at CAK for another view and a set list with links to all song lyrics.
Wire Image members can view/download full size pictures shot by a professional photographer at Friday's concert at the Horseshoe Casino in Hammond, IN. Non-members can view thumbnail versions at the above link.
Front Stage Requests Tour Reviews
In the music and entertainment business, reviews are done by someone who is either not a fan of the artist, or had not even attended the concert, and based a review upon hear say.
Amen to that! Want to add your 2 cents to the Timeless Tour reviews? Front Stage is asking fans who attended a Timeless Tour show to write a brief recap on their website.
The first was a paragraph by an Asheville concert goer. I wasn't able to attend a show, but I hope to read many fan reviews at this site.
One of my favorite graphs from an earlier review is printed below:
As the pair's powerful vocals filled the theatre for one last time that night, Clay Aiken and Ruben Studdard proved good music is not the only thing that is timeless. Talent is too. - Ann Marie Coar
Have a wonderful weekend, Clay Nation. See you after the show!

Caro
Thank you for your blog comments and props for the contributing artists. To leave a remark, scroll to the bottom of that section, click on the "Post a Comment" link, and write in the box provided. Many thnx for stopping by today! - Caro