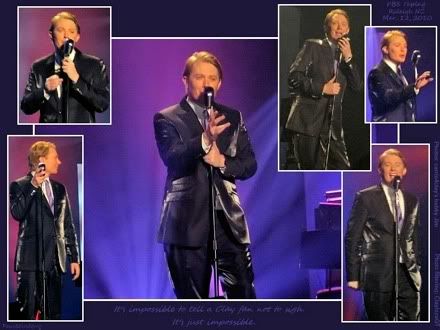 Clay Aiken performs in Tried & True ~ LIVE PBS Special.
Graphic by Fountaindawg with photos by Jim R. Bounds.
For Clay Aiken Winter Tour

Fans Dance T&T Ticket Tango
With a surprisingly low stress level and kudos for the Clay Aiken team, a two-day pre-sale for 12 Tried & True Winter Tour venues kicked off at the singer's official fan club site Wednesday morning.
Preceding general admission sales, fan club tickets went "live" at 10 a.m. PDT Wednesday and will continue until 5 p.m. PDT Friday. Members of the Official Fan Club can access the sale on the Events page.

Pre-sales are underway for these concert sites: Miami, Orlando, Sarasota, Knoxville, Pittsburgh, Cleveland, Baltimore, Greenville, Cincinnati, Fort Wayne, Minneapolis, and Memphis. Presales for other cities will be listed in the coming weeks.
The 2011 February-March concerts will mark Clay's first tour supporting the Tried & True album and Tried & True ~ LIVE DVD released this summer by Decca Records.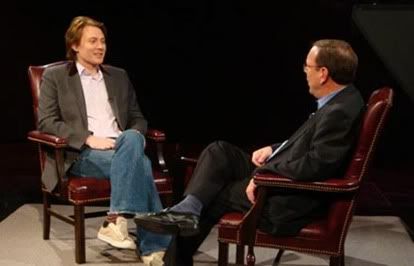 Clay during interview by Pierre Kimsey at WKNO Memphis.
A Conversation with Clay Aiken
In conjunction with the Memphis telecasts of the Clay Aiken: Tried & True ~ LIVE! PBS special, WKNO producer Pierre Kimsey spoke with the singer in what many longtime fans have dubbed "the best interview ever." You can download "A Conversation with Clay Aiken" at Clack Unlimited or stream it at Ideal Idol.
The interview aired in Memphis on Aug. 5; and, hopefully, WKNO will make the "conversation" available on the station's website, as well as schedule more telecasts. Personally, I think the "conversation" would sell a lot of tickets for the March Tried & True concert in Memphis.
The Nouth Carolina native was beginning a career as an educator working with special-needs children when he took an opportunity to audition for the TV show American Idol, then in its second season.

His life was transformed as a finalist, and he has emerged as one of the most successful singers to have been launched by the show.

Aiken has used his celebrity on behalf of the international charity UNICEF and has traveled to Somalia, Afghanistan and other countries where children have been impacted by war.

In this half-hour conversation, Aiken talks with Kimsey about performing, sudden fame, family, UNICEF and more.
To comment on this excellent, well-researched interview by Kimsey and the Memphis PBS station, use the "Contact Us" link at the WKNO website.

CLAY AIKEN: TRIED & TRUE ~ LIVE! Promo
View full screen at YouTube.
'T&T LIVE' Headlines Pledge Drives
The Clay Aiken: Tried & True ~ LIVE! PBS special, which kicked off in 30 markets coast to coast July 31-Aug 1, continues as a headliner for pledge drives throughout the country.

Dates and locations for PBS special telecasts are available on message boards throughout Clay Cyberspace. Check your local PBS station website or see the
CANN PBS Database
for an air date/location near you. The program will shown in some areas later this year.

In most cases, the telecast coincides with the fall pledge drives of public television. Supporters are able to donate to their local station for a variety of thank-you gift packages: the Tried & True CD, Tried & True LIVE DVD, as well as premium Tried & True Tour tickets and M&G passes in areas where a February-March 2011 concert is scheduled.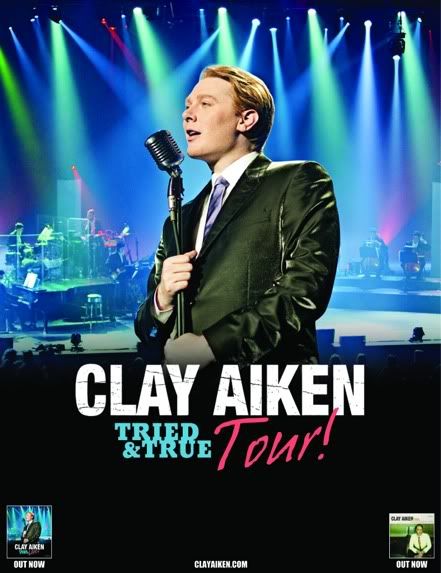 2011 Tried & True Tour Sites
Miami, FL - Feb 10, The Adrienne Arsht Center
Orlando, FL - Feb 11, The Hard Rock Cafe
Sarasota, FL - Feb. 12, Van Wezel Performing Arts Hall
Houston, TX - Feb. 14, Jones Hall
Atlanta, GA - Feb 16, The Cobb Energy Centre
Knoxville, TN - Feb. 17, Tennessee Theater
Pittsburgh, PA - Feb 18, Carnegie Library Music Hall (Homestead)
Cleveland, OH - Feb 19, Playhouse Square
Baltimore, MD - Feb 22, Kraushaar Auditorium (Goucher College)
Charlotte, NC - Feb 23, Blumenthal Performing Arts Center
Greenville, SC - Feb 24, The Peace Center
Westbury, NY - Feb 26, Theater at Westbury
Glenside, PA - Feb 27, Keswick Theater
Cincinnati, OH - Mar 01, Taft Theatre
Fort Wayne, IN - Mar 02, Embassy Centre
Waukegan, IL - Mar 04, Genesee Theater
Minneapolis, MN - Mar 05, State Theatre
Memphis, TN - Mar 07, Minglewood Hall
Grand Prairie, TX - Mar 08, Verizon GP
Mesa, AZ - Mar 10, Mesa Arts Center
Other possible concert sites mentioned include Boston, MA; San Francisco, CA; Ann Arbour, MI; St. Louis, MO; Portland, OR; Los Angeles, CA; and San Diego, CA. Check back for updates.
Below are clickables of graphics featuring the Tried & True CD (AmazingCA, 1; SueReu, 2); Tried & True DVD (Fountaindawg, 3); and Tried & True ~ LIVE (Foutaindawg, 4, 5):
Have a wonderful week, Clay Nation!

Caro
Thank you for your blog comments and props for the contributing artists. To leave a remark, scroll to the bottom of that section, click on the "Post a Comment" link, and write in the box provided. Many thnx for stopping by today! - Caro