Clay Aiken talks about 'Tried & True' CD and concert.
View full screen at YouTube.
Winter Tour Tickets on Sale
Fans Await Aiken Vocals, Humor
Concert goers who attended the March PBS taping of Clay Aiken: Tried & True ~ LIVE! special promptly dubbed the Raleigh, NC, performance the "OMG Concert."
Anyone who has seen Clay Aiken perform live knows this is a perfect description, and those who frequent Clay Cyber message boards have already dubbed the 2011 Winter Tour as the "OMG 2" concert.
With nine successful tours under his belt, Clay is not only known for his incredible pipes but also his ability to connect with audiences. In interviews promoting the winter tour, he has indicated the concerts will include additional songs and the humorous banter that has become his trademark in live performances.
In the opening video, the singer discusses the selection of standards that make up this summer's CD and DVD releases by Decca Records:
Musically, artistically, these songs are sort of a home to me. These are amazing melodies. These are songs that everyone will recognize as classics.

For the first time, this album is music that appeals to me and is closest to my heart of anything I have ever done.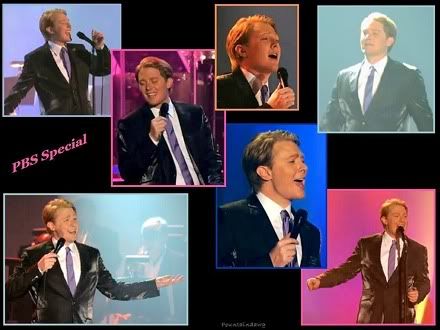 PBS Special graphic by Fountaindawg.
Fan Club, Venues Move Tickets
Fast-moving ticket sales are underway for 12 of 20 venues for the "OMG 2 Concert" slated for February-March 2011 when Clay & Co. will take to the road promoting the singer's Tried & True album.

A two-day pre-sale which began at the singer's Official Fan Club site Wednesday morning, will end at 5 p.m. PDT Friday. In locations where a 2011 winter concert is scheduled, PBS stations televising the Tried & True LIVE special are offering premium tour tickets and M&G passes through fall/winter pledge drives.
The confirmed list of 2011 Tried & True Winter Tour concert dates are listed below. An asterisk denotes venues currently conducting pre-sales with general admission tickets soon to follow. Winter Tour dates are also listed at Pollstar where Cincinnati and Minneapolis Ticketmaster links are "live."
2011 Tried & True Tour Sites
*Miami, FL - Feb 10, The Adrienne Arsht Center
*Orlando, FL - Feb 11, The Hard Rock Cafe
*Sarasota, FL - Feb. 12, Van Wezel Performing Arts Hall
Houston, TX - Feb. 14, Jones Hall
Atlanta, GA - Feb 16, The Cobb Energy Centre
*Knoxville, TN - Feb. 17, Tennessee Theater
*Pittsburgh, PA - Feb 18, Carnegie Library Music Hall (Homestead)
*Cleveland, OH - Feb 19, Playhouse Square
*Baltimore, MD - Feb 22, Kraushaar Auditorium (Goucher College)
Charlotte, NC - Feb 23, Blumenthal Performing Arts Center
*Greenville, SC - Feb 24, The Peace Center
Westbury, NY - Feb 26, Theater at Westbury
Glenside, PA - Feb 27, Keswick Theater
*Cincinnati, OH - Mar 01, Taft Theatre
*Fort Wayne, IN - Mar 02, Embassy Centre
Waukegan, IL - Mar 04, Genesee Theater
*Minneapolis, MN - Mar 05, State Theatre
*Memphis, TN - Mar 07, Minglewood Hall
Grand Prairie, TX - Mar 08, Verizon GP
Mesa, AZ - Mar 10, Mesa Arts Center

PBS Stations Promote Special, Tour
PBS stations nationwide are promoting the Clay Aiken: Tried & True ~ LIVE Special as well as the upcoming tour.
Some PBS stations have scheduled Clay Aiken: Tried & True ~ LIVE for September - December telecasts. Dates and locations are available on PBS websites, the OFC, and many message boards. The CANN PBS Database can be searched by air date and location.
Screen caps link to videos at KCET-TV Los Angeles in which Clay discusses the special and public television programming: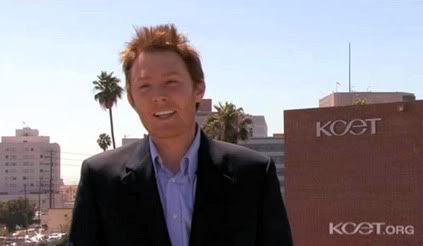 Cap links to KCET interview about Tried & True.
After nine sold-out national tours, six million copies of his four chart-topping albums worldwide, numerous television appearances, a New York Times best-selling memoir, an auspicious Broadway debut in Monty Python's Spamalot, extensive travels for UNICEF and the launch of his own successful foundation - The National Inclusion Project - Aiken brings his clarion voice, engaging personality and Southern charm to PBS in CLAY AIKEN: TRIED & TRUE - LIVE!.

Special guests Linda Eder and Ruben Studdard join Aiken onstage. Taped in Aiken's hometown, Raleigh, North Carolina, before a wildly enthusiastic audience, Aiken brings his powerful vocals and uniquely personal interpretations to new arrangements of some of the most iconic songs ever written.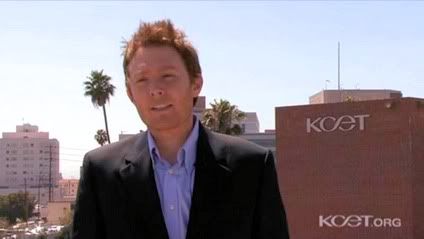 Cap links to discussion of PBS programming for KCET-TV.
Sites Slate 8/23 Ticket Sales
In Minneapolis, the Hennepin Theatre is promoting the March 5 concert. Tickets go on sale there Monday, Aug. 23, at 10 a.m.
Clay Aiken, the 2003 "American Idol" runner-up and pop music sensation with powerhouse tenor vocals, brings his "Tried and True Tour" to Minneapolis.

Supporting his fifth studio album, "Tried and True," and recently released DVD of his 2010 PBS special "Clay Aiken: Tried and True Live!," this performance will feature Aiken's distinctive take on classic favorites such as "Unchained Melody" and "Mack the Knife."
Broadway World
is also promoting ticket sales for the Tried & True Winter Tour performance in Cleveland:
Following in the wake of a critically acclaimed tour with fellow American Idol alum, Ruben Studdard, Clay Aiken is hitting the road once again. The singer who first wowed audiences in the 2003 American Idol competition, will hit 20 cities across the U.S. beginning February 10, 2011, which includes his third PlayhouseSquare visit for one 7:30 pm performance Saturday, February 19th at the Palace Theatre.

Tickets for the February 19th concert go on sale Mon., Aug. 23rd at 11 am at playhousesquare.org, 216-241-6000 and at The PlayhouseSquare Ticket Office. Tickets will be $75, $55, $45, and both $20 & $10 Smart Seats.
Read more about the Winter Tour and Tried & True CD/DVD at the BW website.
"A Conversation with Clay Aiken," the excellent interview by WKNO producer Pierre Kimsey, will be re-aired in Memphis at 6:30 p.m. Oct. 6.
Montage Spotlights Timeless Tour
SueReu's "I Had the Time of My Life" montage below is a wonderful keepsake of the three-week "critically acclaimed" Timeless Tour with Ruben Studdard.


I Had the Time of My Life - Montage by SueReu
View montage full screen at YouTube.
Download with this Sendspace file.
Have a wonderful weekend, Clay Nation!
Caro
Thank you for your blog comments and props for the contributing artists. To leave a remark, scroll to the bottom of that section, click on the "Post a Comment" link, and write in the box provided. Many thnx for stopping by today! - Caro