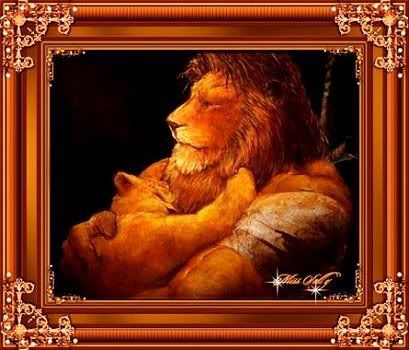 FATHER LION -- The handsome Father Lion graphic by Sally describes the Dads we honor this weekend and links to SueReu's "Measure of a Man" montage. Download with this Sendspace link.
Special Dads Remembered
Celebrating Our 'Father Lions'
"Any man can be a father but it takes someone special to be a Dad." -- Anne Geddes

Father's Day -- the 24-hour span each year we celebrate the special men in our lives who are at once patriarchs, enablers, encouragers, parents, friends, and much, much more. In reality, Father's Day is everyday.
This weekend I honor three special Dads -- my father, my father-in-law, and my daughter's father. There is not enough space to do them justice, but perhaps these remembrances will portray a fragment of their place in my heart. Some segments are reruns while others are new to this tribute. Hopefully, readers will share their "father lions" in the comments.
My parents met when she, a first year choral teacher in Roanoke Rapids, became ill and he, a resident in the same boarding house, brought her medicine and other remedies from the pharmacy where he worked.
The young teacher survived the respiratory infection but not her friendly neighbor. They married, eventually completing their family with two daughters and a son.
An aspiring pharmacist, my father had attended night classes at Duke University. As the oldest son in a family of eight, he left to work full-time to send his younger brother to college and never went back. My Dad worked in insurance, and he was well-respected for his ability to train new agents.

Papa Mac, as he is remembered by our clan, loved to dance and could really cut a rug in his day. His daughters and later his granddaughters enjoyed being dipped and twirled around the room or waltzed while standing on his shoes. He had a beautiful voice, which he demonstrated often, sometimes in the tenor section of my mother's church choirs.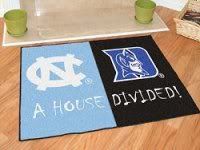 A Shared Love for Sports
I inherited a love for sports from my father. With my mother's blessings, he attended a St. Louis Cardinals game the night I was born. For years, Daddy and I listened to college football and basketball games on the radio together. He pulled for Carolina except when the Tar Heels played Duke, and then we were on opposite sides.
By the time Carolina won the NCAA Basketball Championship in 1957, we had obtained a black and white TV set. In each of the three overtimes with Kansas, I went to my bedroom, held my Bible, and prayed for a Carolina victory. It worked and in any close game thereafter, Daddy would suggest I repeat the ritual.
'You Can't Fool Education'
"You can't fool education" and "THINK" were two of my father's favorite sayings, the latter preserved on a plaque that now hangs in my brother's home. Daddy could not abide incorrectly spoken English.
Though he never embarrassed the wrongdoer, we knew that a double negative or an ill-chosen subject-verb combo like "it don't" sent him into orbit and later would have him muttering his mantra: "You can't fool education."
He could talk his way into or out of anything. Once when the family was searching for the home of a deceased uncle, Daddy decided he had arrived at the correct house because of the abundance of cars on the street.
Food was being served, and our parents were visiting those all around them when it became obvious this was a post nuptial get-together and not a funeral gathering. Graciously, our father apologized, but secured directions for the correct address before leaving.
Father Logs Many Weekend Miles
In the "olden days," college freshmen could not leave the campus until Thanksgiving. Almost every other weekend after that, however, my father drove the 2 1/2 hours from Wilmington to St. Andrews in Laurinburg to bring me home on Saturday and repeated the two-way trek again on Sunday afternoon.
I married a Texan, and mixed with the excitement of flying off to the next chapter in my life was an underlying sadness for leaving my family. Thanks to my brother-in-law, several road trips from Carolina to Texas and, later, Tennessee helped reunite our family.
A heavy smoker, my father died of lung cancer at the age of 75 in 1980. By then, he had three granddaughters and was known affectionately as Papa Mac. He never knew my brother's two sons, who were born later. He also would have thoroughly enjoyed his six great-grandchildren, the youngest being our grandson Kai, 3, and granddaughter Lia, 2.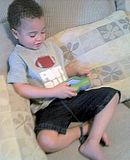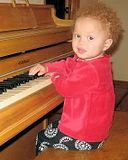 Kai with his Leapster, Lia at the piano
We lived in Nashville in 1980 and planned to drive to Wilmington the minute I completed a wedding gig for then Gov. Lamar Alexander's press secretary.
All indications were that Daddy would live another couple of weeks, but he died the morning of my gig. One of the most difficult things I ever did was play that wedding, especially "Jesu, Joy of Man's Desiring," one of my father's all-time favorites.

I will always miss Papa Mac and think of him every time that composition is performed.
Clay Celebrates 3rd Father's Day

In respect for Clay Aiken's desire to keep his son Parker out of the public arena, fans can only imagine events surrounding the singer's third Father's Day. Long before Parker was born, Clay's love for children and advocacy on their behalf played a major role in his life.

In 2003, he and Diane Bubel co-founded the National Inclusion Project providing opportunities for children with and without disabilities to participate in community activities while raising public consciousness about the needs and benefits of inclusion.

In 2004, Clay became a UNICEF Ambassador committed to supporting health and educational programs benefiting children around the world. On behalf of UNICEF, he has visited many countries, among which are Indonesia, northern Uganda, Somalia, Afghanistan, and Mexico.

The singer's advocacy for children is provided in this pictorial interlude. Included are graphics by Claystruck, 1; AmazingCA, 2 and 5; UNICEF photo, 3; and ClaysTouch, 4.
Texas Father Dear to Many

There are so many stories I could tell about Jack, my father-in-law who, with his wife, adopted me as a daughter when I married their son. A production foreman in the Odessa oil fields, Jack was an endearing man who taught his only son how to hunt and drive at a remarkably young age, as well as how to live life. By example, he taught everyone he met these life lessons, too.
He cherished his family, especially his young granddaughter. Two years before her birth, Jack suffered a massive heart attack and was unable to fly.
When Jen was five months old, she and I flew to Texas and were met by an ecstatic pair of grandparents. She bonded with both, and her relationship with her "Paw Paw" was very special.
FIL to the Rescue
My favorite Jack story happened in 1968 during my second year teaching band and orchestra as I was searched for a quicker route to school. At an unmarked intersection, I looked both ways, but -- KABOOM!!! -- the next thing I knew, I was jammed into the steering wheel, my head hurting from striking the windshield. Our red station wagon had been mauled by a city bus.
Fortunately, there was nothing in the passenger seat but my violin, which miraculously survived with a couple of dents on its hard case. The car, however, looked like a crushed beer can.
Buckling one's seat belt was just coming into vogue; and when asked if I had mine fastened, I crossed my fingers and answered in the affirmative. After receiving minor treatment from my physician, I was sent home to rest from the concussion. In Odessa, my in-laws had immediately packed their car and were driving to Lubbock.
FIL Proves Sly Detective
The next day, Jack went with me to the junkyard to view the remains of our car. Walking deliberately around the vehicle several times, he carefully studied the driver's seat, which on impact had moved drastically in opposite directions.
He looked at me, arms crossed with right hand rubbing his jaw, grinned, and slyly asked, "You really didn't have on your seat belt, did you?" Without hesitation, I admitted the truth. That was fortunate, he said, because from the way the seats parted, I would have been cut in half.
A few weeks later, my in-laws made the same trip back to Lubbock for my court date. I had been given the ticket, but Jack thought I had a justifiable argument since my car was more than halfway through the intersection. He was right, and the judge threw the case out.
I loved my father-in-law dearly. The heredity that smacked his body with a massive heart attack in his mid-50's took him from us shortly before my father died. His memory lives in the hearts of many, but especially his family.


Daughter Jen caught with cookie crumbs
at the keyboard and on her face, too -- age 3.
Christmas, Stork Arrive Early
Married nine years before our daughter arrived, Mr. Caro and I had barely moved to Nashville, midway between our Texas and North Carolina families, when the stork finally found us two weeks before Christmas 1974.
Father-daughter memories run the gamut -- from making sure our resident sleepyhead made it to school on time to carting her and friends to the mall, fairs, and any number of girlish pursuits to sitting proudly through 12 years of dance recitals, orchestra concerts, and life's many graduations.

Typical of this father's devotion to our daughter was the way he located and secured just the right puppy for her. On his drive home from work, he frequently stopped by the humane society to check the pets coming up for adoption and was immediately drawn to a frisky, six-month-old black poodle mix.

We decided to let our 10-year-old visit the prospects, and it was love at first sight. While Button danced around and made her case, Jen took one look and said, "If I get to have this dog, I'm going to name her Button because that's what her eyes look like."
First in Line for a Button
On the Saturday morning that Button became eligible for adoption, wise ole Dad took daughter, two folding chairs from my piano studio, his newspaper, a huge mug of coffee, a couple of Egg McMuffins for their breakfast, and comfortably set up camp at the head of the humane society line around 7 a.m.
Whoever is first in line gets dibs on the animal he/she wants to adopt; and in a matter of two hours, Jen had her puppy dog.
Her father was 41 when his genes followed the family pattern and produced a major heart attack early one spring morning. Even then, top priority was that Jen not be awakened by the oncoming ambulance. The driver abided by his instructions and shut off the siren as the vehicle turned onto our street.
After triple by-pass surgery, this strong-willed man was soon back in the midst of living. His career as a road musician over, he managed a music store, began playing with the local pipe and drum corps, and continued being a Father Lion. Our daughter couldn't have asked for a better Dad.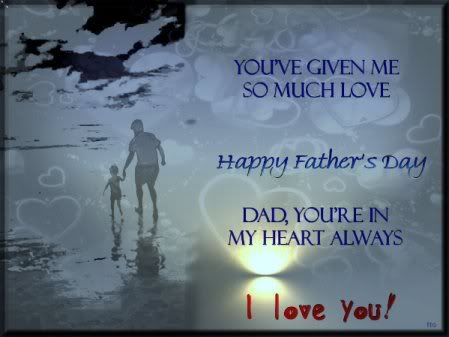 A Father's Day Remembrance - Graphic by Amazing_CA
Have a wonderful weekend, Clay Nation, with special greetings to the "Father Lions" of your life!
Caro
Thank you for your blog comments and props for the contributing artists. I hope you will share memories of the special father lions in your life. To leave a remark, click on the "Post a Comment" link, and write in the box provided.

Visitors have come to this site from 169 countries. Many thnx for stopping by on this special day! - Caro