Clay Aiken performs 'It's Impossible.'
View montage by hosaa full screen at YouTube.
Download video with this Sendspace file.
On Clay Aiken Fan Boards
Drought Brings on 'Listomania'
For some Clay Aiken fans, the weeks the singer is not performing are just like the song --

impossible

. For others, there is no such word in their vocabulary, and a kaleidoscope of activities has begun filling this go round of down time.
The opening montage by

hosaa

features clips from the singer's 2011 Tried & True Tour by

farouche

,

Scarlett

,

goldarngirl

, and

MBlovesClay

. Venues represented include Towson, Minneapolis, Glenside, Cleveland, Sarasota, Knoxville, and Houston.
This weekend, along with the usual recipe exchanges, family graduation/wedding posts, and latest photos of grandchildren, Clay Cyberspace celebrated New York's passage of the Marriage Equality Act Friday night.
And then, thankfully, there's the "listomania" phenomenon.
Fans Create 'Favorites' Lists
Polls have become an ideal pastime on fan boards. Perhaps you'd like to share your choices for two message board lists started this month by

katymom

.

Below are the guidelines, as well as her selections for the first list.
Songs for Singerman To Record
GUIDELINES
: Clay must have performed the song at some time; he has not recorded it since 2003; and it is not a holiday song. Here are
katymom
's choices. What would yours be?
Where Do I Begin, Love Story Theme




Home




Tears Run Dry




Alone




Iris




My Eyes Adored You




The Prayer




Fields of Gold




Kyrie




Hello




Those Magic Changes




I Will Be Here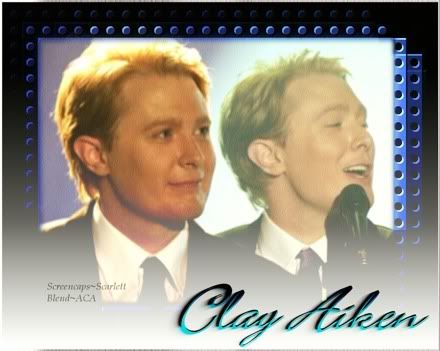 Expandable graphic by AmazingCA with screencaps by Scarlett.
'Best of Clay Aiken' Tracks
Earlier this month

katymom

originated a "Best of Clay Aiken" album poll. Her listing, representing 12 non-holiday songs that Clay has recorded, includes tracks from the

Measure of a Man, A Thousand Different Ways, On My Way Here

, and

Tried & True

albums.
Sacrificial Love - OMWH




Ashes - OMWH




Where I Draw the Line - OMWH




You Don't Have to Say You Love Me - TNT




Unchained Melody - TNT




Perfect Day - MOAM




Shine - MOAM




Everything I Do - ATDW




As Long As We're Here - OMWH




Suspicious Minds - TNT




Because You Loved Me - ATDW




The Way - MOAM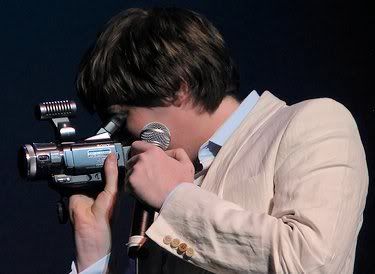 Scrpkym's photo links to Clay Gathers Clack.
Register Video/Montage Favorites
Taking this polling pastime a step farther, I'll pose the question. Choosing from Clay Aiken tours, concerts, TV performances, and montages, what are your 5-10 favorite videos?
In no particular order, my list begins with three from the

Soft Place Hard Rock Tour

. Remember when Clay turned the tables on

Scarlett

and used her camera to take his own clack?

That was the 8/16/07 Fort Myers, FL, concert of the SPHR Tour.
Always ready with a backup, the clack goddess pulled a second camera out of her bag and continued videoing.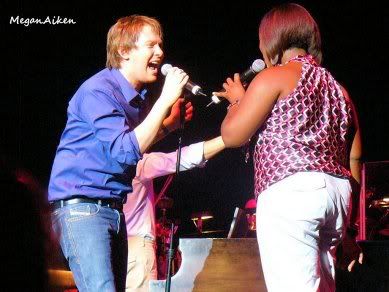 Clay, Quiana sing 'Listen' in Sterling Heights, MI.
View video by goldarngirl/luckiest1 full screen at YouTube.
Impromptu Duet Performance Magical
One of the best examples of Clay's innate ability as an entertainer was the unplanned "Listen" duet he and Quiana Parler performed in Sterling Heights, MI.
Whether seated in the Freedom Hill Amphitheater at Sterling Hills, MI, or connected via a cellcert stream thousands of miles away, fans immediately recognized that the unscheduled duet by Clay and Quiana would long be remembered as one of the most incredible, magical moments in a long line of stellar performances.
Subbing for the ailing Angela Fisher, who nightly sang the "Dream Girls" song in concerts, the unrehearsed duo brought down the house and elicited exclamations that continue to this day wherever fans gather.

Totally unrehearsed, the glorious vocals soared with beautifully balanced harmonies.
At the conclusion, music director Jesse Vargas joined the amazed audience in a spontaneous standing ovation.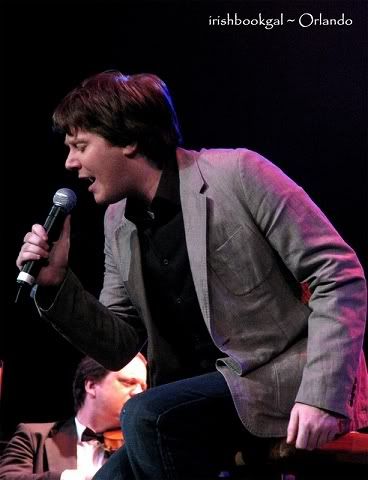 Photo by Irishbookgal links to IWTKWLI 'Trio.'

Orlando Duet Becomes Classic Trio
Scat singing, amazing vocal ranges, and uninhibited ad libs never had it so good as in the gorgeous "I Want To Know What Love Is" duet that evolved into a magnificent, classic trio in the Orlando, FL, finale of the SRHP Tour.
Throughout the tour, Quiana and Angela had cleverly teased Clay as to which of the two would be his duet partner on the song.

In Orlando, they both were.

If You Don't Know Me By Now - Clay Aiken
Montage by Aspiegril can be viewed full screen at YouTube.
Set to a bonus track from Clay's

A Thousand Different Ways

album,

Aspiegirl

's 2006 montage features video clips by

gerwhisp

,

Scarlett

,

SecretlyLovesClay

, and

canfly172

.

Also accompanying "If You Don't Know Me By Now" are photos and graphic designs by

Sally

,

AmazingCA

,

fivegoldens

,

ABeautifulMind

, and

Ambassador of Love

.

Clay Aiken Sings Signature 'Unchained Melody.'
View montage by Wowzers4Clay full screen at YouTube.
There are many wonderful videos of Clay performing his signature version of "Unchained Melody," arranged for the Tried & True album/tour by Ben Cohn.

I chose the 2/16/11 Atlanta Concert montage by

Wowzers4Clay

from the T&T Tour. Videographers represented include

ImAllEars

,

MBLovesClay

,

goldarngirl

, and

Scarlett

.
Now it's your turn
.
1. List 10 songs you would like to hear Clay record.
2. List 12 tracks for a Best of Clay Aiken Album.
3. Name/provide link for 5-10 favorite performance/montage videos.
New Fan Finds Clay Through NIP
A recent incident relayed by

aikim

demonstrates how information, videos, and montages attract and educate new Clay fans.

Last night in the OFC Chat Room I met a woman who is a new fan. She has a son with autism and was looking around the internet for information and found the National Inclusion Project.

She knew nothing about Clay, never watches

American Idol

, but mentioned him to someone she knows and they turned her on to his music. Now she is hooked!

It was so much fun talking to someone who doesn't know anything of the last 8 years and is just a fan of his voice. Her husband has been deployed, and she is home with her kids. Clay has become a diversion, but a good one.

We explained some terminology, and she got a laugh out of that. She doesn't know anything about the message boards, Right now she is lost at YouTube watching clack.
Have a wonderful week, Clay Nation, and Happy Listomania!
Caro