Clay Aiken sings 'Everything I Don't Need.
View montage by gerwhisp full screen at YouTube.
Everything I Don't Need
Winston Driving a Disaster for Me

I have successfully driven in large cities with winding roads and streets with numerous name changes, but point me in the direction of Winston-Salem and it's a total disaster.

Sure enough, Friday's drive to Wake Forest University Medical Center was appropriately accompanied by Clay Aiken's "Everything I Don't Need" track from the 2008
On My Way Here
album.

My appointment to complete pre-op procedures at Wake Forest was 1:50 p.m. True to form, my car immediately took a wrong turn a few miles into the trip. Business 40 versus New 40 is simple for some, but an adventure for me.

Business 40 registered as an exit for Kernersville, so I literally crossed two lanes of traffic with tractor trailers barreling down on me. Having survived that, I reached for my cell phone and dialed my sister, who was home preparing for her ensemble's wedding rehearsal.

Traffic simulation by CLIPish.
The farther westward I went, the more we decided I had taken the wrong turn. As I named exits and street names, she navigated a route that put me back on target. Knowing my Winston track record, though, she stayed on the phone until I turned into the hospital's main entrance.


It's not as if Friday's mishap was a surprise. In the years I taught orchestra at Kiser Middle and Grimsley High Schools, I annually drove students to Winston for all-state auditions and clinics. Even with in-depth instructions and maps from my brother-in-law and sister, I could count on one or more mishaps or wrong turns.
With my WS outings, BIL knows he is assured a good laugh as I inevitably call to report details and analyze my latest misadventure. His mantra for me has become, "Just drive for 15 minutes, stop, and ask someone where you are."

The only times I have driven in Winston-Salem with no trouble were when a Clay Aiken tour had come to town.


BIL is my driver for the June 13 surgery, a small melanoma on my right shoulder. We are hoping for no surprises that day.

At least I won't be driving!


Cookie awards Fan Fest door prize as Flat Clay looks on. - Scarlett cap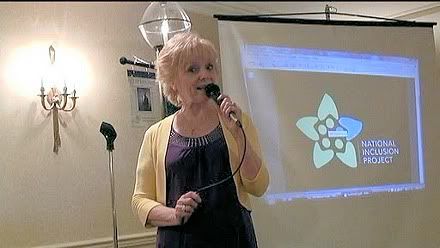 Faye Parker presents NIP report at dinner. - Cap by Scarlett

Fan Fest Generates $6,500 for Inclusion
Attendees at the 2011 Fan Fest of May 21-22 in York, PA, raised $6,500 for the National Inclusion Project, topping the event's goal by $1,500.


In making the announcement,
Cookie
, chairperson, encouraged all Clay Aiken fans to mark their calendars for the May 19-20, 2012, event in York. Along with the many fun activities "up her sleeve," Cookie plans to have an interactive website in place soon.

Proceeds were raised through a variety of events, including "market place" sales, raffle tickets, and donations. Next year's goal has been set for $7,500; so put a red circle around Fan Fest Weekend 2012.

Below is
Fountaindawg
's handsome tour wallpaper of CA photos by
farouche
and
toni7babe
.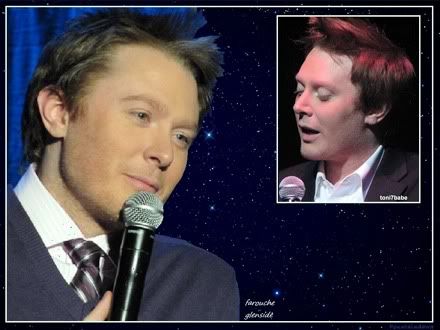 Expandable wallpaper design by Fountaindawg.
Have a wonderful weekend, all!


Caro