Knights on Broadway - Montage by SueReu
View video full screen at YouTube. Download Retro Part 5 here.
Part 5 in Retrospective Series
Memorable Walk Down Broadway
"Knights on Broadway," Part 5 of SueReu's retrospective series of Clay Aiken montages, spotlights special performances by the singer with Heather Headley and Hannah Waddington, as well as his stint in the hit musical, "Spamalot."
Among the highlights are "Can You Feel the Love Tonight," duet with Heather Headley, Broadway Cares, May 24, 2004; the Easter Bonnet Competition, duet with Heather Waddingham, April 29, 2008; "Home," Broadway Backwards, Feb. 7, 2011, video by

Scarlett

; and a variety of "Spamalot" scenes/songs as Sir Robin, Brother Maynard, and guard.
Who can forget the shy Robin predicting he would become the "Idol of his Age"? The clips

SueReu

merged also showcase the singer's extraordinary vocal range, his dramatic but forgettable piano technique, the Russian bottle dance, and such memorable tunes as "Find Your Grail," "He Is Not Dead Yet," "You Won't Succeed on Broadway," and "Always Look on the Bright Side of Life."
For other Clay Aiken retrospective montages by SueReu, see the following:
Part 1 - The Music
Part 2 - Small Screen Fun;
Part 3 - A Special Guest;
Part 4 - Photographs & Memories
Download the first four segments of the Retrospective series with the following links:
Retro Part 1
;
Retro Part 2
;
Retro Part 3
;
Retro Part 4
.
Below are clickable graphics from Clay's Spamalot run by

AmazingCA

, 1 and 3, and

cindilu2

, 2.
Clay appears in the Musicians' Real Names slideshow on the MIX 96.5 website. Link to the station's site by clicking on the graphic below. Arrows on either side of Clay's photo will take you to the real monikers of other entertainers.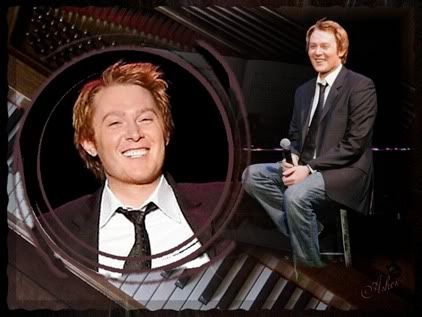 Graphic by Ashes links to 'Real Names' at MIX 96.5.

Have a wonderful week, Clay Nation!
Caro