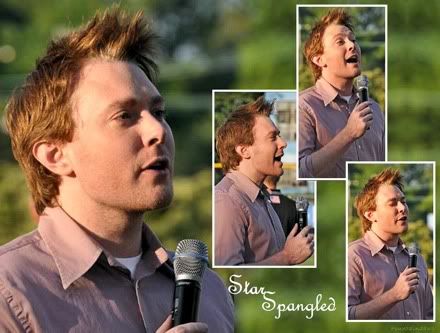 STAR-SPANGLED: Clay Aiken sings the national anthem at the Second Annual Return to the DAP Monday night. Graphic by Fountaindawg expands to wallpaper size.
Vintage Evening in Durham
Clay Aiken Nails Anthem at DAP

DURHAM, NC - Clay Aiken hit a home run as the Triangle's own pop singer performed the National Anthem to the accompaniment of a ballpark flyover by vintage World War II bi-planes, opening the second annual "Back to the DAP" game Monday night.
Bill Evers, all-time winningest manager of the Bulls, tossed the ceremonial first pitch at the historic Durham Athletic Park, home of the Durham Bulls from 1938 - 1994.
Both teams, the Durham Bulls and the Indianapolis Indians, wore vintage uniforms from the 1960s. Sadly (from a North Carolinian's point of view), the visitors won 7-5; but that didn't dampen the spirits of the SRO crowd of 2,638.
And that's not counting the multitude of Clay Aiken fans who tuned into the radio stream and board cellcerts to hear the singer knock the anthem out of the park.
If you missed it, here is a video of Clay's performance posted by
NBC17.

Cindilu2

capped the radio stream and provided this audio download of the
Star Spangled Banner
.

Clay Aiken performs during opening festivities of the Durham Bulls' second annual 'Back to the DAP' game.

Monday's game marked the second straight season the Bulls have played in the remodeled park, the team's home from 1938 - 1994.

Bull Durham

, iconic baseball film, was shot at the DAP.
Below are clickables of photos posted on the NBC17 Facebook wall and by the

News & Observer

. The final two images are wallpapers by

Fountaindawg

, the last a wide screen version of the opening graphic.
Cellserts Connect Fans to Game
In addition to cellcerts along the Claycyberspace network, Twitter was a treasure trove of information and reactions during the pre-game festivities:
IndyweekSports Triangle Offense (Potter) Local hero Clay Aiken does the National Anthem and we're ready for first pitch, folks.



Listening to Clay Aiken sing the national anthem on 620 The Buzz @DurhamBulls





Clay Aiken, the "international pop sensation" opened the Bulls game. He's really gone far!





Ooh, Clay Aiken on the mic with a WWII biplane fly over. Not bad not bad.
My favorite remark occurred during the Clayversity cellcert provided by

claygalsal

and her son Will. Mom handled a video camera while her son transmitted the anthem via cellphone.
Those tuning in heard Will's astonishment as his mother asked some of the baseball players to please move over so she could get a better shot. "Did y'all hear my mom?" an incredulous Will asked the stream.

CA fans are fearless when it comes to securing clack!


See
Durham bulls fall in return game to historic DAP
for the sports recap.
Have a winning week, Clay Nation!
Caro