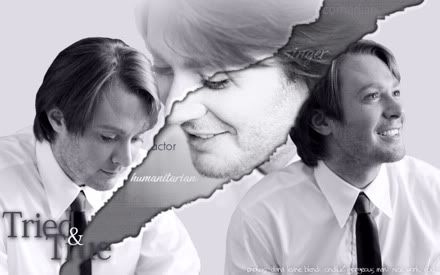 TRIED & TRUE - Fans celebrate the many hats Clay Aiken wears -- singer, actor, humanitarian. Graphic by cindilu2 with photos by Diana Levine.
Round-the-Clock YouTube Rewind
Fans Document Clay Train Ride

The next best thing to Clay Aiken "live" is clack from past concerts; so while the Carolina singer is not on tour, performances from the past decade are in round-the-clock replay in a smorgasbord of clack at YouTube.

For the novice, the term "clack," a play on the words Clay and another highly addictive substance, has been a part of the CA fandom since its inception in 2003. Clack quickly became the byword for video, audio, photos, etc., from the singer's concerts and other appearances.

Featured in this blog are montages by

Hope

(Wowzers4Clay) and

SueRue

that celebrate Clay past, present, and future. Some even incorporate pre-American Idol performances with the more familiar events of the past eight years.

At the

Wowzers4Clay YouTube Channel

, fans can view 15 montages separately or in a non-stop loop by clicking on the current
playlist
.

Clay Aiken Still the One 1999 - 2010
View montage by Hope at YouTube.
'Clay Aiken Still the One 1999 - 2010'
spotlights the singer's
performances at the JCC Country Music Show (1999), the Solo/NAT Tour Raleigh Concert (2004), and the Timeless Tour show in Lancaster, PA (2010).

The montage incorporates video/audio clips by

Shellyfish

,

Scarlett

,

Solo

,

SecretlyLovesClay

,

Deemer

and

Canfly172

and photos by

MBLovesClay

,

Tasapio

,

Suzieq977

,

VO5Clay

, and

PatriciaLuvsClay

.

Decade of Unchained Melody - Clay Aiken
View montage by Hope full screen at YouTube.
Personally, I think 10 years of Clay Aiken singing "Unchained Melody" is pretty hard to beat.

In the UM montage, Hope highlights the decade with clips from the singer's

Redefined

demo,

American Idol

(2003), the

Jukebox Tour

(

ImAllEars

, 2005),

Starch Search

with David Foster (

Scarlett

, 2006), and the 2010 performance on the
The View
promoting the

Tried & True

CD.

The Real Me - Clay Aiken
New montage by Hope can be viewed at YouTube.
"The Real Me," a fan favorite from the singer's

On My Way Here

album, received a one-time only performance on March 1 in Cincinnati, Ohio, during the 2011 Tried & True Tour.



Hope

's montage features clips and screen caps by videographers
LauraQ

,

ClayIzzaQT

,

Goldarngirl

,

Lissical

, and

Scarlett

. The audio is from

ClayIzzaQT

's video.

Clay Aiken - A Simple Thank You (Finale)
View montage by SueReu full screen at YouTube.
The final video in

SueReu

's "Thank You" series, this montage, like its predecessors, rewinds many memorable vocals and humorous moments from Clay Aiken tours.

Be sure to also see
Clay Aiken: A Simple Thank You
and
Clay Aiken - A Simple Thank You (Part Deux)
on her YT channel.
To download videos and montages, visit
Clack Unlimited
where you can also donate to support the site. In addition to searching for Clay Aiken clips on YouTube, you can link to many at
Unlimited Clack
on Facebook.
Visual Artists Chronicle Clay
Also documenting the eight-year Clay Train ride are the talented visual artists who photograph and create graphic designs from an array of images.
The handsome graphics below are a sampling of the countless designs that have graced Clay Aiken message boards since 2003 and the Carolina blog since 2006.

To locate visuals by a particular photographer or graphic artist at this site, type the person's screen name in the top left search box beside the orange B just above the Carolina masthead.

Featured below are graphics by
AmazingCA
, 1, 2, 3;
cindilu2
, 4;
ABeautifulMind
, 5, 6;
Sally
, 7, 8; and
Fountaindawg
, 9, 10. Photographers represented include
PermaSwooned
, 2;
Scrykym
, 5;
Tasapio
, 8; and
Jim R. Bounds
, 9, 10.

Designs capsule CA concerts, interviews, the singer's activities as a UNICEF Ambassador, and his charity work with the National Inclusion Project. Some are double clickable, and some are not.
Join this celebration of clack by linking your favorite montage, video, photograph, or graphic design in the comments below. A special thank you to all artists who share their talent with the Clay Nation!

Have a wonderful week, Clay Nation!
Caro