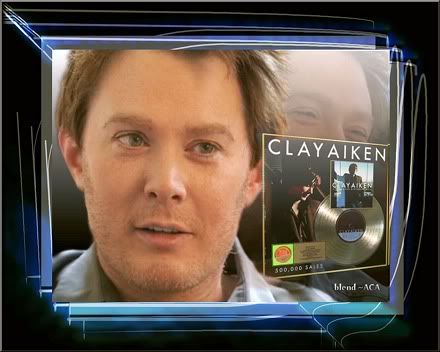 WRAL COLLAGE - AmazingCA created this stunning graphic from the station's interview with Clay Aiken last week. Click to enlarge design to wallpaper size.
Party Time in York, PA
Fan Fest To Raise Funds for NIP
Clay Aiken fans will gather in York, PA, this weekend for the 2011 Fan Fest that promises lots of fun, in-person activities for online friends during two jam-packed days of fundraising for the National Inclusion Project, charity co-founded by the singer in 2003.

Hosted this year by
Cookie
(Diane Knappy), the fest kicks off at the Yorktowne Hotel at 10 a.m. Saturday and continues through noon Sunday. Contests, clack, caricatures, live and silent auctions, raffles, good food, fun, and fellowship are on tap for the special weekend.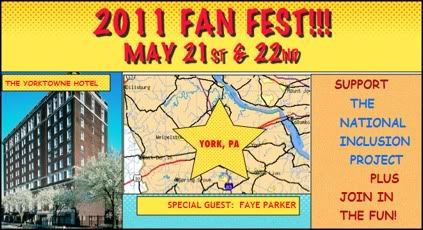 Visit Fan Fest website for full details. Flier will expand.

Activities at the 2010 Fan Fest generated a $3,000 contribution for the National Inclusion Project, and the 2011 chair hopes to top that figure.


Among the special guests in York, PA, this weekend will be Faye Parker, Clay's mother, who will speak briefly about the work of the Inclusion Project, and the Claymobile with new owner Nancy LaFave, who won the car in a special auction at the 2010 NIP Gala.

The Claymobile will be available for pictures with attendees. Originally owned by Cookie, the automobile's history can be read in a Saints, Legends and Goddesses blog entry by
Scarlett
.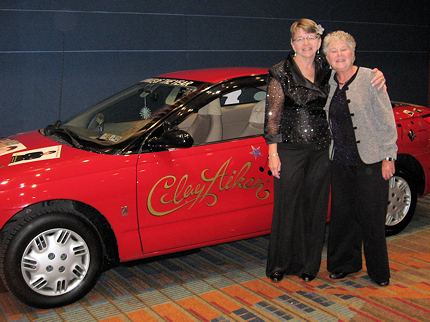 Current and past owners with the Claymobile in Raleigh.
"I have tried to create a weekend event that is all about the fans," Cookie explained in an email. "We are a great bunch and have so much fun just being together, sharing memories, making new friends, meeting old friends, and just having a down right fun time!
The 2011 Fan Fest website contains registration, schedule, and contact information if you would like to join the party in York.

Y'all have fun!
Twitter Helps Rescue Laptop
In case you missed it, an amazing play-by-play mystery unwound on Twitter in real time Thursday when a Canadian author/tech consultant's laptop was taken and he was able to track and recover it remotely with the aid of social media participants and his Prey software.

Not only did Twitter members sit at their computers and watch the story unfold, but several also participated in the recovery. Using tweets, Brandon Ballenger organized the story in his

Storify

blog: Man tracks stolen laptop, calls thief
.


You can catch up with this fascinating stream of events by reading the tweets organized in the blog. Once again, true life is stranger than fiction!
Have a wonderful week, Clay Nation!
Caro