Clay Aiken-Ruben Studdard, Timeless Duo
Link to montage by SueReu on You Tube for full page view.

Aiken-Studdard Pairing Timeless
Through nine editions of American Idol, the 38.1 million viewers garnered by the Clay Aiken-Ruben Studdard Finale of May 21, 2003, not only confirms the popularity of the two singers but also the high bar set by the Season 2 contestants.
Next week's competition between two Southern teens -- Lauren Alaina, 16, of Fort Oglethorpe, GA, and Scotty McCreery, 17, Garner, NC, -- will determine the winner of American Idol 10 and whether Season 2 retains the viewership crown.
Read more about the AI 10 showdown in this story at The Improper website: Scott McCreery, Lauren Alaina Idol Finalists; South Bias Strikes Again.

AI10 finalists Lauren Alaina and Scotty McCreery

Articles Rewind AI Finales
Finale week always inspires a variety of previous season highlights. Articles of interest to this blog's readership would include Studdard, Aiken: A Match of Opposites (Variety), a replay of Season 2.
In Secrets Behind American Idol's Incredible Comeback, a May 19 Hollywood Reporter story, Nigel Lythgoe, executive producer, reported that his favorite AI moment was when the Season 2 runner-up turned up for a surprise duet with Michael Sandecki, an Aiken impersonator, during the 5th season finale.

Seasons of 'Idol'-atry, 2010 Washington Post story, provided an overview of the show's nine seasons to date. With 38.1 and 36.4 million viewers, respectively, the finale shows of Seasons 2 and 5 were maintaining their gold-silver ranking.
Ironically, Clay participated in both, as a finalist in his season and as a surprise guest performer with a suave makeover that momentarily fooled loyal fans and Idol personnel alike three years later.


Don't Let the Sun go Down on Me - Clay Aiken
The AI5 Finale water cooler moment.
Link to YouTube to view full screen.
Lythgoe Reveals AI5 Secrecy Plan
In an interview on KTLA-TV's Morning News Show the week following the AI5 Finale, Lythgoe revealed that details of Clay's appearance and performance on the show were kept secret from almost everyone.
The singer arrived at an obscure entrance in an SUV with tinted windows. Sporting a suave new look and attracting no attention whatsoever, he walked in unnoticed with wardrobe personnel and the garments they were transporting, secretly watching the show in a nearby building before being escorted to the stage for his entrance.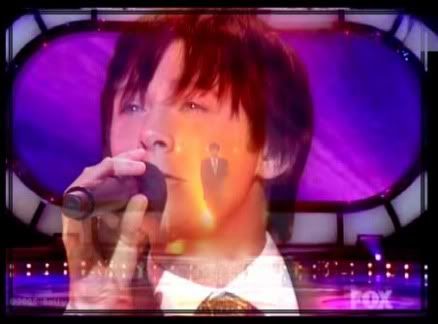 American Idol 5 Finale showstopper - Graphic by Sally.
Clay was there to surprise Michael Sandecki, an early contestant who supposedly had won the Golden Idol Award for "Best Impersonation" of a previous finalist.


As the stage doors parted, Clay entered singing DLTSGDOM. The theater audience and television viewers went wild.
It was the same incredible voice, but the maturity and difference in Clay's appearance were so striking that the panel of judges and emcee Ryan Seacrest didn't recognize him at first.
The event easily became the most discussed water cooler topic of the AI5 Finale, surmounting the buzz about the evening's newly-crowned Idol, Taylor Hicks.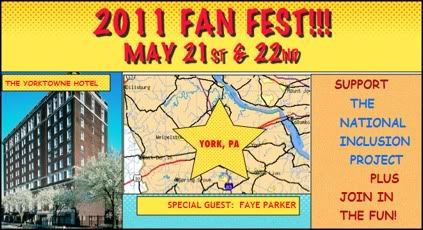 Click on screen cap to link to Fan Fest website.
Aiken Fans Assemble for Annual Fest
For Clay Aiken fans, the place to be this weekend is the Yorktowne Hotel in York, PA, where supporters have gathered for Fan Fest, annual two-day fundraiser for the National Inclusion Project.
Besides greeting longtime online friends, attendees are enjoying a schedule packed with crafts, a Clay hat contest, caricatures, singalong of Clay's hits, live auctions, raffles, the Claymobile, dinner with guest speaker Faye Parker, and a round table Sunday morning breakfast discussion.
Be sure to click on the headings at the top of the Fan Fest website for more details. Heading up this year's event is

Cookie

, original owner of the Claymobile. Below are clickable photos shared by

Scarlett

from some of the Saturday afternoon activities.

Included are

Faye Parker

and friends;

Yoshi

of Baltimore, formerly of Japan; two of the many displays; a spring wreath made especially by Faye for the Fan Fest auction, a Linda Huber drawing,

deemer

with Flat Clay, and

Scarlett

holding her caricature drawing.


Caro