PRINCE WILLIAM and KATE'S ROYAL WEDDING - In this montage by LovesClaysVoice, Clay Aiken serenades England's new royal couple with "Can't Take My Eyes Off You, a classic from his Tried & True album.

Tried & True Classics

Aiken Songs Accompany Royalty

People the world over celebrated Friday's wedding of Prince William and Kate Middleton, now the Duke and Duchess of Cambridge. Besides invited guests at Westminster Abbey and the throngs rejoicing outside the London cathedral, countless unofficial parties in time zones around the globe joined the festivities.
Two special montages by LovesClaysVoice and SueReu replay Friday's events accompanied by popular tracks from Tried & True, Clay Aiken's latest album of classic love songs.

The montage "Prince William and Kate's Royal Wedding" by LCV is appropriately set to "Can't Take My Eyes Off You." The video can be viewed full screen at YouTube or downloaded with this Sendspace file.


WILLIAM & KATE - A TRUE LIFE FAIRY TALE - The montage by SueReu features nuptial video clips and stills of the royal couple to the accompaniment of Clay Aiken's "It's Impossible."

SueReu

's montage incorporates scenes from the wedding weekend with "It's Impossible" from Clay's

Tried & True

CD of classic love longs. View the William & Kate - A True Life Fairy Tale montage full screen at YouTube, or download it with this Sendspace file.

Official photos of the royal wedding were released by Clarence House here. Articles, commentary, photos, and videos rewind the Royal Wedding at this site.

Life magazine has posted a Commemorative Collection at the publication's online website. The Daily Mail provided an extensive look behind the scenes of the weekend festivities.

One of the most memorable clicks of the day occurred on the balcony of Buckingham Palace with not one traditional kiss but two.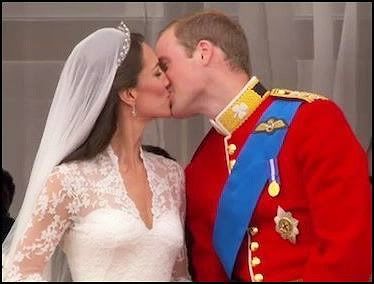 Congratulations to the new Duke and Duchess of Cambridge! Have a wonderful week, all!
Caro