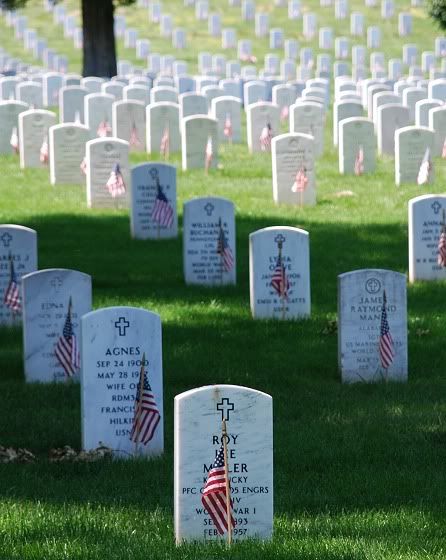 Memorial Day at Arlington National Cemetery in Washington, DC.
Clay Aiken Sings 'God Bless the USA'
Remembering America's Heroes

The National Moment of Remembrance encourages all Americans to pause wherever they are at 3 p.m. local time on Memorial Day for a minute of silence to remember and honor those who have died in service to the nation.

As Moment of Remembrance founder Carmella LaSpada states: "It's a way we can all help put the memorial back in Memorial Day."
On Memorial Days past, I have featured a 1963 interview with John M. Steele, the paratrooper who landed on a church steeple in St. Mere Eglise, France, during the D-Day invasion of Normandy June 6, 1944.
I was a 20-year-old college junior writing news and features for the

Wilmington Morning Star

the summer I interviewed the local war hero whose experience had recently been included in the movie,

The Longest Day

.
The story about Pvt. Steele missing the drop zone, landing on the church steeple, and playing dead for hours before German soldiers searching for cigarettes realized he was alive can be read in the 2010 Memorial Day blog:
America Honors Military Heroes
.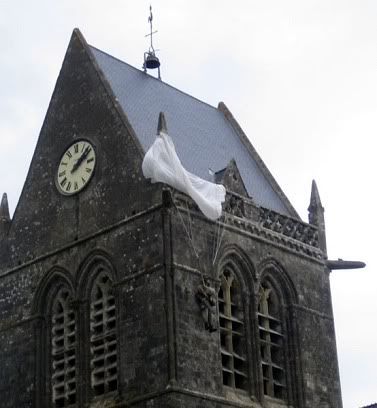 John Steele steeple monument in Ste. Mere Eglise, France.
Memorial Day Originally Decoration Day
Three years after the Civil War ended, on May 5, 1868, the head of an organization of Union veterans - the Grand Army of the Republic (GAR) - established Decoration Day as a time for the nation to decorate the graves of the war dead with flowers.
Maj. Gen. John A. Logan declared that Decoration Day should be observed on May 30. It is believed that date was chosen because flowers would be in bloom all over the country. The first large observance was held that year at Arlington National Cemetery, across the Potomac River from Washington, D.C.
To read the complete history, link to the
WECT Wilmington
website.
The Internet is overflowing with commemorative images marking the day America pays tribute to those who have served and sacrificed for their country. The four used in this blog are from CLIPish and can be shared via iPhones and other smart phones.
America Salutes Those Who Served
At graveside ceremonies, parades, concerts, and other festivities in Washington, DC, and throughout the nation, America this weekend pays tribute to those who have served and sacrificed for their country.
The
National Memorial Day Parade
, an annual tradition of remembrance with patriotic marches and floats in Washington, DC, is slated for 2 p.m. Monday. The 2011 event will be televised live to US service members around the world. Memorial Day Parades in other locations are listed
here
.
At 11 a.m. today, President Barack Obama laid a wreath at the Tomb of the Unknown Soldier in a traditional ceremony at Arlington National Cemetery
Patriotic music is an important part of
Memorial Day
observances. Sunday's National Memorial Day Concert on the west lawn of the US Capitol featured dramatic readings, documentary footage, and live performances. Check your PBS station for rebroadcast times.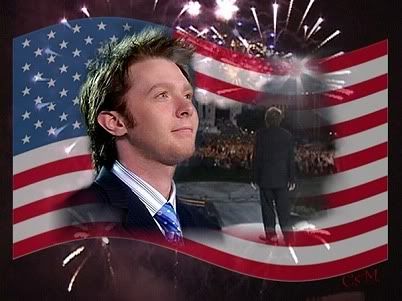 Clay Aiken performs "God Bless the USA" at 2004 Concert.
Graphic by Ashes links to the video on YouTube.
At 3 p.m. local time, according to the 2000 National Moment of Remembrance Act passed to emphasize the meaning of Memorial Day, all Americans should "voluntarily and informally observe in their own way a moment of remembrance and respect.'"
On Memorial Day, we honor the John M. Steeles of our lives. Have a very special Memorial Day!
Caro