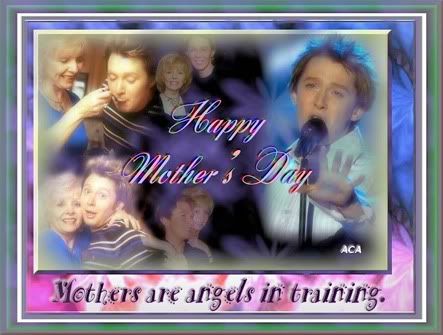 Clay Aiken and his mother Faye Parker. - Graphic by AmazingCA

Mama Mac Remembered

Clay Nation Celebrates Mothers

Faye Parker has long been the "First Mom" of the Clay Nation, fans from every corner of the globe who follow the career of her son, platinum recording artist Clay Aiken.

Readers of the Carolina blog represent 168 countries from all continents but Antarctica. We each have a mother, and today I honor the memory of Mama Mac, the special lady who was mine.

A Mother's Day Remembrance

Saturday morning I was running errands, and memories of my mother enveloped me as I unconsciously performed the maneuver our family years ago tagged "the Mama Mac stop." This occurs when the driver arrives at an intersection in a relatively quiet neighborhood and figuratively, almost literally, drags his/her feet instead of coming to a complete halt.
In her later years and much to the horror of her granddaughters, all excellent drivers, Mother perfected the maneuver and employed it at will. On the day before Mother's Day, I drifted into "the Mama Mac stop" at least twice. We used to tease her about this tempered version of a stop, and I just bet she returned the grin this weekend.
Mama Mac, whom many of you have met through blog entries, was a character. This entry is a reprint from Mother's Day 2010.



On July 12, 2005, my mother -- the woman who gave my sister, brother, and me life, introduced us to the wonderful world of music, encouraged us in all life's endeavors -- left behind a tired, weary 93-year-old body and sailed peacefully on to her next portal.
Her family celebrates a joyful life that almost spanned a century with many fond memories, a full heart, and the knowledge that this very special woman is still singing glorious harmony through her offspring and the many students she touched.
Sail on, Silver Girl, Sail on By
As a wife, mother, grandmother, teacher, musician, gardener extraordinaire, Alleen McDonald, affectionately known as Mama Mac, worked hard and lived a full life. Her green thumb was legendary, whether she was cultivating gardens of vegetables or azaleas.
An alto in the First Baptist Church-Wilmington Chancel Choir for 42 years, she appreciated good music and was a very enthusiastic fan of Clay Aiken. Some of the most enjoyable moments of the last two years of her life were spent watching and listening to Clay sing. She especially loved his rendition of "Bridge Over Troubled Water" and would have embraced his latest Tried & True album.
Our family misses its spirited matriarch. Besides her three children, five grandchildren, and six great-grandchildren, Mama Mac was special to a large extended family of friends, former students and co-workers, as well as the caregivers at Wesley Long Nursing Home where she lived following a broken hip.
Even with 35 years in the public schools, the countless operettas and other musical productions she successfully presented, Mother is best remembered in our Wilmington neighborhood as "the beach lady." On any given summer day, we would load up her old 1939 Chevy, which she kept way past its prime just for beach outings.
Picture an old jalopy, of the running board variety, bursting with neighborhood kids in bathing suits, inner tubes, fishing/crabbing gear, picnic lunches, etc., bopping down the 10 miles between Wilmington and Wrightsville Beach. Fond, fond memories.
Sail on, Silver Girl, Sail on By
One of my favorite Mama Mac stories happened during National Caregivers Week in May 2005. A month shy of her 93rd birthday, Mother was very proud of the fact that she was cognizant 99% of the time and that she still had all her teeth.
Awakened from a mid-morning nap with a visit from her granddaughter and then toddler twin great-grandchildren, Mama Mac immediately began insisting she needed to get dressed for a rehearsal.

No one in the family knew that she and her physical therapist had secretly been rehearsing a duet for the nursing home's afternoon talent show, so we just assumed our matriarch was groggy and still getting her bearings.

My sister dropped by after choir practice that evening, and proudly displayed on Mother's door was a huge lst Place Blue Ribbon. She most certainly did know she needed to get dressed to rehearse!
Our mother could sing harmony at the drop of a hat, a talent she shared with Clay and one of the many reasons she admired him so much. That day she and her duet partner were, hands down, the best!
Sail on, Silver Girl, Sail on By
Mama Mac was a character in the best way. At restaurants, she always pocketed several little pink packets of Sweet-N-Low and ketchup "for the church." Annoyed or bored with a discussion, her final word on any subject was "whatevah," delivered with deadpan inflection and any number of hand gestures.

In 2010, my brother spent Mother's Day Weekend with me while his son performed in the two-day commencement ceremonies at Greensboro College. More than once he commented how often he wishes he could talk with Mama Mac or ask her a question.
After Mother's death, our family received countless messages from her former students like this one:

Susan (Sunset Park, 1961-62):Your mother was my beloved 5th grade teacher at Sunset Park Elementary. My year with her was very special. Mrs. McDonald taught us everything from how to do research projects to how to harmonize when we sang.

The Christmas play she directed that year probably raised the bar for not just harmony but also the amount of instruments she had us playing in the background.

She encouraged us to be inquisitive beyond the textbook and rewarded us for creative thinking with extra credit points. She was a fair teacher with high standards. If we pleased her, we felt very good about our efforts.
Until 2005, Mother's Day Weekend was a given on my brother's calendar, as he drove up from Wilmington to visit Mama Mac, staying overnight with his big sis. Our routine was to stop by the Harris Teeter nearest the retirement home and pick up fresh blueberries and boiled shrimp, two of Mother's favorite foods in the whole wide world, for her special day.

Ketchup was an automatic, either a bottle from my kitchen or several of the packets that remain part of her legacy.

PHOTO INTERLUDE - Featured in this special Mother's Day respite are graphics and photos by Amazing_CA, 1, and cindilu2, 2 and 3. The close relationship Clay shares with his mother and Jaymes, mother of his son Parker, are interwoven with the song lyrics Mama Mac dearly loved.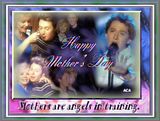 Special Email Salutes All Mothers
Email sometimes yields a most appropriate piece at just the right time. I received this from a friend and reprint it today for all the mothers who read the Carolina blog.
FOR MOTHERS



This is for mothers who sit up all night with sick toddlers in their arms, saying, 'It's okay honey, Mommy's here.'

Who sit in rocking chairs for hours on end soothing crying babies who can't be comforted.

This is for mothers who show up at work with milk stains on their blouses and diapers in their purse.

For mothers who run carpools, make cookies, and sew Halloween costumes. And all the mothers who don't.

This is for mothers who gave birth to babies they'll never see. And the mothers who took those babies and gave them homes.

This is for the mothers whose priceless art collections are hanging on their refrigerator doors.

And for the mothers who freeze their buns on metal bleachers at football or soccer games instead of watching from the warmth of their cars. And when their kids ask, 'Did you see me, Mom?' they say, 'Of course, I wouldn't have missed it for the world,' and mean it.

This is for mothers who yell at their kids and swat them in despair when they stomp their feet and scream for ice cream before dinner. And for mothers who count to ten instead, but realize how child abuse happens.

This is for all mothers who go hungry so their children can eat.

For mothers who read 'Goodnight, Moon' twice a night for a year. And then read it again. 'Just one more time.'

This is for the mothers who teach their children to tie shoe laces before they start school. And for mothers who opt for Velcro instead.

This is for all mothers who teach their sons to cook and iron and their daughters to take out the trash and change the oil.

This is for every mother whose head turns when a little voice calls 'Mom?' in a crowd, even though their own offspring are at home -- or away at college -- or have their own families.

This is for mothers who have sent kids to school with stomach aches, only to get calls from the school nurse an hour later asking them to please pick them up. Right away!

This is for mothers whose children have gone astray, who can't find the words to reach them. But love them every day.

For mothers who bite their lips when their 14 year olds dye their hair green.

For all the mothers of the victims of recent school shootings, and the mothers of those who did the shooting.

For mothers of the survivors, and the mothers who sat in front of their TVs in horror, hugging their children who came home from school, safely.

This is for all mothers who taught their children to be peaceful, and now pray they come home safely from war.

This is for you all. For all of us. Hang in there. In the end we can only do the best we can do. Tell them every day that we love them. Pray and never stop being a mom.
Mothers the world over know about bridging troubled waters. In memory of Mama Mac, here is video of her favorite Clay Aiken song, "Bridge Over Troubled Water."

Clay performing 'Bridge Over Troubled Water' on American Idol.
It would be great if everyone shared a special story about your mom in this blog.



Wishing you and yours a very

Happy Mother's Day!

Caro