Clay Aiken - Home, Montage by SueReu
View video full screen at YouTube.
Download 'Home' montage with this Sendspace file.
An Aiken Theme Song
'Home' Spotlights Singer, Triangle

Clay Aiken singing "Home" from

The Wiz

is the perfect accompaniment for

SueRue

's new montage spotlighting the singer's performances and appearances in his hometown of Raleigh.

During the past eight years, Clay has returned to the Triangle on tour, for interviews, and to sing the National Anthem at sports events, assist with fine arts fundraising, tape the

Tried & True ~ LIVE

PBS Special.

Raleigh is also headquarters for the National Inclusion Project, the charity he co-founded with Diane Bubel in 2003.

Retelling

the original

Wonderful World of Oz

, the musical

The Wiz

was written by Frank Baum with music and lyrics are by Charlie Smalls.
Audio for the montage is from

Scarlett

's video of Clay performing the song at Bringing Broadway Home.

The expandable graphics below highlight events from the saga of Clay and his hometown. Visual artists include

Fountaindawg

, 1 (photos by

toni7babe

), 2, 5;

AmazingCA

, 3; and

cindilu2

, 4, 7 (

jojoct

screen cap).
HOME

Think of home
Home

When I think of home
I think of a place where there's love overflowing
I wish I was home
I wish I was back there with the things I been knowing

Wind that makes the tall trees bend into leaning
Suddenly the snowflakes that fall have a meaning
Sprinklin' the scene, makes it all clean

Maybe there's a chance for me to go back there
Now that I have some direction
It would sure be nice to be back home
Where there's love and affection
And just maybe I can convince time to slow up
Giving me enough time in my life to grow up
Time be my friend, let me start again
Suddenly my world has changed it's face
But I still know where I'm going
I have had my mind spun around in space
And yet I've watched it growing
If you're list'ning God
Please don't make it hard to know
If we should believe in the things that we see
Tell us, should we run away
Should we try and stay
Or would it be better just to let things be?
Living here, in this brand new world
Might be a fantasy
But it taught me to love
So it's real, real to me
And I've learned
That we must look inside our hearts
To find a world full of love
Like yours
Like me
Like home...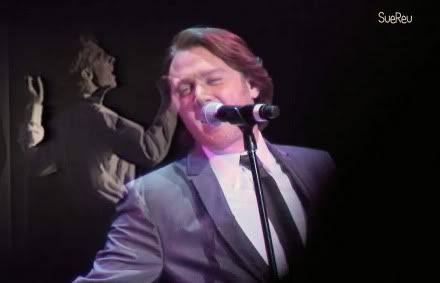 Clickable screen cap from 'Home' montage by SueRue.
Have a wonderful weekend, Clay Nation!

Caro
The montage is also highlighted in the June 10
Clay Aiken News Network
blog entry.